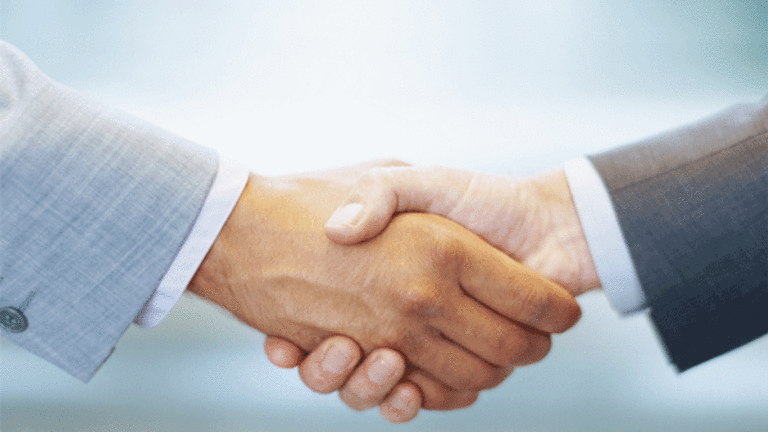 Apple Supplier GT Advanced Set for Key Hearing Tomorrow
The diversified technology company looks to shutter its sapphire plants and to keep certain information under seal.
With the GT Advanced Technologies Inc. (GTAT) case entering its third week, many observers hope a Tuesday, Oct. 21, hearing will answer some of the questions swirling around the Apple Inc. (AAPL) - Get Apple Inc. Report supplier.
Judge Henry J. Boroff of the U.S. Bankruptcy Court for the District of Massachusetts in Springfield will be the one deciding if some light will be shed on the sapphire producer's case. He's set to rule Tuesday on whether key documents outlining the company's reasons for filing can be released to the public — something to which Apple strongly objects.
Apple has continued to request certain documents be submitted out of the public's view. The Cupertino, Calif., technology giant has sought to file under seal an objection to GT's request to shut down two facilities it had planned to use to make sapphire that Apple once intended to use in iPhones. Apple said the basis of its objection involves "confidential research, development or commercial information regarding Apple's business processes" and thus could be shielded from the public.
GT has trod lightly in the case — the Merrimack, N.H., company has been vague in court papers regarding its agreements with Apple and filed COO Daniel Squiller's declaration under seal — often referencing that violating a confidentiality agreement with Apple would cost it $50 million per offense.
Late on Oct. 9, Boroff ruled the company could file the declaration outlining the reasons for its Chapter 11 filing under seal.
Boroff said in the order, however, that motions to reject contracts and unexpired leases and wind down operations at GT's Mesa, Ariz., sapphire-producing facility would be available to the press and the public, with certain details open to review by Apple. Apple then would have three days to review the information and could then move to bar the disclosure of information it felt violated its confidentiality agreement.
GT subsequently on Oct. 10 filed motions to wind down the Mesa facility and a related Salem, Mass., facility and reject certain contracts and leases related to the wind-down. Boroff will consider the motions on Tuesday as well.
The company in its motion to reject contracts and leases related to the Apple sapphire deal said the tech giant "imposed oppressive and burdensome terms and obligations" on the company through the 2013 deal. The debtor said the agreement provided no benefit to its estate, and its continue performance under the contract was "no longer a viable business option."
Under the Oct. 31 deal, GT had agreed to supply sapphire to protect the iPhone's rear-facing camera and fingerprint-sensing home button, with Apple prepaying $578 million. (That sapphire was nowhere to be found when Apple revealed new versions of its iPhone recently.)
Despite Boroff's initial ruling, the state of New Hampshire, U.S. Trustee William K. Harrington and Dow Jones & Co. all have argued in favor of greater disclosure in the case, maintaining Squiller's declaration should be available to the public.
Though the case certainly has raised eyebrows for the amount of secrecy invading a typically transparent process, confidential treatment of certain issues in bankruptcies is not unusual.
Partner John G. Loughnane of Boston law firm Nutter McClennen & Fish LLP said "this case has obviously attracted a lot of publicity, given the parties involved and the numbers involved," referring to the size of the debtor's assets and liabilities — more than $1 billion each.
The attorney, co-chair of the American Bankruptcy Institute's technology and intellectual property committee, noted, however, that, "It is not unusual to see issues come up in a bankruptcy case that require confidential treatment."
These can range from the actual compensation a key employee will receive under a bonus plan to other matters that could violate privacy of patients in a healthcare bankruptcy.
He added, "The debtor acted conservatively to ensure that it wasn't violating any obligation."
Still, Irena M. Goldstein and Timothy Q. Karcher of New York law firm Proskauer Rose LLP pointed out the rarity of confidentiality agreements having so much influence over a bankruptcy case.
"While confidentiality agreements are facts of corporate life, we cannot recall a case where the debtors were prevented from relating to [their] creditors what caused an apparently sudden liquidity crisis and other information supporting their need for relief from the bankruptcy court because of confidentiality restrictions," they said in a joint e-mail. "The fact that the debtors thought it prudent to file a motion under seal to file a motion under seal is telling in and of itself." (GT initially looked to file under seal its motion to file the declaration under seal.)
Karl Knechtel, a director at accounting firm Friedman LLP that focuses on bankruptcy, noted the community has "definitely not seen any other case that is at this level."
Knechtel said he anticipated Boroff only would seal what potentially could be damaging to Apple, while allowing other court filings in the case to be public.
"It seems like a lot of that information will find its way out," he said. "The bankruptcy court is designed for transparency, so it's very uncommon for anything to be filed under seal."
He noted: "I think the key is going to be what comes out of this [Tuesday] hearing to determine whether or not this will be kept filed under seal. Being that it's not a common thing, a lot of people are going to be watching closely to see what happens and if it will have an impact on other cases going forward."
All eyes certainly will be on Boroff, who usually does not oversee cases filed in the U.S. Bankruptcy Court for the District of New Hampshire such as GT. He was first sworn in as a bankruptcy judge in December 1993 and was reappointed in December 2007. Boroff also presides over the cases of New England Compounding Pharmacy Inc. and Northern Berkshire Healthcare Inc.
It is unclear why Boroff is presiding on a proceeding filed outside of his home state, but he stepped in soon after Chief Judge Bruce A. Harwood of New Hampshire recused himself from the case. Harwood withdrew on Oct. 7, citing a financial or other conflict. Neither Boroff nor Harwood returned calls seeking comment.
Though New Hampshire doesn't often see cases of this size — most large filings are filed either in Manhattan or Delaware, and the only case of similar size filed in the Granite State previously was utility Public Service Co. of New Hampshire ($2.7 billion in assets) on Jan. 28, 1988 — bankruptcy experts say location won't affect the outcome of the case.
Knechtel said that, in fact, the choice of the company to file in its home state is indicative of a larger trend.
"I think there has been a bit of a movement [for companies] to file where they are located as opposed to just New York and Delaware," he said. "It's not as uncommon as it once was.
Goldstein and Karcher added the location "should have no impact over the outcome of the cases."
They concluded, "There are fine judges and lawyers throughout the country."
GT's Chapter 11 filing on Oct. 6 came nearly a year after the announcement of the Apple deal. Since the bankruptcy filing, a slew of class actions have been filed against GT for alleged securities violations.
GT looks to refocus on its core business of selling sapphire furnaces and other products, it said in court papers.
A GT representative and debtor counsel Luc A. Despins of Paul Hastings LLP in New York did not return calls seeking comment. James T. Grogan and Andrew V. Tenzer of Paul Hastings, and Daniel W. Sklar and Holly J. Barcroft of Nixon Peabody LLP in Manchester also are debtor counsel.
Counsel to Apple, John M. Sullivan of Preti, Flaherty, Beliveau & Pachios Chartered LLP, also did not return calls.