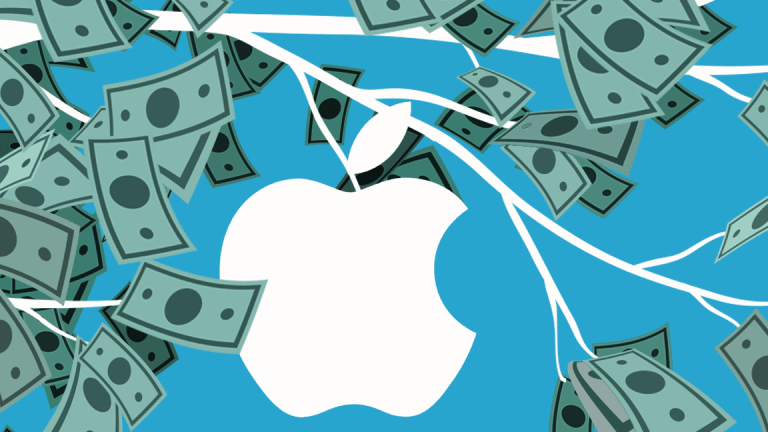 Apple's $250 Billion Question: What to Do With Its Overseas Cash Now?
Apple could save a whopping $50 billion or so in taxes if it repatriated its massive cash hoard held overseas at the lower one-time rate. Don't expect Tim Cook to go on an acquisition binge, though.
Like most tech giants, Apple Inc. (AAPL) - Get Apple Inc. (AAPL) Report may benefit only modestly from the new tax bill's lower corporate tax rate, but it will still reap big benefits from the overall Republican tax plan. 
Apple already pays significantly less than the current 35% federal tax rate, reporting an effective 2017 tax rate of 24.6% in its most recent quarterly report, compared to the new bill's 21% rate. However, Apple had more than $250 billion in overseas cash at the end of the last quarter, which would be taxed just once at 15.5% under the new plan.
If Apple were to bring all of its overseas cash back, the savings would be massive. "The difference between 35% federal rate and proposed 15.5% tax on liquid assets equates to a $52 billion cash tax savings," said Moody's Investor Service analyst Rick Lane in an email. Lane projects that Apple's cash stockpile will grow to $265 billion by the end of the year. 
How would Apple spend the money?
"If tax reform occurs and if companies then have permanent and tax efficient access to global cash flow generation (not the case now), I expect Apple and other cash-rich firms would be a little more aggressive in terms of dividend payouts (currently very low compared to other corporates), more aggressive in share buybacks, potentially more flexible on valuations for strategically compelling acquisitions, and would no longer need to issue debt to support future dividends and share buybacks," he added.
In fiscal year 2017, which ended in September, Apple spent $33 billion on stock repurchases and $12.8 billion in dividends. Its current dividend yield stands at 1.45%. 
Given the new tax rates, Apple could boost the payouts to shareholders without raising debt. To fund both dividends and buybacks in recent years, Apple has borrowed at low interest rates rather than pay the government's 35% tax rate to repatriate overseas cash.
"[Apple] is the biggest example of debt-financed shareholder returns because of a lack of access to foreign-held cash," said Fitch Ratings Inc. analyst Jason Pompeii, who suggested that Apple would likely bring back more than half of its offshore cash.
"We don't expect [tax reform] to really mean a lot of deals or a lot of incremental investment," Pompeii said. "There will be some." 
Some companies have already announced spending plans related to the tax plan. On Wednesday, AT&T Inc. (T) - Get AT&T Inc. Report cited the tax cuts in its pledge to invest an extra $1 billion in the U.S. and pay a $1,000 bonus to its more than 200,000 domestic employees, the latter of which will cost $200 million. Similarly, Comcast Corp. (CMCSA) - Get Comcast Corporation Class A Report said it would pay $1,000 bonuses to frontline and non-executive employees, and invest more than $50 billion in infrastructure over the next five years.
Apple and other companies don't need the overseas cash to make acquisitions or invest in their businesses, Pompeii noted. They have had access to debt markets to fund acquisitions, capital returns and other projects. Even with almost all of its cash trapped overseas, for instance, Tim Cook was still able to open the vast Apple Park campus in Cupertino, Calif., which reportedly cost $5 billion, earlier this year. 
While Apple will have the extra cash to fund more research and development, a tight market for skilled engineers may limit just how much hiring it can do. "We just don't have the people [in the U.S.]," Pompeii said.
In terms of M&A, Apple has shied away from mega-deals, but has still been an active acquirer of smaller companies. 
Apple agreed to buy music recognition app Shazam Entertainment Ltd. for a reported $400 million, and could look for more targets in artificial intelligence. CB Insights noted in a December report that Apple lags behind the field. "Despite some sizable recent acquisitions of AI companies at a valuation of $200M or more and an initial lead with Apple's 2011 launch of its virtual assistant Siri, Apple has ceded ground in the fields of machine learning, natural language processing, and more to Google, Amazon, and others," CB Insights noted.
Apple could close the A.I. gap with more deals akin to the Shazam purchase. Cook could also put money in media or health care, CB Insights noted. 
Apple did not immediately respond to a request for comment for this story.
Apple and Comcast are holdings in Jim Cramer'sAction Alerts PLUS Charitable Trust Portfolio. Want to be alerted before Cramer buys or sells AAPL or CMCSA? Learn more now.
Editor's note: This article was originally published by The Deal, a sister publication of TheStreet that offers sophisticated insight and analysis on all types of deals, from inception to integration. Click here for a free trial.
More of What's Trending on TheStreet: