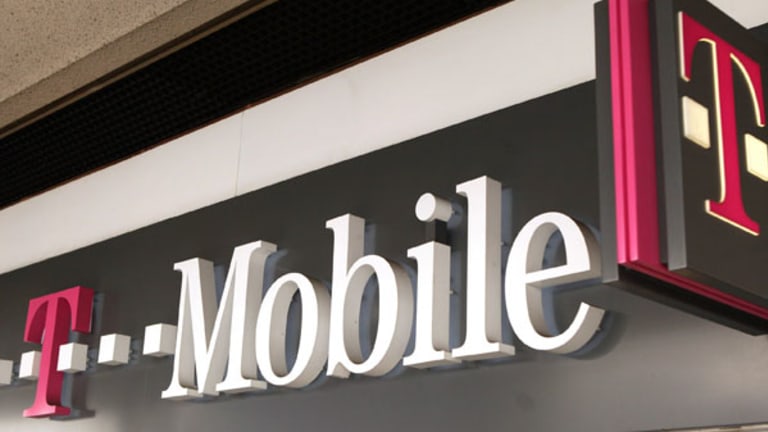 Schoenfeld Joins Paulson to Back MetroPCS Deal (Update 1)
T-Mobile's improved offer for MetroPCS convinced Paulson & Co. and Schoenfeld Asset Management to drop their opposition to the merger.
Updated to include P. Schoenfeld Asset Management comment on merger
NEW YORK (
) -- Hedge fund
Paulson & Co
and investment manager
P. Schoenfeld Asset Management
reversed course and signaled their support for the merger of
T-Mobile USA
and
MetroPCS
after terms were improved to assuage the two shareholders.
Amendments to the deal which has valued as high as $6.9 billion, is likely to put an end to months of conflict between the telecom companies and their largest investors. Paulson & Co. said in a statement that it intends to vote in favor of the merger, a critical breakthrough given the hedge fund's 9.9% stake in MetroPCS shares and its previously high-profile opposition to the deal.
"While Paulson needs to review the revised proxy statement before making a final decision, Paulson intends to vote for the merger as restructured," the firm said in an e-mailed statement.
Shares of Richardson, Texas-based Metro PCS were trading 0.9% lower to 11.56.
The tie-up comes at a crucial time for T-Mobile, which recently
a plan to offer cheaper iPhones than AT&T and Verizon that would also free customers from inflexible and costly two-year wireless contracts. Cost savings in T-Mobile's iPhone offer appear to be significant over a two-year life, according to some estimates.
T-Mobile plans to take on
Verizon
(VZ) - Get Verizon Communications Inc. Report
and
AT&T
in smartphone service, using its newly unveiled contracts
On Wednesday evening, T-Mobile said that it improved its offer for MetroPCS by lowering the combined company's debt by $3.8 billion and cutting the interest on $11.2 billion in loans by 50 basis points. The German telecommunications company called the action its "best and final" offer.
The lower level of debt in the transaction and decreased interest rates significantly increase the equity value of the merged telecom, according to T-Mobile.
"Paulson believes the $3.8 billion reduction in debt combined with the 50 basis points reduction in interest rate are material improvements for MetroPCS shareholders and strengthen the pro forma company," the hedge fund said.
Deutsche Telekom, owner of T-Mobile, also agreed to extend a lockup period on shares in the merged entity by 12 months. The lockup now stands at 18 months following the close of the transaction.
Because of the amended offer, T-Mobile and MetroPCS have moved a shareholder vote on the deal from Friday to April 24.
Analysts see T-Mobile's "best and final offer" as either improving the odds a merger can be completed or making a deal all but certain.
"We estimate these deal sweeteners are worth roughly ~$3.50 per share and will likely be enough to push the deal over the finish line," Greg Miller, a Cannacord Genuity analyst wrote Thursday in a research note. "With no credible alternative offer on the table, MetroPCS shareholders will likely accept the improved offer."
Wells Fargo analyst Jennifer Fritzsche projected in a client note the merger will now close May 1.
Prior to the Wednesday announcement, T-Mobile had been in a
with large MetroPCS shareholders such as hedge fund Paulson & Co. and
P. Schoenfeld Asset Management
. In a late March presentation, T-Mobile CEO John Legere
holdout MetroPCS shareholders as "greedy."
In response, both shareholders outlined why an initial $15 billion loan crucial to T-Mobile's offer put the combined company in a position of holding too much debt to keep pace in a wireless market dominated by carriers AT&T and Verizon.
The high debt level, Paulson & Co. argued, meant that the stock of the merged entity would hold minimal equity value, making the proposal a poor option for current MetroPCS shareholders.
T-Mobile's initial proposal paid MetroPCS shareholders $4.08 in cash and half of a share of the combined company. MetroPCS valued the total deal at between $16.50 and $18.80 a share in a recent proxy filing. Under the terms of the initial deal, T-Mobile would take a 74% stake in the combined company.
Trading prices in MetroPCS shares subsequent to the initial offer indicated investors saw a steep discount to T-Mobile's valuation.
In previously opposing the deal, Paulson believed a fair price would give MetroPCS shareholders an added $5.58 a share for their holdings to go on top of the proposed merger. In a late March
, Paulson, a famed merger arbitrageur, said his hedge fund has cast support to 99% of acquisitions among its holdings.
Schoenfeld said in an e-mailed statement it is withdrawing a proxy campaign to oppose the deal and will now support the proposed merger, given improved terms.
"We sincerely appreciate the decision PCS shareholders made by an overwhelming margin to reject the original proposed transaction terms and demand better value," Schoenfeld said.
The asset manager added that while the revised terms do not reflect all improvements they advocated, supporting a combined PCS/T-Mobile under new terms will create a more competitive and valuable for all shareholders.
These revised terms are the best available alternative for PCS shareholders at this time," Schoenfeld said.
In late March, the
Institutional Shareholder Service
and
Glass Lewis
, two prominent proxy advisors, recommended voting against T-Mobile's initial merger proposal. Both firms are yet to say whether they would now back the proposed merger, given debt reductions.
Madison Dearborn Partners
, the second largest MetroPCS shareholder with an 8.3% stake, is likely to support the deal. James N. Perry, Jr is currently a director at both MetroPCS and Madison Dearborn.
The MetroPCS merger appears necessary for T-Mobile in its iPhone ambition given the benefits of scale, a growing user base and up to $7 billion in cost savings.
On March 12, the
Federal Communications Commission
and the
Justice Department
approved the combination.
Currently, in an ad campaign running on broadcast networks, T-Mobile characterizes its iPhone plan as breaking from overly onerous plans offered by AT&T and Verizon.
T-Mobile's long-expected iPhone plan has already been projected in the forecasts of some MetroPCS shareholders who have opposed the proposed merger.
Those investors previously highlighted merger integration costs and the operational challenges of growing a network to handle increasing smartphone usage as added reason to cut back on the debt of the combined companies.
The merger's completion could help move the U.S. wireless market from what some characterized as a duopoly into a new era of price and service competition.
-- Written by Antoine Gara in New York