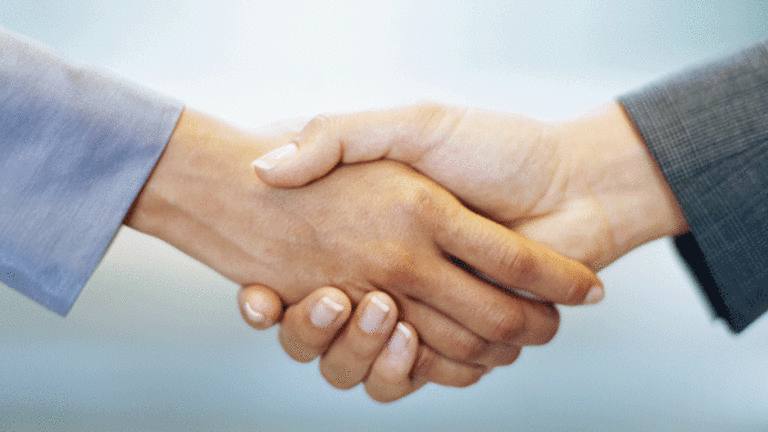 Apple Forcing Google to Favor Motorola IP Over Android Profits
In fighting the patent war by buying Motorola Mobility, Google may have to cede Android- based revenue to Apple.
NEW YORK (
) - When
Google
(GOOG)
took the patent Cold War in Silicon Valley to a new level with a $12.5 billion bid for
Motorola Mobility
(MMI)
at an over 60% premium, shares rocketed to to near $40.
But deal-enriched Motorola Mobility shareholders should be wary of warnings signs from Google's regulators and customers that could cut those gains by half. In addition, its unclear whether the Motorola Mobility deal is a lost financial and competitive opportunity for Google.
"If for some reason
the merger is disallowed, Motorola Mobility shares would probably trend back down to the low-$20s range where they were trading prior to the bid by Google," says Tavis McCourt of Morgan Keegan.
For Motorola Mobility investors, a Google merger fail might lead to a share slump because the company is unlikely to garner non-Google interest. In announcing its merger, the biggest in its history, Google acknowledged it would gain little from handset businesses acquired. Instead, Motorola Mobility's patents will allow Google to defend its growing Android ecosystem from intellectual property litigation by
Microsoft
(MSFT)
,
Apple
(AAPL)
and potentially
Oracle
(ORCL)
. "Motorola also has a strong patent portfolio, which will help protect Android from anticompetitive threats from Microsoft, Apple and other
s," said Chief Executive Larry Page when announcing the deal.
If competition concerns were to force Google to withdraw its bid, others won't line up to buy Motorola Mobility. "If the deal doesn't go through, I don't see any obvious buyer as interest in the IP portfolio would be high but nobody would take the burden of the actual business as Google did," says Pierre Ferragu of Sanford C. Bernstein.
Large Motorola Mobility holders like activist investor Carl Icahn and
Farallon Capital Management
would take a big hit if the deal were to breakdown. See
and
5 Key Players in the Mobile Payment Wars
for more on Motorola Mobility and Google.
Potential competition concerns are indirect. Google's Android smartphone operating system is a tremendous success, so much so that the company gives it away and still makes money. Google open sources its operating system freely to handset makers like
Samsung
,
LG
(PL)
,
HTC
and Motorola Mobility in a push to drive Android adoption that will bolster revenue in adjacent search businesses.
In the U.S., Google's Android market share has more than doubled in a year as of the third quarter to 57%, according to data firm
IDC
. Meanwhile,
Research In Motion's
( RIMM) Blackberry has given up share and rollouts like
HP's
(HPQ)
WebOS came to the market dead-on-arrival. Even
Apple's
(AAPL)
iOS has lost share since 2010.
A key question will be whether buying Motorola Mobility will put Android at risk. Google unequivocally allayed the concern when announcing the deal. "We built Android as an open source platform and it will stay that way," said Page in August. Google has pledged it would continue licensing Android to Motorola as if it were any other customer, without exclusivity after the merger.
In offering Android for free, while competitors Apple and Microsoft keep theirs systems exclusive or charge for licenses, Google is driving Android growth charitably and without veering far from its search business. Google's open sourcing looks very much like the spawn of a "don't be evil" -driven company that's kept consumers loyal and regulators at bay as it's become the most dominant force on the Web.
With a growing number of smartphones on Android conducting Web browsing using its cornerstone search business, Google can generate revenue in adjacent businesses even as it open sources Android. Google reported annualized mobile search revenue from Android of $2.5 billion in the third quarter. Android-bolstered mobile searches may roughly double every year through 2014, according to Goldman Sachs estimates.
Still, Google is wise to protect Android, challenged by Apple via a 2010 suit against HTC and another by Microsoft in 2011. If patent concerns were to accelerate, it could push users off of Android - as recent announcements may indicate. About the impact of potential legal disputes on Android's handset prevalence, "we believe other handset manufacturers are likely to hedge their bets and start to increase the portion of
units running on Windows Phone," wrote Goldman analysts in a September note.
It's why Google has made efforts like guaranteeing Android non-exclusivity to boost its Motorola Mobility deal odds.
Nevertheless, late on Monday, the
European Commission
said it would pause a review of Google's acquisition to wait for further documents from the Web giant. The news follows a September announcement from the
Department of Justice
that it will also scrutinize the merger. In response, Google wrote in a blog post at the time, "while this means we won't be closing right away, we're confident that the DOJ will conclude that the rapidly growing mobile ecosystem will remain highly competitive."
Legal scholars, analysts and investors who haven't sold shares in spite of regulatory deal scrutiny agree. "I see no valid antitrust argument against the acquisition," says Roger Noll of Stanford Law School.
If one were to grant Google its Motorola Mobility acquisition, it's still unclear that committing Android as an open platform is the best option. Apple faces stiff competition from Android and handset makers who carry it, but iOS exclusivity for iPhone handsets has helped the company eclipse
ExxonMobil's
(XOM)
market cap at times in 2011.
Presently, Apple's iPhone businesses is its biggest revenue stream, netting the company $47 billion in 2011 sales and growing at a 90% two-year compounded rate. Google's earnings via Android pale in comparison in spite of its market share lead.
Yet, signs already point to the fact that Android could compete against the iOS head-to-head. While Android's taken the OS lead, some of its handset users like HTC and Samsung are challenging the proliferation of Apple's iPhone.
"In the high end smartphone market it's about the operating system, not the hardware. Without the Android operating system, I don't think HTC or Samsung would have had the same success in smartphones," says Michael Genovese an analyst at MKM Partners.
The data supports Android's competitiveness. As
Nokia
has lost its top spot in smartphone handset sales in 2011 and Blackberry withers, Android-dependent handset makers like Samsung, Motorola Mobility and HTC that have ascended, not Apple.
Ultimately, Google's Android strategy may be driven by its realm of options as a result of patent litigation threats. An industry newborn compared to the likes of Apple and Microsoft who own 35,706 and 78,555 patents respectively, Google holds just 4,613 patents, according to Goldman Sachs calculations. With Motorola Mobility, Google's patents would rise to 22,113 - potentially including key patents to keep litigation at bay.
A recent lawsuit indicates the benefit of Motorola Mobility patents. After being on the defensive since 2010, in September, HTC brought patent infringement claims against Apple using intellectual property claims picked up by Google in its Motorola Mobility purchase. Such litigation signals that Google may be correct in focusing on warding off IP litigation, even if it costs the company a shot against Apple.
About whether an iPhone challenge would be possible for Google, Noll of Stanford says it would be fine if, "Google was not under siege in the war of the trivial patents."
For now, Google is intent on fighting the patent war against Apple, instead of a smartphone revenue war. Still to be seen is whether Google will prevail. A common fear is that competition authorities will conflate Google's dominant search business with its nascent Android-fueled mobile search business.
"If there is a danger, it is that the
European Commission is primed to be suspicious of all things Google... Hopefully
they understand the difference between a search engine and smartphone operating system software," says Mark Lemley of Stanford Law School, who represents Google on separate suits and doesn't speak for the company.
If regulators use language that questions the deal in light of Google's search business, which it holds an over 80% market share, it may be a signal to Motorola Mobility shareholders that all bets are off. Handset maker defections to competitors like Microsoft may be another clue.
-- Written by Antoine Gara in New York
Readers Also Like:
Jim Rogers: 2012 Investment Strategy
Euro Poised for Rally Into 2012