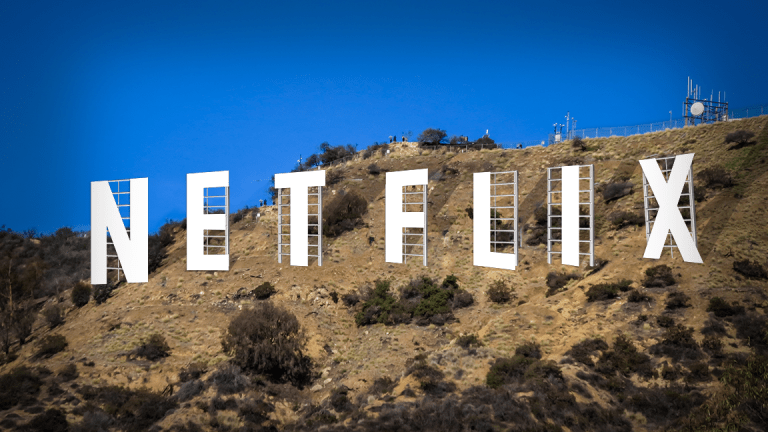 Apple Could Easily Buy Netflix Now, But Here's Why It Would Be a Surprising Move
Apple has enough cash to buy Netflix twice over -- even with a takeout premium. Such a deal would break with the strategy outlined by Tim Cook and Steve Jobs before him, however.
With the newly passed tax cuts, Apple Inc. (AAPL) - Get Free Report has an embarrassing amount of cash at its disposal. Among the uses for its windfall, Citigroup Inc. suggested in a recent note that the company could turbocharge its video strategy, which has struggled at times, by purchasing Netflix Inc. (NFLX) - Get Free Report .
Shares of Netflix gained about 4.8% to $201.07 on Tuesday, amid speculation about the company's fate and an upgrade from Macquarie Capital. 
The gains put Neflix's market cap at just over $87 billion. Even if Apple paid a 20% takeover premium, the roughly $105 billion price tag would be well within Apple's means. 
The iPhone maker had about $285 billion in cash at year end, Moody's Investors Service estimates, with $265 billion overseas. The new tax package imposes a 15.5% rate on overseas cash profits, versus the previous rate of 35%.
After taxes, Citi analyst Jim Suva calculated that Apple would be able to repatriate $220 billion, according to reports. The analyst assigned a 40% likelihood to Apply buying the company. Walt Disney Co. (DIS) - Get Free Report was Suva's second most-likely target, with a 20% to 30% likelihood of a deal. It should be noted that Suva's note preceded Disney's offer to purchase of most of Fox's operations for $66.1 billion in mid-December. Suva was not available for comment on the impact of the Fox deal on his calculations.
A deal for Netflix, however, would involve a radical change in philosophy for Apple, which has favored much smaller purchases in the past. The company's largest-ever deal, the $3-billion acquisition of Beats in 2014, is just about 1/30th of Netflix's current market cap. Apple's 2010 purchase of Siri Inc. for a reported $200 million is a much more typical purchase, with the tech giant buying what at the time a little-known personal-assistant application developer whose technology Apple to be able to plug into the iPhone. 
Even though Apple's cash has been stuck overseas, the company has not exactly been at a loss for capital. Apple instead raised billions in low-interest debt to fund acquisitions and returns to shareholders. 
"I don't see a big change to the M&A strategy as the foreign cash buildup didn't necessarily preclude Apple from pursuing large acquisitions (i.e., they could have raised additional debt to help fund a purchase)," Moody's Investors Service analyst Stephen Sohn said in an email, suggesting that Apple could boost its dividend and share buybacks.
Apple and Facebook are holdings in Jim Cramer's Action Alerts PLUS Charitable Trust Portfolio.Want to be alerted before Jim Cramer buys or sells the stocks? Learn more now.
Likewise, longtime Apple analyst Gene Munster ofLoup Ventures expects Apple to bring $214 billion back to the U.S. but doesn't think the company will go on a spending spree. "We don't expect this cash will change Apple's M&A philosophy, which will likely continue to be focused on sub-$1 [billion] technology acquisitions," Munster wrote in a recent report, suggesting that Apple will increase share buybacks by $69 billion and increase its dividend by 15%.
Given Netflix's global success in the online video marketplace, it could be a worthwhile exception to Apple's playbook. 
Reed Hastings' streaming company has 109 million subscribers in 190 countries. Macquarie Capital analyst Tim Nollen upgraded the stock from neutral to outperform on Tuesday, citing its lead in the market for over the top video streaming.
"It seems hardly a week goes by without a new [over-the-top] service entering the market, but Netflix is miles ahead in terms of programming hours, original content quality and time spent, and we don't expect this to change," Nollen wrote. "Netflix has won."
Apple, Amazon.com. Inc. (AMZN) - Get Free Report , Facebook Inc. (FB) - Get Free Report and Hulu LLC are spending billions this year to catch up with Netflix, the analyst added. With such deep-pocketed rivals, Netflix could well attract suitors. 
Netflix declined to comment for this story, while Apple did not immediately respond to a query.
Editor's note: This article was originally published by The Deal, a sister publication of TheStreet that offers sophisticated insight and analysis on all types of deals, from inception to integration. Click here for a free trial.
More of What's Trending on TheStreet: