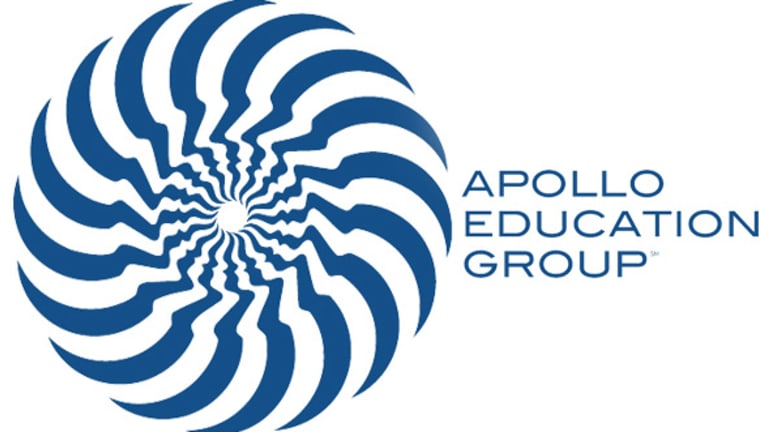 Apollo Education may sell university if buyout fails
Insiders control adjournment of meeting for unpopular deal.
Apollo Education Group Inc. (APOL) said Tuesday it might explore a sale of its core University of Phoenix business if the $1.1 billion buyout by a consortium including Vistria Group LLC, Apollo Global Management LLC (APO) and Najafi Cos. is not approved by shareholders later this week.
The acquisition of the private education company with degree and non-degree programs both online and in classrooms, including the University of Phoenix was announced Feb. 7 at $9.50 per share. While that offered a premium of about 30% at the time, Apollo Education shares had suffered a steep decline in recent years as the "proprietary education" industry has come under scrutiny by Federal government agencies, which have set standards for student debt to earnings and require that such education providers receive no more that 90% of revenues from government funded lending.
Major shareholders of Apollo Education think the shares have been beaten up too much and that the buyout undervalues the company.
U.K. investor Schroders Plc, which holds 13.8% of Apollo Education has said it opposes the deal. First Pacific Advisor LLC, with 9.4%, has said it will not vote for a deal valued at $1 billion. Alberta Investment Management Corp., with 3.1%, is opposed and thinks Apollo Education is worth more than $20 per share. Together these three shareholders represent about 26.3% of the vote.
Shareholders are scheduled to vote on the transaction April 28.
Proxy advisers Glass Lewis & Co. and Egan-Jones Proxy Services have recommended shareholder vote in favor of the buyout given the difficult operating environment for the company. Apollo Education also says it explored all alternatives over a period of fourteen months and the deal in hand is the best alternative.
In its report, Glass Lewis said that it believes that the "going-private transaction provides shareholders with the relative certainty of cash at a premium to prevailing market prices and is the best time- and risk-adjusted outcome for shareholders at this time."
Institutional Shareholder Services has recommended Apollo Education shareholders vote against the deal. That ISS report was not immediately available. An adverse ISS recommendation could add several more percentage points on the "against" side of the vote.
Tuesday, in a proxy filing with the Securities and Exchange Commission, Apollo Education said that if the deal is voted down, the company see could a further decline in share price that could hamper access to liquidity. So, if the transaction is not completed, the board intends to review other strategic alternatives, including a sale of the University of Phoenix. Apollo said it previously considered such an alternative and passed but it might be better than the status quo. The board said proceeds from a sale of the Phoenix asset may be limited.
Notably, the company also said that such alternatives would not be subject to a vote of the class A shareholders, who are represented by the opposing funds.
The class A shares of Apollo Education have limited voting rights. The class B shares are held by insiders and are fully committed to the buyout, along with 7.7% of the class A shares.
According to the proxy, if there are not enough votes to approve the buyout, the meeting can be adjourned by a vote of the Class B alone. So the meeting on April 28 may well be pushed out.
The deal itself is not subject to debt financing. Apollo Global is putting up $1 billion in equity and Vistria is putting up $40 million.
The deal spread Tuesday was $2.17, or 29.6%.