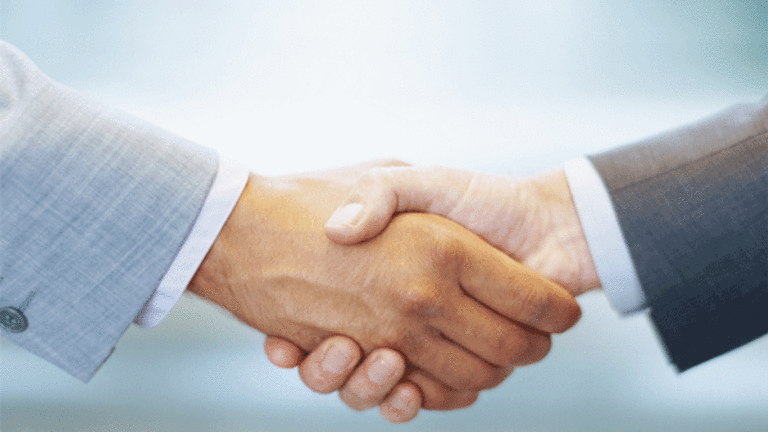 Antitrust Watchdog Wary Of Sysco-US Foods Deal
An antitrust watchdog group warned Tuesday that the $8.2 billion proposed acquisition of US Foods by Sysco will create a monopoly among broadline food distributors, which specialize in delivering food and food service supplies to institutional clients such as restaurants, universities and military bases.
WASHINGTON (The Deal) -- An antitrust watchdog group warned Tuesday that the $8.2 billion proposed acquisition of US Foods by Sysco (SYY) - Get Free Report will create a monopoly among broadline food distributors, which specialize in delivering food and food service supplies to institutional clients such as restaurants, universities and military bases.
In a nine-page analysis of the deal submitted to Federal Trade Commission Chairwoman Edith Ramirez, the American Antitrust Institute warned that the merger will combine the only two national broadliners and raises several competitive issues: perpetuating "domino-like" consolidation in the supply chain, eliminating head-to-head competition between major rivals, increasing concentration in local and regional geographic markets and enhancing buyer market power and creating barriers to entry for smaller or alternative food systems.
The group stopped short of calling on the FTC to block the deal but painted a bleak picture of the likely impact of the merger on the food supply chain if it is allowed to go through without significant divestitures. "Adverse effects could be felt at any number of stages in the food supply chain, raising concerns about prices, food quality and safety, innovation, and choice," according to AAI's analysis, which was conducted by the institute's vice president, Diana Moss.
Moss said that Sysco is likely motivated by a desire to increase its bargaining power with major food manufacturers and processors. "By amassing dominance in the distribution segment, Sysco and US Foods will enhance their buyer power vis-a-vis these midstream entities," she wrote.
If approved, the merger "will perpetuate the cycle of consolidation in the midstream segment," she said. Perpetuation of such "domino effect consolidation," she added, "would erect enormous barriers to entry for smaller and innovative food producers, promote a lack of redundancy and diversity of suppliers, eliminate consumer choice, and potentially increase food safety and reliability problems."
Although she said that "vigorous enforcement of U.S. merger law" can prevent the situation from getting worse, Moss also called on the government to "begin a process of decentralization up and down the supply chain through advocacy of legislative reform."
She noted that food service distribution has undergone nonstop consolidation since at least 2008. In 2012 alone, nine of the biggest 60 food service distributors were absorbed by mergers, according to a trade publication Moss cited. And, between 2008 and 2013, the five largest food service distributors purchased about three-quarters of the 86 independent food service distributors. Just last year, Sysco purchased 14 companies with total revenue of more than $1 billion, representing about half of Sysco's revenue growth in 2013.
Sysco is the largest U.S. firm in the distribution of food products to restaurants, healthcare and educational facilities, the hospitality industry and other customers that specialize in meals away from home. Sysco also sells equipment and supplies for the food service and hospitality industries. The company operates 193 distribution facilities and has about $44 billion in revenue for fiscal year 2013. US Foods is the second-largest of the U.S.' broadline food service distributors. In 2013, US Foods had $22 billion in annual revenue with more than 60 locations nationwide.
Based on 2010 data, Sysco had about 20% of the total food service market, which in addition to broadline distributors also includes system distributors; specialty distributors that focus on dairy, produce and other specific products; and alternative distributors such as Costco Wholesale (COST) - Get Free Report. Next up are US Foods with 11%, Performance Food Group, with about 6% and Gordon Food Service, with about 4%.
Together, national and regional broadliners comprise almost 60% of the total food service market. Their importance to the food distribution business has grown steadily.
Moss said broadliners display economies of scale in distribution with the ability to buy an array of foods in large volumes, with well-developed distribution networks of sales and delivery personnel, and the ability to deliver products to multiple types of outlets. Likewise, foodservice consumers rely on broadliners for economies of purchasing, their vast distribution networks and one-stop-shop procurement.
Broadline food service distribution has grown in importance over time. Broadline's share of total food service sales grew to 58% in 2010 from 45% in 1995. Today Sysco accounts for about 35% of the broadline food service market, while US Foods accounts for about 19%. Together, they would account for about 54% of the broadline market.
Moss warned that the merger would exceed U.S. antitrust regulators' guidelines for mergers in a concentrated market. A merger's impact on concentration is measured according to the Herfindahl-Hirschman Index, or HHI, which is calculated by tallying the market shares of all the firms in a specific market.
Under FTC and Department of Justice policy, a merger that raised the HHI in a highly concentrated market by more than 200 points is viewed as anticompetitive. This merger would result in a highly concentrated market and would increase HHI by 1,307 points,
"In a broadline foodservice market, the proposed merger far exceeds the tolerance limits for changes in concentration and post-merger concentration," she said.
When looking only at national broadline food service distributors, the situation is even worse, she said, with an increase in HHI of 4,515 points. "From the perspective of consumers that rely on national broadliners to satisfy their demand for products, the market is far from 'highly fragmented,' as Sysco attests," she said.
The FTC extended its review of the transaction by issuing a second request for information, which Sysco announced Feb. 19.
The companies themselves have acknowledged that the merger raises antitrust concerns and have made contingencies for significant divestitures. Because of the expected depth of the review, the companies aren't planning to close the merger - announced Dec. 9 - until the third quarter of 2014. The merger agreement generally obligates each party to take all actions necessary to resolve regulators' objections, but Sysco is not required to divest assets of Sysco or US Foods exceeding $2 billion in annual revenue. To protect itself from the possibility that regulators could block the deal, US Foods negotiated the right to receive a $300 million termination fee if the deal doesn't receive antitrust approval.
Sysco is being represented in the antitrust review by Wachtell, Lipton, Rosen & Katz partners Joseph Larson and Damian Didden. US Foods is being represented by Simpson Thacher & Bartlett LLP partner Joseph Tringali and associate Evan Cohen.