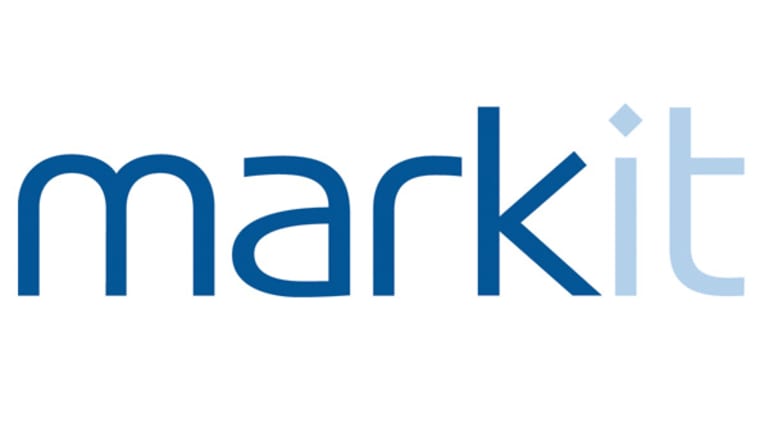 Antitrust Probes A Risk In Markit IPO
Data provider Markit earns a lot of money, but anti-trust probes remain a risk for the company.
NEW YORK (TheStreet) - Financial market data provider Markit disclosed strong profits and revenue growth in a F-1 filing for its initial public offering on Monday, however, antitrust probes in Europe and the U.S. remain a big risk for prospective investors in the Goldman Sachs (GS) - Get Goldman Sachs Group, Inc. (GS) Report, JPMorgan (JPM) - Get JPMorgan Chase & Co. (JPM) Report and Bank of America (BAC) - Get Bank of America Corp Report-backed company.
On Monday, Markit filed its prospectus for an IPO, and disclosed a $750 million placeholder for the listing. A review of Markit's financials shows that the company has been able to weather an onslaught of financial market regulation, growing earnings and profits strongly in the wake of the crisis even as many of its banking and hedge fund customers have suffered. Investigations by the Antitrust Division of the U.S. Department of Justice and the Competition Directorate of the European Commission, however, are an issue that investors should think carefully about as the Bermuda-based company moves towards a share offering.
In 2013, Markit grew its revenue about 10% to $947.9 million from $860 million a year earlier. Net income, meanwhile, rose to $139.4 million, while adjusted earnings before interest, depreciation and amortization (EBITDA) rose over 15% to $421 million. Adjusted EBITDA margins at Markit reached 45.6% in 2013, reflecting the company's operating leverage and its cost management.
No one is arguing that Markit is a bad business and, in fact, the company's earnings are impressive. 
The company has three primary businesses: Information, Processing and Solutions. The Information division accounts for 48.5% of Markit's revenue and hinges on pricing data, index licenses and financial analytics. In many markets, for instance some over-the-counter credit default swap markets, Markit is the de-facto source of pricing. Any bank or hedge fund trading OTC swaps, consequently, pays Markit significant fees for pricing data. Licenses to indices and analytics also are a source of income for Markit.
Markit also processes OTC derivative, foreign exchange and syndicated loan trades, acting as a key back-office intermediary between buy-side and sell-side firms. Currently, the firm has a leading market share in OTC trade processing, handling over 80,000 trades a day, while also settling most of the leveraged loan market. If OTC derivative trading may be tapering off, leveraged loan syndication has surged. The processing division now accounts for over 28% of Markit's revenue.
The company also provides software and IT solutions, accounting for 23% of revenue. Overall, the company counts most of the big players in financial markets as its customers. Bank of America, Deutsche Bank, Esta Investments, General Atlantic Partners, Goldman Sachs and JPMorgan are investors with an over 5% stake in the company. About 49.9% of Markit's revenue came from customers in the U.S, with 40.3% from the EU and 9.8% from the rest of the world.
Antitrust As A Risk
It is Markit's biggest two markets, the U.S. and the EU, where the company may present a risk. In Markit's F-1 filing, the company disclosed that it is subject to antitrust investigations in both regions related to the company's credit default swap information business, where it is the de facto market leader.
Markit said on Monday it began speaking with the Department of Justice in the spring of 2009 as part of an investigation about its actions in CDS markets. European authorities opened an investigation into the company in the spring of 2011. Both investigations remain open, Markit said on Monday.
"From September 2009 through August 2012, the parties to the DOJ investigation, including the Dealers and Markit, produced documents in response to DOJ requests for information and participated in depositions conducted by the DOJ. The matter remains pending with the DOJ. Markit has been fully cooperative, and will continue to cooperate, with the DOJ in connection with its investigation," Markit said of the DoJ probe on Monday.
European authorities alleged in 2013 that between 2006 and 2009, Markit and its broker-dealer customers acted collectively to prevent competitors from building an exchange-traded CDS marketplace, protecting each of their respective businesses. Derivatives trading, especially OTC credit and interest rate trading, is one of the most profitable trading areas left on Wall Street.
"If the EC ultimately finds that Markit has violated European Union competition laws on this basis and the EC imposes fines on the company, Markit's liability could be capped at 10% of the sum of the total worldwide revenue of each of the relevant Dealers, rather than 10% of the aggregate worldwide revenue of Markit," Markit said on Monday. However, it noted that findings by EU authorities were preliminary and that the company would defend itself vigorously.
"There can be no assurance as to the outcome of these proceedings, but the imposition by the EC of a fine against Markit could have a material adverse effect on Markit's business, financial condition and results of operations," Markit concluded.
There are 14 underwriters listed on Markit's prospectus, including investors BoA, Deutsche Bank, Goldman Sachs and JPMorgan.
Bottom Line: Prospective investors should focus on the risks that Markit faces from the DoJ and EU probes the company disclosed in its F-1. The company's earnings look good - however, antitrust officials may find that those earnings are simply too good.
>>Read More: Papa Murphy's IPO Prices Low, But Heats Up in Trading
-- Written by Antoine Gara in New York.