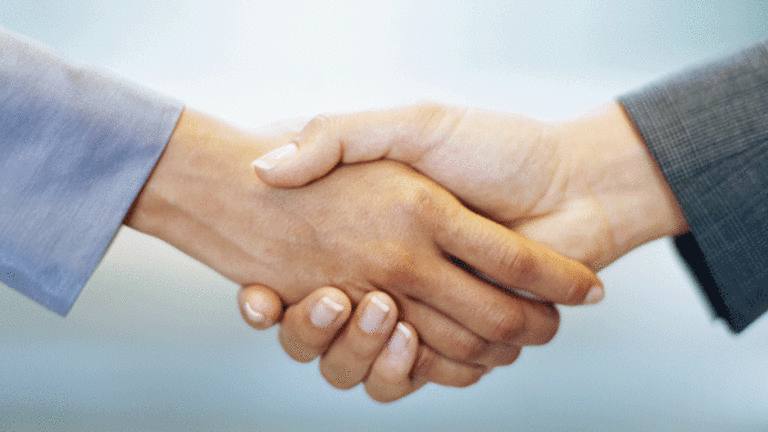 Antitrust Hurdles Pushed Rival Shopper From Safeway
Expected divestitures convinced second suitor, widely believed to be Kroger, not to best Albertson's $9 billion offer.
Expected divestitures convinced second suitor, widely believed to be Kroger, not to best Albertson's $9 billion offer.
NEW YORK (The Deal) -- Antitrust concerns led an interested suitor to drop its consideration of a rival bid for Safeway (SWY) .
Details of the talks that led to Albertson's $9 billion agreement to acquire Safeway were disclosed in the preliminary proxy filed with the Securities and Exchange Commission Friday. The rival suitor, widely presumed to be Kroger (KR) - Get Report, backed out of talks Safeway during the go-shop period after the Albertson's deal was announced Mar 6.
On March 21, 2014, the would-be suitor informed Goldman Sachs (GS) - Get Report, the financial advisor to Safeway's board, that it would not be submitting a bid because the costs associated with making the divestitures likely to be necessary to obtain antitrust clearance made it unwilling to offer a proposal superior to Albertson's. Besting Albertson's bid would not have allowed the potential bidder to realize a sufficient return on its investment, according discussions revealed in the proxy.
Before the Albertson's deal was announced, Deutsche Bank (DB) - Get Report analyst Karen Short predicted that Kroger would have to divest 161 stores to win antitrust clearance whereas Albertson's would have to sell only 25.
An antitrust source cautioned that Short and other Wall Street analysts who have made predictions about the possible divestitures generally have overstated the size of the markets that the Federal Trade Commission will examine. Rather than view stores within a broad metro area as overlapping, the agency will consider only stores within close enough proximity to each other to compete for the patronage of the same households.
Albertson's and Safeway officials have shown little concern about the extent of divestitures that the FTC will require. The commission issued a second request for information extending its review of the merger on April 10.
During the lead up to the formal announcement of the deal with Albertson's, there was a great deal of speculation that Safeway would get to choose from two competing bids.

With discussions between Safeway and Albertson's well underway, Goldman Sachs began talks with a potential second bidder, apparently Kroger, on Feb. 24, 2014. The initial discussions covered both the price Kroger would be willing to pay and how Kroger would propose to obtain antitrust clearance and what steps it would be willing to take in case antitrust clearance could not be obtained.
At a Feb. 25 special meeting, Safeway's board discussed the proposed transaction with Albertson's and the other potential suitor's interest. Safeway's antitrust counsel advised the board on the possible antitrust issues raised by a potential sale to the alternative buyer and the board expressed concern over whether the rival would seriously pursue a transaction, the competitive harm that could occur if Safeway's confidential information were misused and whether the potential transaction could obtain antitrust clearance.
Talks with the possible bidder continued and on March 5, 2014 the company submitted a preliminary non-binding letter indicating its interest in pursuing an acquisition of Safeway for $38.50 to $42.00 per share and indicated that it would take all of the antitrust risk and accept conditions necessary to win antitrust approval. But Safeway's board noted that the interested party did not provide a specific plan for addressing the antitrust issues, which appeared more significant than those facing Albertson's, was not specific on a number of economic terms and was subject to due diligence and other conditions.
As a result of those concerns Safeway's broad concluded that the best next step was to accept Albertson's $40 per share offer and allow Kroger to pursue its interest in an alternative deal during the go-shop period.
During the go-shop Kroger engaged in an extensive due diligence review of Safeway and was granted access to more than 27,000 documents in a virtual data room and participated in more than 15 diligence calls with Safeway's management. Safeway and the company established "clean room" procedures for sharing highly confidential information.

Kroger had indicated that in order to finalize its plan to satisfy the antitrust regulators, it would need to meet with potential co-investors who could purchase stores it would need to divest in order to obtain antitrust clearance. To facilitate the divestiture talks, Safeway permitted Kroger to contact 26 potential co-investors, seven of which entered into confidentiality agreements allowing them to receive diligence materials to evaluate whether they would be interested in purchasing stores that Kroger would need to divest. The potential co-investors included strategic companies and private equity firms, according to the proxy.
But on March 21 Goldman Sachs that the interested suitor would not be submitting a rival bid.
Safeway is being advised in the antitrust review by solo practitioner Richard Weisberg of Bala Cynwyd, Pa.
Albertson's and its parent Cerberus Capital Management are receiving antitrust advice from a number of lawyers, including Dechert partners Paul Denis and James Fishkin; Schulte Roth & Zabel LLP partners Stuart D. Freedman, John M. Pollack, Robert B. Loper, Michael E. Swartz, Alan S. Waldenberg, Ronald B. Risdon, Ronald E. Richman and Laurence M. Moss; and Baker Botts LLP partner Christopher MacAvoy.