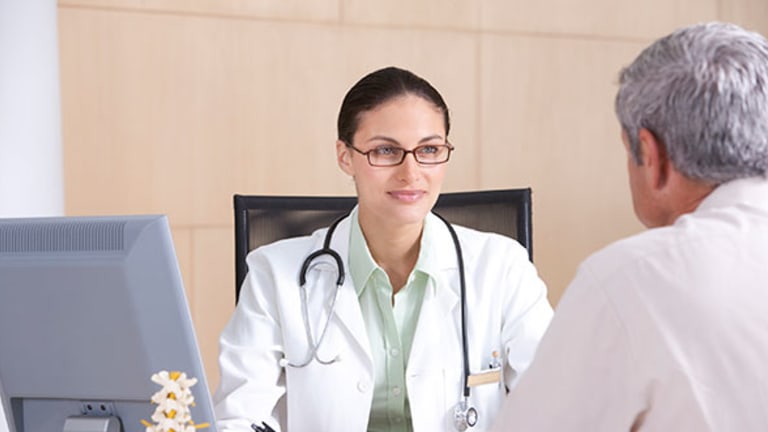 Publish date:
Another Mega Health Care Deal: Blackstone Buys Back TeamHealth
The buyout firm owned TeamHealth years ago, eventually taking the physician staffing company public in 2009. It has agreed to be taken private for about $6.1 billion.
The buyout firm owned TeamHealth years ago, eventually taking the physician staffing company public in 2009. It has agreed to be taken private for about $6.1 billion.
On the heels of a megadeal between two of its competitors, TeamHealth Holdings (TMH) said Monday that it has agreed to be taken private by its previous financial backer Blackstone Group LP (BX) - Get Report for an enterprise value of approximately $6.1 billion. 
The anticipated transaction comes after AmSurg (AMSG) in November abandoned its brief pursuit of the Knoxville, Tenn.-based health care services company, claiming at the time that TeamHealth's board was unwilling to engage in discussions.
Instead, AmSurg in June announced an all-stock, merger-of-equals transaction with peer Envision Healthcare Holdings (EVHC) , forming a physician services giant with an enterprise value of approximately $15 billion. 
That transaction among other factors largely set the stage for the timing of a sale of TeamHealth, which contracts with physician groups and hospitals in emergency medicine and anesthesia, among other areas. 
New York-headquartered Blackstone said Monday it will purchase the outstanding shares of TeamHealth common stock for $43.50 per share in cash, which represents a premium of approximately 33% over the $32.80 at which shares finished on Oct. 3, the last trading day before reports surfaced that the company was weighing a potential sale. 
The agreement translates to an enterprise value-to-Ebitda multiple of about 12.5 times, based on average estimated 2016 Ebitda of $488 million, according to FactSet data. 
For Blackstone, whose Bruce McEvoy and Neil Simpkins led the transaction, TeamHealth represents one of its largest investments in history behind its $26 billion LBO of Hilton Worldwide Holdings (HLT) - Get Report in October 2007. The buyout firm in October sold about a 25% stake in Hilton to China's HNA Group for $6.5 billion. 
Blackstone knows the business of TeamHealth well. The firm bought the physician staffing company in 2005 from an investor group including Madison Dearborn Partners LLC, Cornerstone Equity Investors LLC and Beecken Petty O'Keefe & Co., ultimately taking the company public in 2009 and liquidating in full in 2013. 
Goldman, Sachs & Co. is serving as lead financial adviser to TeamHealth, while Citigroup is serving as co-financial adviser. Simpson Thacher & Bartlett LLP's William Dougherty and Anthony Vernace are providing counsel to the company.
TeamHealth has worked with both Citi and Simpson Thacher on previous deals, retaining both firms for its $1.6 billion purchase of IPC Healthcare completed in November as well as for advice on the unsolicited AmSurg approach.
BofA Merrill Lynch is providing banking advice to Blackstone on the transaction, while Kirkland & Ellis LLP's Peter Martelli, Daniel Wolf and Laura Sullivan and Ropes & Gray LLP's Deborah Kantar Gardner, Elizabeth Whitkin, Susan Sheffler and Katelyn Blaney are acting as counsel.
Martelli, who joined Kirkland earlier this year from Simpson, worked on numerous deals for longtime Simpson client Blackstone when he was at his old firm.
Shares of TeamHealth, listed on the New York Stock Exchange, rallied about 15.6% to $42.52 a piece Monday morning, assigning the company a market capitalization of about $3.07 billion. 
The transaction has been approved by TeamHealth's board of directors. Investor Jana Partners LLC has agreed to vote its near 8% stake in the company. 
While consolidation has continuously been speculated about among the big four physician services companies -- TeamHealth, AmSurg, Envision, Mednax (MD) - Get Report -- TeamHealth looked one step closer to a transformative transaction in March after Barry Rosenstein's activist hedge fund successfully nominated its three-person slate of dissident director nominees to the company's board.
Rosenstein's firm had already by that time gone public with a campaign to push TeamHealth to explore an "extraordinary transaction." 
The agreement includes a 40-day "go-shop" period during which TeamHealth and its board may solicit or evaluate additional third-party proposals.  
TeamHealth said it would hold a special meeting of stockholders to consider and vote on the proposed transaction, which it expects to close in the first quarter of 2017. 
—David Marcus contributed to this report.