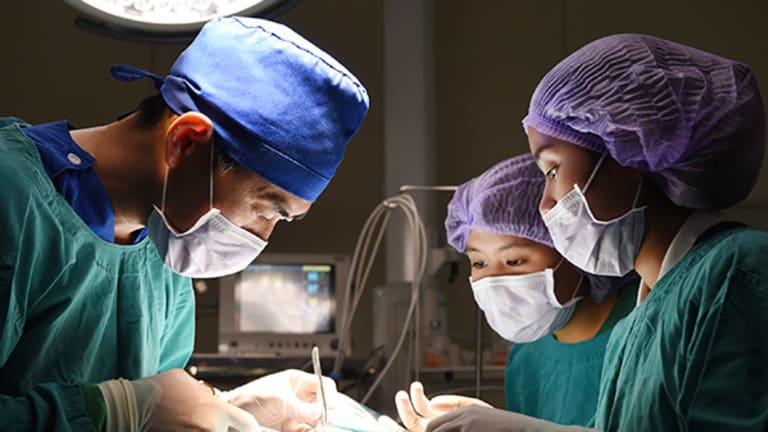 Analyst Says Rival Bidder Could Emerge for Novadaq After Stryker Deal
The fluorescence imaging technology company has agreed to sell to Stryker for $11.75 per share.
The fluorescence imaging technology company has agreed to sell to Stryker for $11.75 per share.
Fluorescence imaging technology company Novadaq Technologies Inc. (NVDQ) could attract a rival offer on the heels of its deal to sell to Stryker Corp. (SYK) - Get Report , according to Canaccord Genuity Inc. analyst Jason Mills in a note.
Mississauga, Canada-based Novadaq on Monday, June 19, said it has agreed to sell to Kalamazoo, Mich.-based Stryker for $11.75 per share in cash or $701 million. The price tag marks a premium of nearly 96% over Novadaq's closing price on June 16.
The net purchase price is $654 million, reflecting net cash of about $47 million.
Founded in 2000, Novadaq develops fluorescence imaging technology that provides surgeons with visualization of blood flow in vessels and related tissue perfusion in cardiac, gastrointestinal, plastic and reconstructive procedures, among others.
In a June 21 note, Canaccord's Mills wrote that he views Stryker as a logical buyer for Novadaq as it could seamlessly integrate the latter into its MedSurg business and "derive strong double-digit growth for several years into the future."
However, Mills thinks that Medtronic plc (MDT), Johnson & Johnson (JNJ) or Intuitive Surgical Inc. (ISRG) may also be interested in Novadaq.
Mills said he sees a "higher-than-normal probability" that a competitive bidder ultimately emerges. "While competitive bids are usually low probability in med-tech, we think the potential is a bit higher in this case, as we believe the NVDQ asset would fit very well strategically within any of the aforementioned companies," wrote Mills, who has a buy rating on Novadaq's shares.
In addition, he said the $21 million termination fee is relatively low and he also noted the deal's "right to match" provision.
Shares of Novadaq closed Monday at $11.70, up 95%, after hitting $11.82 earlier in the day. Stryker shares fell 86 cents to $141.38.
In a note on June 21, Needham & Co. LLC analyst Mike Matson said the acquisition makes sense for Stryker as it expands the buyer's fluorescent imaging offering into open and plastic surgery and "we expect NVDQ's sustained double-digit growth to be accretive to SYK's overall growth in coming years."
Matson pointed out that although Stryker is paying a large premium, Novadaq's shares were close to a five-year low "due to slowing revenue growth (from 50% to 25% over the past five years) and repeatedly missing investor expectations."
"While its growth has slowed, NVDQ competes in a large and under penetrated market (~5%) and should sustain double-digit growth for the foreseeable future which is still accretive to SYK's mid-single digit growth," added Matson, who has an underperform rating on Stryker's shares.
The deal is expected to close at the end of the third quarter.
Timothy J. Scannell, group president of MedSurg and NeuroTechnology at Stryker, said in the news release that Novadaq's technology complements Stryker's imaging portfolio and expands its product offerings into open and plastic reconstructive surgery.

Stryker said the transaction is expected to be dilutive to its 2017 adjusted net earnings per diluted share by three cents to five cents. There is no change to the company's previously issued guidance of adjusted net earnings per diluted share in the $6.35 to $6.45 range for 2017. Stryker expects the deal to be neutral to earnings in 2018 and accretive thereafter.
Stryker's transactions last year include its purchase of Sage Products LLC, a maker of disposable healthcare products, for $2.8 billion, and defibrillator maker Physio-Control International Inc., for $1.3 billion.
Piper Jaffray & Co.'s Bob DeSutter, Rob Anderson, Ryan Kaeding, Austin Anderson and Andrew Headrick served as Novadaq's lead financial adviser, with Perella Weinberg Partners LP also providing financial advice.
Novadaq tapped Stikeman Elliott LLP and Dechert LLP for legal advice. The Stikeman team included Jeffrey Singer, Donald Belovich, Paul Rakowski, Kristina Vranjkovic, Bessie Qu, Logan Copen, John Lorito, Lindsay Gwyer, Michael Kilby, Andrea Boctor, Khalfan Khalfan, Shawn Smith, John Henderson, Kate Amirault and Brett Zeggil. The team at Dechert included Mark Thierfelder, David Rosenthal, Greg Schernecke, Abbi Cohen, Mike Cowie, Ed Lemanowicz, Tom Rayski, David Jones, Jeremy Zucker, Darshak Dholakia, Dean Krishna, Andy Lau and Aryeh Zuber.
A Covington & Burling LLP team that included Andrew Ment, Gustavo Akkerman, Scott Naturman, Lauren Shor, Pam Forrest and Michael Francese, along with Osler, Hoskin & Harcourt LLP's Jeremy Fraiberg, Alex Gorka, Firoz Ahmed, Dov Begun, Shuli Rodal, Daniel Wong and Jon Marin, provided Stryker with legal counsel.
Novadaq and Stryker declined to comment beyond the announcement. Medtronic, Johnson & Johnson and Intuitive Surgical representatives did not immediately return a request for comment.