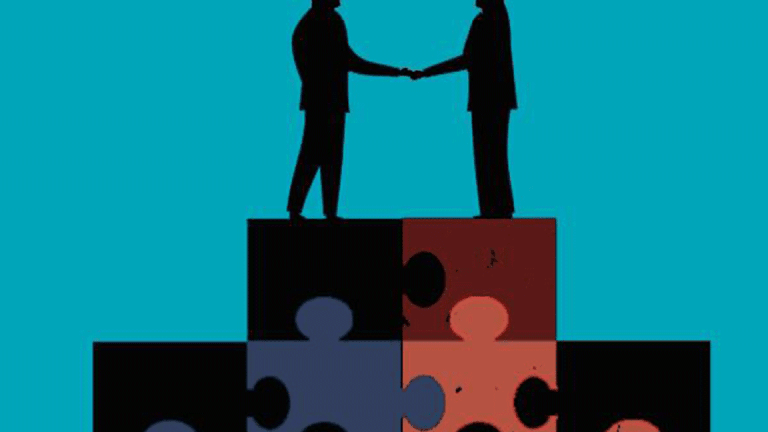 Ameris Bancorp and Fidelity Southern Announce Merger Agreement
Jacksonville-based Ameris Bancorp has cut a deal to acquire Georgia-based bank Fidelity Southern for $750 Million. Shares of Fidelity Southern rose nearly 21%.
Shares of Fidelity Southern (LION) - Get Report jumped $4.47 to $25.89 as of 12:35pm EST, Monday Dec. 17, a nearly 21% gain, on the news that Ameris Bancorp (ACBC)  has agreed to acquire the Georgia-based bank for $750.7 million, or $27.22 per share. The merger was unanimously approved by boards of both companies.
Ameris stock was down $1.59, or 4.67%, to $32.43 in early afternoon trading on the Nasdaq.
The combined company would have approximately $16.2 billion in assets, based on September 30, 2018 results.
"Fidelity Bank is the crown jewel of Atlanta and we couldn't be more excited to partner with such a fine institution," says Dennis J. Zember Jr., Chief Executive Officer of Ameris in joint a statement released by Ameris and Fidelity Monday morning.
Fidelity Southern, parent company of Fidelity Bank and LionMark Insurance Company, shareholders will receive 0.8 shares of common Ameris stock for each share of Fidelity Southern common stock, while outstanding options to purchase Fidelity Southern shares will be converted to options to purchase Ameris shares at an exchange ratio of 0.8.
Upon completion of the merger, James B. Miller Jr., Chairman and CEO of Fidelity, will become Executive Chairman of Ameris and Ameris Bank, while H. Palmer Proctor Jr., President of Fidelity and CEO of Fidelity Bank will be appointed as President of Ameris and CEO of Ameris Bank. Dennis J. Zember Jr. will remain as CEO of Ameris, and Lawson E. Bassett, III will remain as President of Ameris Bank. Nicole S. Stokes will continue as CFO for both Ameris and Ameris Bank.
The Ameris board will be extended to 14 members, to allow for the introduction of five Fidelity directors to join. Miller and Proctor will be among the five Fidelity directors joining the Ameris board.
"The combination of Ameris and Fidelity joins two franchises that are very similar in culture, complementary in terms of our lines of business and well positioned competitively, resulting in a $16 billion asset bank second to none in terms of management strength and financial resources," says Fidelity President H. Palmer Proctor Jr.
The acquisition is expected to be completed in the second quarter of 2019 pending customary closing conditions, including regulatory approvals and the approval of the Ameris and Fidelity shareholders.