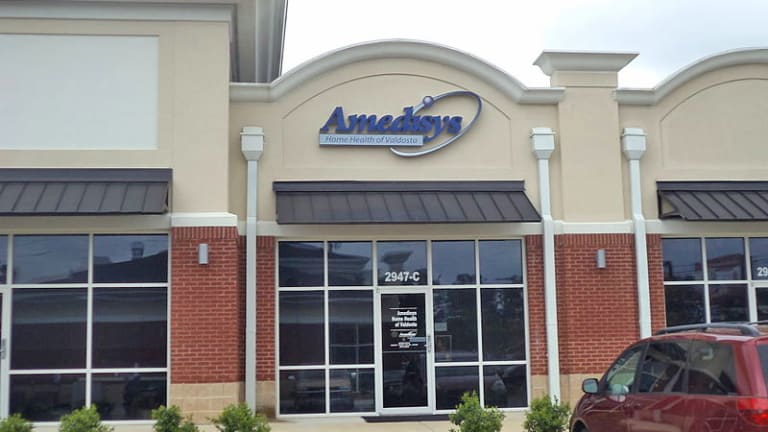 Publish date:
Amedisys is Looking for Tuck-ins in the Wake of Its Restructuring
However, new CEO says larger deals may be on the horizon for the home healthcare services provider.
However, new CEO says larger deals may be on the horizon for the home healthcare services provider.
After shedding underperforming care centers, home healthcare services provider Amedisys Inc. (AMED) - Get Amedisys, Inc. Report is aiming to make tuck-in acquisitions this year, according to newly appointed CEO Paul Kusserow.
Speaking on the sidelines of the JP Morgan Healthcare Conference in San Francisco on Wednesday, Kusserow noted that the home health and hospice services provider hopes to execute "purchases of tuck-ins, for sure," while noting that other larger acquisitions could be in play once the company is more confident with its improving balance sheet.
The CEO noted that any purchases would be in regions where Amedisys already has a presence and would be in the post-acute realm. He declined to specify the monetary value of any potential purchases.
The company currently has 396 care centers in 34 states, primarily along the East Coast. Of those locations, Baton Rouge, La.-based Amedisys has 316 home health care centers and 80 hospice locations. Prior to its restructuring, it boasted a total of 471 locations.
"We are happy with our 396," said Dale Redman, interim chief financial officer for the company. Redman — who previously served as the company's CFO from 2007 to 2011 before returning last March — noted that it is unlikely that Amedisys will do numerous divestitures after the recent round, However, he added that one or two locations could be sold in the future if they are found to be underperforming.
"We have to be comfortable in home care and hospice and operating the way we want it to go," Redman said, after Amedisys's presentation on Wednesday. "Strategically, in 2015 we should be in a position to think about acquisitions."
Kusserow — who previously worked at Humana — assumed his role in early December after CEO and founder Bill Borne left the top slot in February. Amedisys brought on Kusserow because of his "track record of delivering on long-term growth strategies," according to a statement at the time of his appointment. He was tapped to develop the company's strategic turnaround plan and to address previous legal issues. The company noted in its presentation on Wednesday that it had settled with the Department of Justice last year for $150 million, surrounding false Medicare claims.
Last month, investor North Tide Capital LLC, revealed a 12% stake in the company, and urged it to consider merging with competitor Almost Family Inc. (AFAM) . The company had earlier in the year been rumored to be a takeover target for Gentiva (GTIV) in its quest to fend off overtures from Kindred Healthcare Inc. (KND) , which eventually sealed the Gentiva deal for $1.7 billion.
Redman said that the company has an "open dialogue" with all investors in the company, declining to talk further about the the investor's push for an Almost Family deal.
According to a presentation at the conference, Amedisys had revenue of $300 million during the third quarter of 2014, as compared to $301 million in the same period during 2013. In that same time period its Ebitda has grown to $24 million, up from $9 million in 2013. Amedisys currently has $6 million in cash as of September 2014, as compared to $17 million in December 2013. The company has a current market capitalization of $932.93 million.
It is backed by Kohlberg Kravis Roberts & Co. LP (KKR) - Get KKR & Co. Inc. Class A Report , which has about a 15% stake.
Recent deals in Amedisys' sector include the $750 million sale of Cressey & Co.-held Encompass Home Health and Hospice to HealthSouth Corp. (HLS) .
Read more from
: