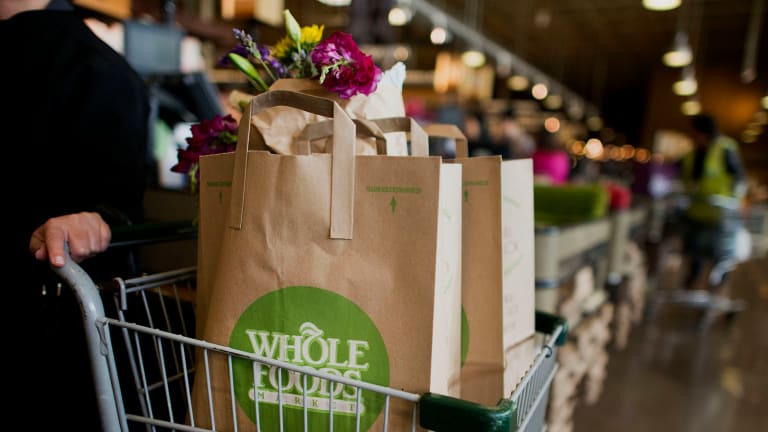 Amazon's Whole Foods Deal Was a 'Pearl Harbor Moment' in Retail: PayPal CEO
A day that will live in infamy? PayPal chief Dan Schulman says so as it pertains to Amazon buying Whole Foods.
Twenty years from now, Wall Street traders will look back and surely remember where they were when it happened. Amazon.com Inc. (AMZN) - Get Report  shelling out big bucks to buy organic grocer Whole Foods Market.
When the eCommerce titan announced its deal to acquire the upscale grocer last June -- and cemented rumors of a move into bricks-and-mortar retail -- the entire stock market stopped and took notice. If Amazon can now do physical retail all on its own, what can't it do?
"I think in many ways when Amazon bought Whole Foods, that was almost a Pearl Harbor moment for the retail industry," PayPal Holdings Inc. (PYPL) - Get Report CEO Dan Schulman told TheStreet.
Amazon's Whole Foods acquisition brought deal-making in the retail space back to top of mind status among those on Wall Street. But it also highlighted the importance of integrating traditional and digital retail. According to Schulman, the Amazon/Whole Foods deal ushered in a new era of purely omnichannel retail, one marked by the distinct goal of blending the old and the new ways of grabbing consumer dollars.
"Until then, most people had understood that the world was moving toward omnichannel but thought there was a distinction between online and offline," Schulman added.
But clearly, that's no longer the case. Even in the seven months since Amazon announced the deal, a flurry of retailers have pivoted more to digital. Costco Wholesale Corp. (COST) - Get Report reported digital sales growth of 33.3% in December alone, fueled by an expanded online assortment. Walmart Stores Inc. (WMT) - Get Report has called for 40% eCommerce growth in fiscal 2019 aided by its Jet.com acquisition and improved online shopping experience. Even Target Corp. (TGT) - Get Report  -- long a laggard online -- has said investors should look for consistent 25% digital growth.
"I think that move by Amazon clearly showed the world that there's a blurring between those two separate and distinct channels into one driven by mobile," Schulman said. "And that can make a world of difference in the value proposition that retailers offer their consumers."
It's certainly not a bad thing for a company such as PayPal. As traditional retailers are forced into the world of eCommerce, they need a financial solutions firm with a tech focus to foster the evolution.
PayPal can become an "enabler of online commerce in a lot more ways than just eBay Inc. (EBAY) - Get Report ," Buckingham equity research director Chris Brendler said. As more and more traditional retailers move into eCommerce, PayPal could itself be a beneficiary of the Amazon Effect.
"I think PayPal is ideally suited to be that partner," Brendler said.
Subscribe to TheStreet on Youtube
Check out TheStreet's Other Influencer Interviews