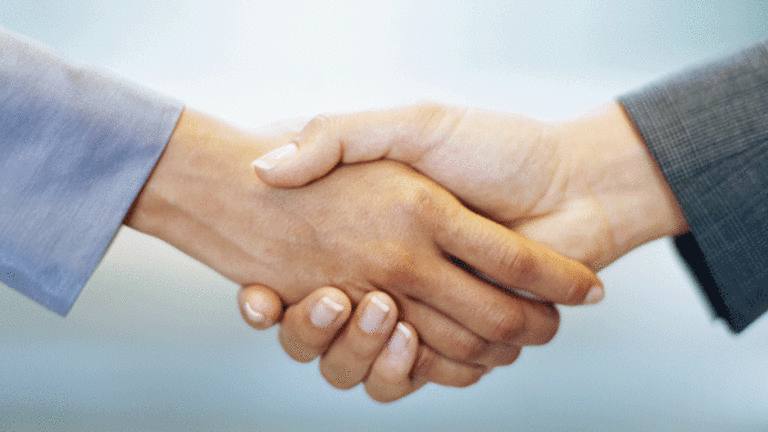 Amag, Perrigo Buy Lumara in Two-Step Deal Valued at $1.1B
Perrigo gains women's health assets, Amag Pharmaceuticals buys Makena line in the transaction.
NEW YORK (The Deal) -- Private specialty pharmaceuticals company Lumara Health is selling its assets in a two-step deal worth around $1.1 billion to Amag Pharmaceuticals (AMAG) - Get Free Report  and Perrigo (PRGO) - Get Free Report .
Lumara is a new company formed from in the wake of KV Pharmaceuticals' 2013 bankruptcy.
Amag, of Waltham, Mass., will acquire Lumara Health and its wholly owned subsidiaries including its flagship product Makena for $675 million in cash and stock. Perrigo, a Dublin-based OTC drug company, is to acquire Lumara's women's healthcare business for $82 million.
Amag is paying $600 million in cash plus 3.21 million newly issued shares. In addition, it could pay Lumara shareholders a contingency fee of $350 million based on sales milestones. Perrigo's separate purchase transaction includes several women's health brands such as vaginal creams Clindesse and Gynazole-1 plus Evamist, an estrogen transdermal spray.
Both transactions should be completed by the end of 2014 and are subject to customary closing conditions, the companies said Sept. 29. They have received approval from the companies' boards.
St. Louis-based Lumara was formed in May, springing from the ashes of troubled KV Pharmaceutical Co./Ther-Rx Corp.
The company had tussled with the Food and Drug Administration and other regulatory bodies over its drug Makena and manufacturing and quality problems. Ther-Rx was KV's branded pharmaceuticals unit. KV sold its generic drugs arm, Nesher Pharmaceuticals Inc., to Zydus Pharmaceuticals (USA) Inc., for $60 million.
KV exited Chapter 11 bankruptcy about a year ago with a $238 million rights offering. An investor group including Capital Ventures International Ltd., Greywolf Capital Management LP, Deutsche Bank Securities Inc., Kingdon Capital Management LLC and Silver Point Finance LLC backed the rights offering.
Lumara tapped a Dechert LLP team for legal advice, including Jonathan Kim, Tony Chan, Jonathan Bush, William Elder and Tomothy McNamara. Its financial advisers are Perella Weinberg Partners and T.R. Winston & Co.
Amag turned to Leerink Partners LLC and JPMorgan Securities LLC for financial advice. Latham & Watkins LLP and Goodwin Procter LLP provided legal advice.
Warner Norcross & Judd LLP provided legal advice to Perrigo.