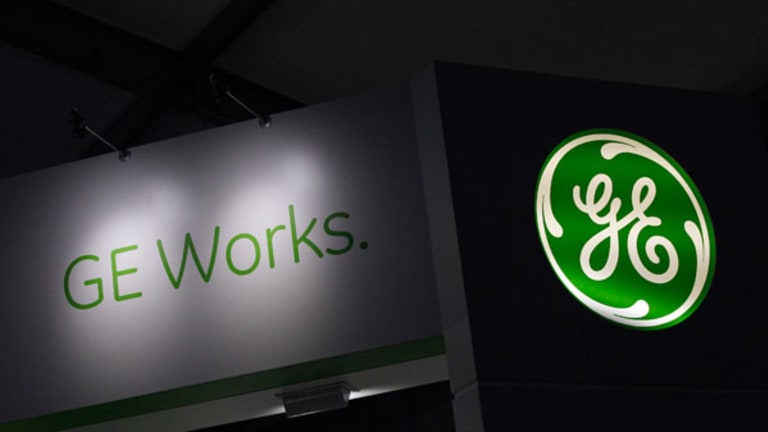 Alstom Board Embraces GE's $17 Billion Bid
Alstom's board initially approves a deal that would see the sale of Alstom's energy business to the American power giant over the wishes of some in the French government.
Updated from 10:17 a.m. EDT with current stock quotes and additional information.
NEW YORK (TheStreet) -- The board of Alstom voiced preliminary approval of General Electric's (GE) - Get Free Report $17 billion offer that would allow GE to take over the French company's energy business.
The $17 billion total values the Alstom's components at an enterprise value of $13.5 billion plus cash of $2.5 billion. According to the company, French industrial group Bouyges, a 29% stakeholder in Alstom, has said it would support the board's decision.
In a press release posted on its Web site, GE said the all-cash deal is valued at 7.9 times earnings from the acquired properties and will be immediately accretive to its bottom line, adding 8 cents to 10 cents a share to the company's earnings in fiscal 2016.
The all-cash transaction is valued at 7.9 times pro forma earnings before interest, taxes, depreciation and amortization (EBITDA) of Alstom's Thermal, Renewables, and Grid business units. GE expects the acquisition to be accretive to earnings in the first year; it is expected to add $.08-$.10 of earnings in 2016; and approximately 75% of operating earnings is expected to come from GE Industrial by 2016.
Alstom's board is supportive and has formed a committee of independent directors to review the transaction by June 2.
CEO Jeff Immelt noted in the press release that power and water are one of the company's highest growth and margin industrial segments and are key to GE's future. "This is a strategic transaction that furthers GE's portfolio strategy," he said.
The deal fits in with GE's push for greater efficiency and clean energy within its global outlook as Alstom's business is broadly diversified in the renewable energy sector, "including steam, hydro, coal, gas, nuclear steam, wind, and other forms," according to GE's press release.
GE also tried to allay fears that it would jeopardize jobs in France, saying the country will be the center for its European operations and promising to increase jobs in acquired French operations.
The deal was publicly and hotly opposed by members of the French government when the plan first became public Monday. It was viewed as a U.S. invasion into an enterprise that is culturally iconic, as well as an important part of the nation's economy. In addition to its energy business, which equips nearly a third of the world's nuclear plants, Alstom is the manufacturer of France's famed high-speed rail network, known by the acronym TGV (in French, "Le Train de la Grande Vitesse" or "high-speed train").
While the deal gives GE the nuclear plants and Alstom's other energy business, Alstom will retain its transportation business. In fiscal 2013, the businesses GE will acquire had $15 billion in sales and $1.4 billion in income from operations, along with 46,000 employees. Alstom currently employs close to 100,000 people worldwide.
French industry minister, Arnaud Montebourg, helped promote an alternative deal from German company Siemens (SI) - Get Free Report, and he implied that Alstom was trying to sell a treasured French enterprise without consulting its citizens. On Monday, Montebourg appeared to soften, tweeting that "GE behaves well in France, but this deal represents problems for the state."
On Tuesday, the Siemens board formally backed making an offer to swap its transportation business for Alstom's energy business, contingent on gaining access to Alstom's books for due diligence work. Such an arrangement would make Alstom the European leader in rail transport, while Siemens would gain scale to compete with General Electric, Mitsubishi Heavy Industries of Japan, and rising contenders in Asia.
In its press release this morning, GE's Immelt said, "We respect and value the deep industry and technology expertise of Alstom employees and expect them to add to our proven track record of developing talent and leadership in France and globally."
For its part, Alstom in a statement said the review would be "taking into consideration all stakeholders interests including the French State. [Chairman and CEO] Patrick Kron and the committee will liaise with the representatives of the French State to consider their views."
At mid-session on Wednesday, shares of GE were trading up 0.5% to $26.89. Shares of Alstom closed up nearly 10% on the Paris Stock Exchange.
>>Read More: 
Dicker: Supreme Court Deals Blow to Coal
Qatar Sheikh to Buy Heritage Oil
EPA's Greenhouse Gas Powers Aired in Supreme Court
-- Written by Carlton Wilkinson in New York