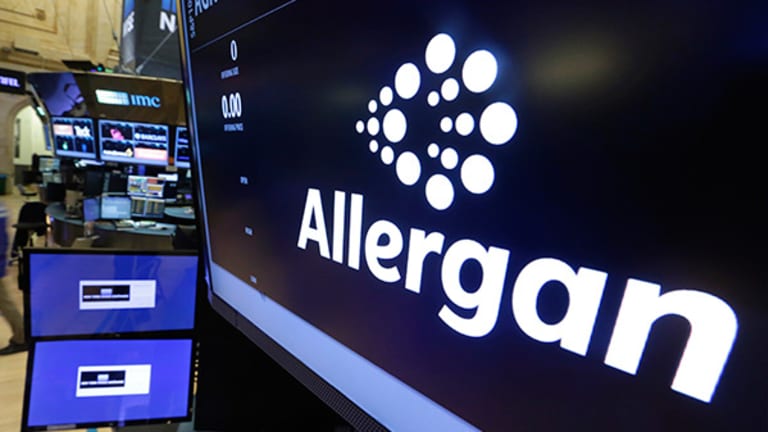 Allergan Seeks to Reassure Antsy Investors but Will They Buy It?
Will investors want to wait 12 to 18 months to see Allergan's deals pay dividends?
Allergan (AGN) tried to alleviate investors' concerns about its recent series of early-stage pipeline acquisitions at a conference in New York on Tuesday, with a top executive insisting it's only a matter of time before the pharmaceutical giant's research-driven deals begin to pay dividends.
But whether investors will be content to wait for another year or longer before the company generates earnings from the commercialization of its new products remains to be seen.
"We, of course, don't control the sequence of deals and so while it's true we did a series of [research and development] deals over the past several quarters, we'd like to be judged in 12 to 18 months as a balance between R&D deals and marketed, accretive products," Bill Meury, Allergan's chief commercial officer, said during the Piper Jaffray 28th Annual Healthcare Conference in New York. 
EDITOR'S NOTE: This article was originally published by The Deal, a sister publication of TheStreet that offers sophisticated insight and analysis on all types of deals, from inception to integration. Click here for a free trial.
The executive added that such high-quality, accretive transactions are not easy to come by, emphasizing Allergan has no intentions of buying an established product or declining product only to boost its price and strip it of costs: "That doesn't make sense," Muery told Piper Jaffray's specialty pharmaceuticals analyst David Amsellem.  
Reiterating what CEO Brent Saunders has publicly indicated, Meury noted that from a size perspective, the company has the capacity to look at deals worth several hundreds of millions of dollars to those in the several-billion-dollar range. 
The company's last of several R&D-stage purchases came just last week, when it announced a $125 million deal for Alzheimer's drug developer Chase Pharmaceutical. The transaction could ultimately be worth as much as $1 billion based on potential milestone payments, should the venture-backed target's lead candidate achieve certain regulatory- and sales-related targets, Chase CEO Doug Ingram told The Deal last week. 
Ingram, who as the former Allergan president joined Chase about a year ago, also said that as an Allergan shareholder he hopes to see more deals from Allergan because they're "relatively inexpensive and have a high probability of success" while at the same time are "right inside of [Allergan's] franchise focus." 
Allergan encompasses seven key therapeutic areas, four of which, Meury noted, are very important to the company: eye care, aesthetics, CNS (central nervous system) and GI (gastrointestinal). 
The initiative that has been referred as Allergan's "stepping stone" M&A strategy got underway after it completed the sale of its generic drug business to Teva Pharmaceutical Industries  (TEVA) in August. Following a lengthy regulatory review process, the Dublin-headquartered drugmaker ultimately received $33.4 billion in cash and $5.4 billion in Teva stock from the sale.
Among the largest of the string of smallish deals for Allergan -- whose current market capitalization is over $72 billion -- was its $639 million buyout of Vitae Pharmaceuticals, a clinical stage biotech developing therapies to treat moderate-to-severe psoriasis, a common skin condition, and mild-to-moderate atopic dermatitis. 
The company also drew criticism for the nearly 500% upfront premium it paid in its deal for Tobira Therapeutics, though some analysts have since contended investors had overreacted. In the deal for the liver disease-focused biopharma company, Allergan has agreed to pay about $595 million up front plus a potential additional consideration that could ultimately ad up to $1.1 billion. 
Allergan shares have been pressured after the company posted its first-ever earnings miss under the leadership of Saunders, which the CEO attributed to unanticipated sales declines from products facing competition from generics. He also reiterated at the time that buying back stock will take precedence over acquisitions as its most accretive driver, though added to uncertainty by refusing to provide full-year 2017 guidance. 
Allergan is a holding in the Action Alerts PLUS portfolio managed by Jim Cramer, founder of The Deal's parent, TheStreet (TST) . In a recent note Cramer and Research Director Jack Mohr said that amid the downward pressure on shares, they "would advise anyone with cash needs in the next eight to 12 months as well as those with a low- to even mid-risk tolerance to avoid investing in the name."