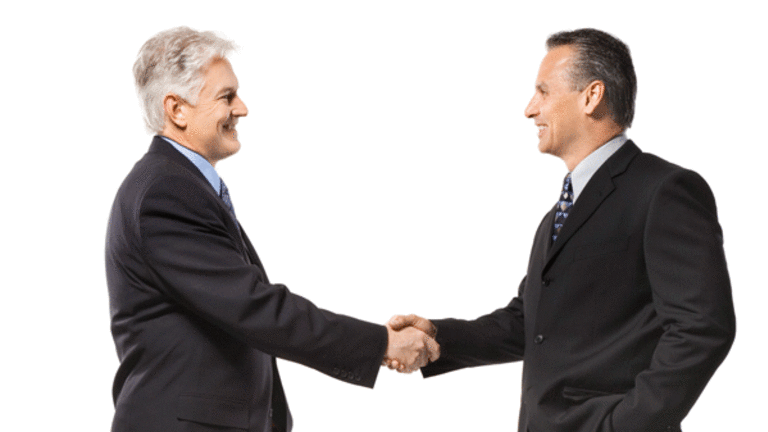 Alibaba Gets $1.6 Billion Investment
A consortium buy up a 5% stake in Alibaba as employees cash in.
NEW YORK (
) --
DST Global
and
Silver Lake
tendered an offer to a $1.6 billion piece of
Alibaba Group
valuing the Chinese e-commerce company partially owned by
Yahoo!
(YHOO)
at $32 billion.
Included in the investment for roughly 5% of the online payments processing specialist and seller of business supplies are
Temasek
, the Singapore private wealth fund,
Yunfeng
, the private equity firm founded by Alibaba Chief Executive Jack Ma, and other unspecified current shareholders.
Jack Ma, Alibaba's founder and CEO said in the statement announcing the deal that "This liquidity program will allow our people to focus on growing our business and continuing to create value."
The company is selling a stake to new investors so that existing owners and employees can cash out a portion of their holdings. All employees are going to keep a significant portion of their ownership in Alibaba after the deal, which is expected to close in four to six weeks, is completed according to a spokesperson familiar with the deal.
For Silver Lake, the Alibaba stake represents its third Chinese investment since 2010. Silver Lake managing director Ken Hao said in the deal announcement, "We have developed a strong relationship with Alibaba's management over several years, and this commitment reflects our confidence in the company's leadership position and the growth of the e-commerce market in China."
It's also a deal that puts Silver Lake at odds with Yahoo!, a company it has been rumored to be interested in taking over. Yahoo currently owns roughly 43% of Alibaba and has fought with CEO Ma over how to manage the Hangzhou, China- based company founded in 1999.
Earlier in the year, Yahoo! management criticized Alibaba CEO Jack Ma for spinning the company's payments arm, Alipay, without their approval. The split put one of Alibaba's most valuable assets out of the reach of some investors like Yahoo!. All parties settled in July by agreeing that if Alipay were to do an IPO, it would transfer at least $2 billion and as much as $6 billion to the parent Alibaba.
DST Global, the private equity arm of the russian investment bank is also an investor in
Facebook
,
Twitter
and
Zynga
, is run by Russian billionaire Yuri Milner.
-- Written by Antoine Gara in New York