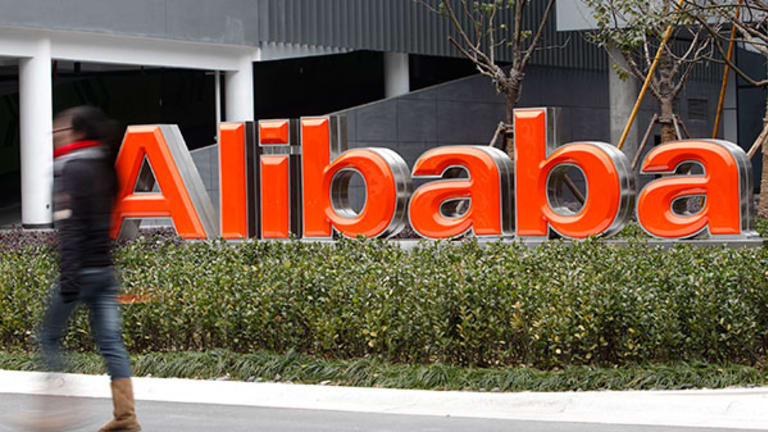 Alibaba Files IPO With $1B Placeholder, Discloses Partnership
Alibaba has filed its prospectus for an initial public offering with a $1 billion placeholder.
NEW YORK (TheStreet) - Alibaba has filed its prospectus for an initial public offering with a $1 billion placeholder, as the Jack Ma-founded company moves towards a listing on either the New York Stock Exchange or the Nasdaq.
Alibaba, which is considered the so-called Amazon (AMZN) - Get Amazon.com, Inc. Report, Google (GOOG) - Get Alphabet Inc. Class C Report and PayPal of China, earned $3.1 billion in profit in the nine months ended on Dec. 31, 2013, and revenue of $5.6 billion.
Earnings at Chinese e-commerce giant Alibaba more than doubled in the fourth quarter to over $1.3 billion as revenue topped $3 billion, Yahoo! (YHOO) , a 24% investor in Alibaba, reported in an April earnings supplement.
Results disclosed by Yahoo! represented Alibaba's fourth quarter earnings and included its Singles Day on November 11, the company's biggest shopping day of the year.
In mid-November, Alibaba said it generated $5.7 billion of sales on this year's singles day, including $877 million in mobile transactions. For Alibaba, strong revenue growth and rising profit margins in 2013 mark a busy twelve months.
Alibaba's Businesses
Alibaba operates Taobao Marketplace, China's largest online retail site, Tmall, a branding platform, and Juhuasuan, a group buying marketplace. When combined, the three divisions generated $248 billion in gross merchandise volumes from 231 million active buyers and 8 million active sellers. Mobile GMV's accounted for 19.7% of Alibaba's total volume, up from 7.4% a year earlier.
The company also operates Alibaba.com, China's largest online wholesale marketplace by revenue, 1688.com, and AliExpress, a global consumer marketplace.
In addition, Alipay, serves as Alibaba's online payment platform. The division generally draws comparison to eBay's (EBAY) - Get eBay Inc. Report PayPal unit. Alibaba also said it offers cloud computing services to third parties and which supports the company's ecosystem.
Alibaba didn't disclose segment results from its different businesses.  

WATCH: More market update videos on TheStreet TV | More videos from Ruben Ramirez
China Exposure
China commerce accounted for $5.65 billion of Alibaba's revenue, the vast majority of its sales, while international commerce and cloud computing accounted for a further $572 million and $90 million in sales, respectively, in the nine-months ended in Dec. 31, 2013.
Those figures show Alibaba, by way of its various businesses, to be exposed to the fluctuations of the Chinese economy. "Our revenue and net income may be materially and adversely affected by any economic slowdown in China as well as globally," Alibaba said in its risk factors section.
Alibaba's prospectus further noted that China's first quarter GDP growth rate was 7.4%, the slowest since the first quarter of 2009, when the world economy was in the throes of a credit-crunch and recession. "Any continuing or worsening slowdown could significantly reduce domestic commerce in China, including through the Internet generally and within our ecysystem," Alibaba added. 
IPO Speculation
In March, the company confirmed would list its shares in the United States instead of Hong Kong. The move came after a long-running dispute with Hong Kong regulators on Alibaba's partnership structure, which seeks to maintain the company's culture by giving partners the ability to effectively control board room decisions.
U.S. exchanges, however, approved of Alibaba's structure, a source close to the matter said. Nevertheless, the partnership seems unprecedented and has been a key source of debate and confusion leading to Tuesday's filing.
The Alibaba Partnership
Alibaba devoted a section of its IPO filing to explain its partnership structure to prospective investors. "[All] partnership votes are made on a one-partner-one-vote basis," Alibaba said on Tuesday. That shows, as TheStreet previously reported, Alibaba won't be offering a dual class stock to prospective investors.
Alibaba's partnership, however, will have the ability to nominate a simple majority of the members of the company's board of directors.
"[The] Alibaba Partnership will have the exclusive right to nominate a simple majority of the members of our board of directors. The election of each director nominee will be subject to the director nominee receiving a majority vote from our shareholders voting at an annual general meeting of shareholders," Alibaba said.
Who's In?
Alibaba's partnership extends to company founder Jack Ma, over two dozen senior executives who have served the company for at least five years and contributed to the company's development over the years. Partners own approximately 10% of Alibaba's shares while the rest are held by Yahoo!, Softbank, and a handful of private equity and sovereign wealth investors.
While Alibaba's partnership would be able to nominate a majority of the board, the election of those nominees would come down to a shareholder vote where every investor would have the same voting rights. According to Alibaba, its partnership structure is aimed at preserving the company's culture.
"This will make us a more global company and enhance the company's transparency, as well as allow the company to continue to pursue our long-term vision and ideals," Alibaba said in March.
Softbank, Yahoo!, Jack Ma and vice chairman Joe Tsai have all agreed to vote their shares in favor of partnership director nominees. Softbank, an over 30% Alibaba investor, will have the right to nominate one director to the company's board. 
As a result, the partnership structure will effectively limit ordinary investors' say in Alibaba's governance matters. Ordinary investors will have no say in board-level matters, Alibaba said in its F-1.
The partnership structure appears to break new ground and in what is likely to be a blockbuster stock listing.
Selling Shareholders
Softbank, Yahoo!, Jack Ma and Joe Tsai are listed as principal or selling shareholders in Alibaba's prospectus. Prior the offering, Alibaba said Softbank is the beneficial owner of 34.4% of the company's shares, while Yahoo is a beneficial owner of 22.6% of the company. Ma is the beneficial owner of 8.9% of Alibaba, while Tsai owns 3.6% of the company.
Masayoshi Son, Jacqueline D. Reses, Jonathan Z. Lu, Daniel Y. Zhang, Maggie W. Wu, Jian Wang and Timothy A. Steinert are also listed as beneficial owners of Alibaba.
Reses, a Chief Development Officer at Yahoo! and an Alibaba board director, will resign from the company's board of directors immediately upon the effectiveness of the company's share offering. Son, however, will retain his directorship, Alibaba said.
Acquisitions
Alibaba said in its IPO documents it paid $1.132 billion in total to acquire AutoNavi, however, the transaction is yet to close. In March, Alibaba took a 20% stake in Tango, a U.S.-based messaging at for a total cash consideration of $200 million. In April, Alibaba invested a further $17 million in Tango to maintain that 20% equity stake.
Alibaba also said it has taken equity stakes in Hong Kong-based Haier Electronics, and invested 9.9% in a Haier subsidiary in China. The company disclosed that it also completed an RMB 2.23 billion convertible investment in Haier that is either convertible for ordinary shares or a 24% equity interest in the company's logistics business.
In March, Alibaba entered an agreement to take a 60% equity interest in ChinaVision Media Group for a cash consideration RMB 4.95 billion.
Other deals include a 9.9% stake in Intime Retail Group, a convertible investment, and an 80% interest in a Chinese retail joint venture between the two companies.
Finally, Alibaba confirmed it raised its investment in Weibo (WB) - Get Weibo Corp. Report to 30% of the company's outstanding shares for an aggregate purchase price of $449 million. The company also took a 16.5% stake in YoukuTudou in April for a total cash consideration of $1.1 billion, however, that deal is also yet to close.
In April, Alibaba said it completed a $3 billion draw-down of its outstanding credit facilities, exhausting the entire U.S. dollar denominated facility. The company opened a new loan facility in China for RMB1.0 billion.
Underwriters
As TheStreet previously reported Alibaba has hired six underwriters, Credit Suisse, DeutscheBank, Goldman Sachs, JPMorgan,Morgan Stanley and Citigroup, to lead its U.S.-based IPO.
-- Written by Antoine Gara in New York