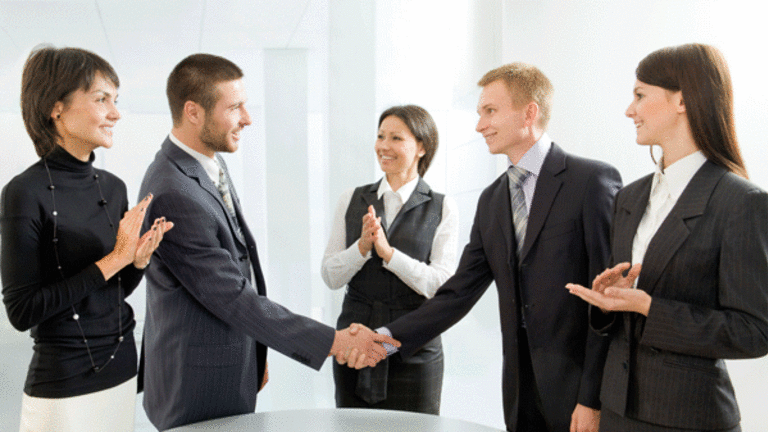 Albemarle Boosts Battery Business in $6.2B Deal
Acquires one-time KKR portfolio company Rockwood for $6.2 billion in cash and stock.
Acquires one-time KKR portfolio company Rockwood for $6.2 billion in cash and stock.
NEW YORK (The Deal) -- Specialty chemicals firm Albemarle (ALB) - Get Report on Tuesday said it plans to acquire Rockwood Holdings (ROC)  in a $6.2 billion cash and stock deal aimed at supercharging its business supplying battery components.
Terms of the deal call for Baton Rouge, La.-based Albemarle to pay $85.53 per share for Rockwood, a 13% premium to Monday's close. The buyer will swap $50.65 in cash and 0.4803 shares for each share of Rockwood, with Rockwood holders controlling 30% of the combination post-deal.
Princeton, N.J.-based Rockwood is a supplier of specialty products including lithium, catalysts, bromine and surface treatment. The company is the world's largest supplier of lithium products, a key component of the batteries that go into laptops, smartphones and electric vehicles among other technologies.
Albemarle CEO Luke Kissam in a statement said that the purchase would create a lithium powerhouse while helping to power cash flow generation, allowing the buyer to pay down debt and support its dividend.
"The combination of these two companies creates a premier specialty chemicals company with a unique world class team of experts and an enhanced focus on innovating customized, performance-based solutions to meet the ever"increasing demands of our customers," Kissam said. "The resulting company will have broader customer reach, increased diversity across end markets, technologies and geographies and more consistent and predictable earnings growth."
Albemarle said it expects to extract $100 million in annual costs from the deal by 2016 and generate adjusted Ebitda of more than $1 billion by 2015. The company said it has secured committed financing from Bank of America Merrill Lynch (BAC) - Get Report to fund the cash portion of the transaction, and said it expects to retain its investment grade ratings post-purchase.
The deal completes the gradual unwinding of Rockwood, a one-time portfolio company of Kohlberg Kravis Roberts that went public in 2005. The company in recent years had announced about $4 billion worth of divestitures, including selling its performance additives and titanium dioxide assets to Huntsman (HUN) - Get Report for $1.1 billion and its clay-based additives to British buyout firm Cinven for €1.49 billion ($1.98 billion).
Rockwood CEO Robert J. Zatta called the deal "a compelling transaction," saying "our complementary specialty chemicals portfolios are expected to generate significant growth through the continued penetration of lithium-based energy storage products, compelling secular trends driving global catalyst growth, attractive surface treatment prospects and new bromine applications."