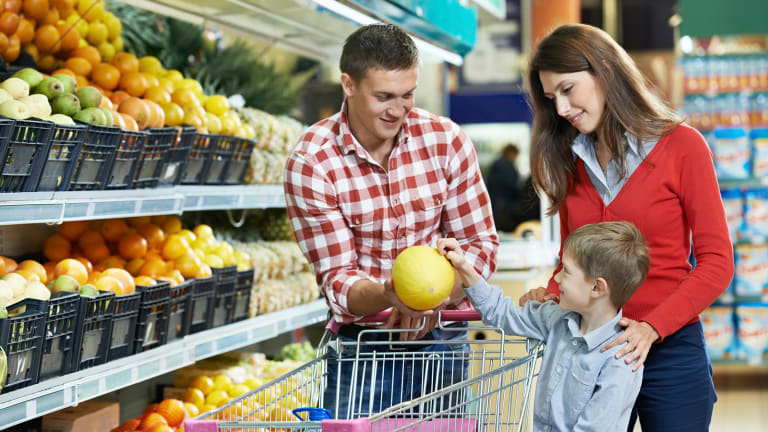 Ahold-Delhaize Food Retailing Merger Won't Be Easy to Bag
Dutch supermarket retailer Royal Ahold may have the upper hand in early-stage merger talks with smaller Belgian peer Delhaize Group, but getting a deal done won't be easy.
NEW YORK (The Deal) -- Dutch supermarket retailer Royal AholdNV may have the upper hand in early-stage merger talks with smaller Belgian peer Delhaize GroupSA (DEG) , but getting a deal done won't be easy.
The companies have stayed mum since last week's announcement of exploratory talks, reportedly initiated by Delhaize CEO Frans Muller amid concerns about shrinking margins and growing competition from discount chains like Germany's Aldi and Lidl, and even from Ahold itself in northern Belgium.
With no rival suitors for the Belgian company expected to emerge, a tie-up with Ahold may be Delhaize's best chance to grab back lost market share at home and jolt some life into its sagging online business where Ahold, led by CEO Dick Boer since March 2011, is way ahead following the purchase two years ago of leading Dutch e-commerce company Bol.com for €350 million (or $390.6 million).
But try telling that to Delhaize's powerful unions, who responded to previous restructuring measures and plans to lay off 2,500 workers in the next three years with nationwide store strikes, accompanied by bonfires in parking lots. The tactics worked, and in February the company said that dismissals would be limited to 1,800 employees and that it would close 10 rather than 14 unprofitable supermarkets as originally envisioned.
Though the unions have been relatively quiet since then, wildcat strikes have continued at individual stores and any deal with Ahold that smacks of further redundancies or cost cutting won't go down well.
"If a merger is announced, and if Delhaize's message is to align the business to the Ahold business model in Belgium, then in that case you will have more problems with the unions," predicted Gerard Rijk, an analyst with SNS Securities NV, in Amsterdam.
"They're not shareholders so Delhaize won't need their formal approval, but they're a very crucial stakeholder," Rijk. "If you announce further job cuts beyond the 1,800, the unions will see this as a bad idea and launch more strikes."
Belgian labor unions will also be alert to any suggestion that the deal is a takeover or acquisition rather than a merger, even though Ahold is the far bigger player, with a market value of nearly twice that of Delhaize's.
Delhaize shares (under the ticker DELB) were trading on Euronext Brussels exchange on Friday, May 22, at €82.50, up from €72.90 the last trading day before Belgian business daily De Tijd's report almost two weeks ago about the talks. Ahold shares were at €18.79, up from a €17.24 close before the report. 
On the New York Stock Exchange, on Friday at 1:46 EDT, Delahize shares with the ticker DEG were trading at $22.64.
The unions are already fuming about learning about Delhaize's talks with Ahold only through the Belgian press, and barraged Delhaize CEO Muller with questions earlier this week at a regularly scheduled works council meeting at Delhaize's rue Osseghemstraat headquarters.
Asked Friday to what extent Delhaize had engaged with unions, spokesman Charles Davis said, "They are as informed as everyone else is of the status, which is that there are preliminary talks between Ahold and Delhaize" that may or may not result in a transaction. Davis admitted that while "tons of questions" were raised at the meeting, Muller was unable to respond to specific queries and just repeated the company's short statement disclosing the talks.
Muller "didn't really answer our questions " complained Céline Boogaerts, a spokeswoman for the Setca federal union representing technicians and white-collar workers. "There is no clarity at all" about what a tie-up would mean for workers, she added.
After learning of the talks, the unions put out an angry missive criticizing Delhaize's "double language and lack of transparency," and for considering a marriage with "the enemy that's invading," a reference to Ahold's presence in northern Belgium with Albert Heijn stores. Unions -- and investors -- will get another chance to put questions to Delhaize's management at a shareholders' meting scheduled for this coming Thursday.
Combining Ahold and Delhaize would create Europe's fourth-largest food retailer and a top 20 worldwide with a strong eastern U.S. presence that would put Ahold's Stop & Shop and Giant Food Stores and Delhaize's Food Lion stores under one roof. The parent companies had combined 2014 revenue of €54 billion and net profit of €1.2 billion, and few overlaps to throw up any antitrust risk to doing a deal.
The companies had reportedly been in late-stage merger talks back in 2006 and 2007. Experts see even greater momentum for joining forces now as both struggle with competition at home and abroad and after both managed to reinvent themselves through sweeping restructurings, asset sales and changes at the top.
The companies have complementary footprints in the Benelux, the eastern U.S., and -- to a much lesser extent -- in Central and Eastern Europe. Estimated synergies range from €400 million to €600 million.
Even if they do manage to cement a deal this time, not everyone's convinced it's a good idea. "Big M&A in food retail doesn't work, and with reason," Bernstein Research senior analyst Bruno Monteyne wrote recently.
"When two large retailers merge, to reduce costs with the hope of improving margins, they get fixated for several years on post-merger integrations," he wrote. "You don't fix bad trading ... by cutting costs by improving the retail offer to consumers." (Bad trading is arguable the case historically for most of Delhaize's U.S. business.) 
SNS Securities' Rijk is also skeptical, saying that even if a deal is agreed soon, it's unlikely the first synergy benefits will come until the second half of 2016: "If you have a combined company with a head office in the Netherlands but also a local head office in Belgium, then it will really take time to integrate those functions. It will not be very easy to reap the synergies."
Read more from: