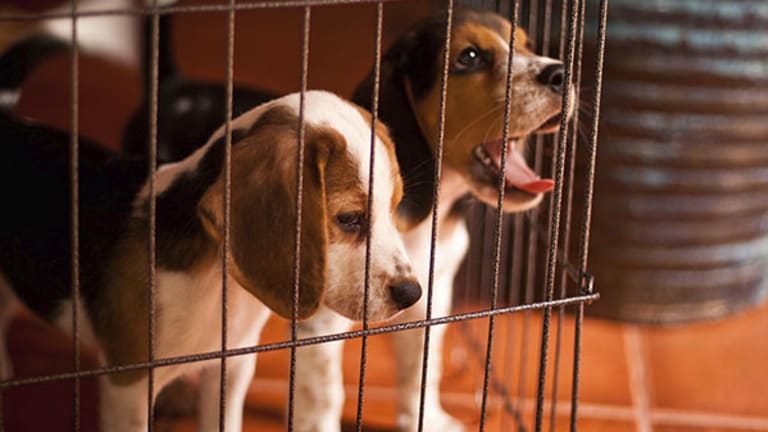 After Clearing Valeant Litigation, Jaguar and Napo Pharmaceuticals Reunite
The animal health company combines with its former owner in a reverse merger.
Napo Pharmaceuticals has made good on its promise to take Jaguar Animal Health (JAGX) back after spinning the company off in 2013.
Jaguar shares spiked early on the news Friday from a $1 opening price to as high as $1.25 wihtin a half hour of the opening bell. The shares slid throughout the day and returned to to their opening level by market's close.
The two announced a reverse merger Friday in which Jaguar's stockholders and option and warrant holders will end up with approximately 25% of the total company, while Napo, which already owns 19% of Jaguar's shares, will end up with the remaining pieces of the company.
As a part of the deal, Napo has entered into a settlement to pay off one of its secured creditors, paying $8 million in cash and certain Jaguar voting and nonvoting shares.
The newly formed company will trade under the JAGX ticker, and will operate under the name Jaguar Health Inc. 
"It was a smooth, collaborative process," CEO Lisa Conte said by phone Friday. "There was just a lot of work to do. There were 11 parties to coordinate with eight different lawyers."
The deal was previously announced back in October, when the two entered into a letter of intent for a reverse merger. 
Jaguar was spun out from Napo back in 2013, when Napo took the animal health company public to take advantage of the growing animal health market.
But the companies decided reintegration would be a smart move after Jaguar faced intense litigation with Salix Pharmaceuticals (SLXP) and then Valeant (VRX) . The litigation was over Napo's crofelemer, which is in trials for indications including chemotherapy-induced diarrhea. Valeant acquired Salix's licensing rights to the drug, known as Mytesi on the markets, which is how it became involved in the suit.
"There was litigation financed debt that needed to be restructured," Conte said. She added that as a part of the settlement, Jaguar received the licensing rights to Mytesi back from Valeant. 
"When you settle, that's technically considered a win," Conte added. "We needed to restructure that debt to allow Napo to go forward."
That five-year-long lawsuit came to an end last May, which is when the two started discussing plans for reintegration. Much of the staff worked for both companies already anyway, Conte told The Deal in October.
After the deal closed, the two likely would focus on reintegration before doing more deals. However, Conte noted that now that the litigation is behind Jaguar, the company can focus on forming partnerships with others for licensing and marketing deals. 
According to Conte, Jaguar is in exclusive talks over rights to its horse diarrhea drug with a large animal health company. However, she was unable to reveal which company Jaguar is in talks with.
Reed Smith LLP and Stifel Nicolaus & Company Inc. are serving as Jaguar's legal and financial advisers, respectively on the deal. Meanwhile, Napo engaged Boies Schiller Flexner as its legal adviser on the deal.
Editors' pick: Originally published March 31.