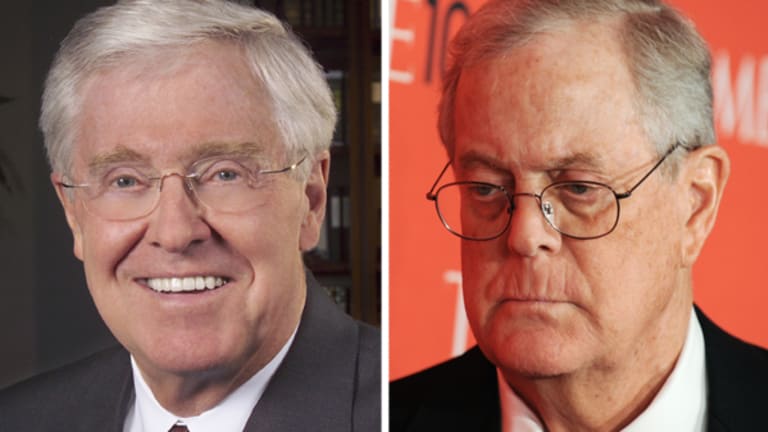 AFL-CIO, Wary of Koch Money, Presses Tribune to Shelve Newspaper Sale
The labor federation is trying to convince Tribune not to sell its newspapers rather than risk a buyout by billionaires David and Charles Koch.
NEW YORK (
) - Brandon Rees, who helps oversee the AFL-CIO's pension fund investments, is trying to convince
Tribune
(TRBAA)
to shelve any sale of its eight daily newspapers, which include
The Los Angeles Times
and
The Chicago Tribune
.
Rees' lobbying was prompted by David and Charles Koch, the Tea Party-funding multi-billionaire owners of the oil and chemicals conglomerate
Koch Industries
, who have said they may bid for the newspapers if Tribune decides to put them up for sale. Tribune, which could owe as much as $225 million in back taxes, needs the cash.
Rees, the acting director of the AFL's Office of Investment, is realistic about the situation. If Tribune wants to sell and the Koch brothers want to buy, there are few humans on the planet capable of outbidding them. Each of the Koch brothers has a personal fortune totaling $43 billion, according to data compiled by
Bloomberg
, while Koch Industries generates $115 billion in annual sales. The brothers are the sixth and seventh wealthiest people in the world.
The Kochs have also been among the country's largest funders of groups that seek to undercut public pension fund benefits and curtail collective bargaining by municipal unions. Labor unions, as well as groups urging steps to combat global warming, another Koch foe, are loath to see these dailies become a unit of one of the world's largest fossil fuel providers.
Regardless of the overall decline in circulation, the papers remain major institutions in their home regions. They include the largest dailies in Illinois, California, Maryland (
The Baltimore Sun
) and Connecticut (
Hartford Courant
) as well as two in the politically-charged state of Florida (
Orlando Sentinel
and
South Florida Sun-Sentinel
of Fort Lauderdale), and also the national Spanish-language daily
Hoy
.
Ironically, the sale could be an immediate gain for some of the union federation's members. That's because billions of dollars in members' pension fund monies are managed by L.A.-based Oaktree Capital Management, the world's largest distressed debt investor, which owns a 23% stake in Tribune, making it the media company's largest shareholder.
Rees argues that selling now, even at a profit, would shortchange union members. Tribune's newspapers, which exited a messy and debilitating four-year bankruptcy in December, are beginning to show improvement as Oaktree President Bruce Karsh, who doubles as Tribune's chairman, said in a letter last month to national and California labor leaders. Tribune's "publishing assets are performing ahead of plan thus far this year" said Karsh, adding that a sale is only one option the company is considering.
Nonetheless, Rees is pressing Tribune to hold off on an auction for its newspapers, valued in the company's 2012 reorganization plan at $623 million.
"Oaktree as short-term investors may want this transaction now whereas their clients, the pension plans, are longer-term investors who may benefit from continued ownership of these newspapers as they continue to adjust to market realities," Rees said in an interview on Thursday. "If the Kochs, who are certainly smart investors, were to be buyers here, that demonstrates there's still value to these media properties. From our standpoint, there may be greater profits to be had later on."
At a gathering Wednesday in Washington hosted by the Communications Workers of America-Newspaper Guild, union activists and critics of media consolidation stopped short of painting a sky-is-falling picture were the Koch brothers to buy Tribune's newspapers. Guild President Bernie Lunzer said he's refraining from Koch bashing, adding that there may even be opportunities to organize workers at these newspapers. (Currently, the
Baltimore Sun
is the only Tribune newspaper represented by the Guild.)
Nonetheless, John Nichols, the
MSNBC
personality and author of
The Death and Life of American Journalism
, argued that newspapers need owners who are committed to independent locally-focused reporting. A Koch buyout could result in newsrooms that either practice self-censorship to avoid conflict with their bosses, or newsgathering operations working lock-step with political organizations, he warned.
"I would much prefer that these great daily newspapers be sold to different people, and that they would all want to be out there competing with one another," Nichols said. "When one person can own all of those newspapers, we are looking at consolidation that hurts news gathering where it's needed most, at local and state levels."
More than 25,000 jobs have been cut at newspapers since 2008, Nichols said, citing the Web site
PaperCuts
. Online publications and cable-TV haven't come close to filling that void, he said.
The filmmaker Tia Lessin was also on hand to describe the Koch's purported effort to derail her film
Citizen Koch
, which follows a group of working-class Republicans in Wisconsin dismayed by the efforts of Koch-funded groups such as Americans for Prosperity to eliminate bargaining by public-sector labor unions.
The New Yorker's
Jane Mayer last month
how a $150,000 pledge in public television funding for the project was suddenly withdrawn after Lessin refused to change portions of the film dealing with the Koch brothers. David Koch, who was a member the New York public-television station WNET from 2006 until last month, had donated $23 million to public television, Mayer reported, and was poised to make an additional "seven-figure donation" until WNET aired another film
Park Avenue
, which focuses on the Koch's influence in business and politics.
The Kochs, on their Web site
KochFacts
said "that Koch made no effort to dissuade WNET or anyone else from airing" the film.
Lessin sees it differently.
"David Koch is not a fan of public scrutiny or metaphors," Lessin said. "We were asked to remove the name Koch from the film, and then public television asked us to take Koch out of the film. This should be a warning about could happen to these newspapers were the Kochs to buy them."
The Koch Brothers aren't saying whether they plan to bid on Tribune's newspapers, though their spokeswoman Melissa Cohlmia did steer me once again to
KochFacts
for guidance, and there, in black-and-white, the Kochs make clear that when it comes to buying Tribune's newspapers, "we are not ruling it out."
The Kochs are nothing if not defiant, making clear that recent public protests in cities with Tribune newspapers against the brothers have possibly had the reverse effect of making the activist billionaires more motivated to jump into this politically-charged scrum.
"In America, protesters have a right to protest; however we haven't been intimidated by past politically motivated attacks, and we won't be intimidated by these protests. The demonstrations carry no weight and have no influence on investment decisions we make," read the Koch post.
But were the Koch Brothers to extend their political campaigns from the editorial pages into the general newsroom, they may risk killing the very property they purchased, warns Alex Jones, director of Harvard's Shorenstein Center on the Press, Politics and Public Policy, and author of
Losing the News: The Future of the News that Feeds Democracy
.
Jones points out that longtime
New York Times
publisher Arthur "Punch" Sulzberger was a political conservative, but kept his distance from newsroom operations, cognizant of the
Times'
largely liberal readership. Likewise,
News Corp.
(NWSA) - Get Free Report
Chairman Rupert Murdoch, he said, has been careful not to turn the news pages of
The Wall Street Journal
into a
New York Post
-style bullhorn for his conservative politics.
"Murdoch knows that he can't make the Wall Street Journal a propaganda rag, that he can't turn it into the New York Post or it will be money down the drain," Jones said in a phone interview this week from Boston. "If the Koch brothers go in and undermine the traditions of the L.A. Times as a news organization, it won't matter what their politics are, they will kill something that gives it the real value and respect it has. They will have wasted a lot of money, and probably will not succeed."
Tribune hired
Evercore Partners
and
JPMorgan Chase
(JPM) - Get Free Report
in February to explore a possible sale but hasn't said when or if a sale will take place. Likewise, the company hasn't said whether it may sell the newspapers as a group or separately, a notion favored by those aware that few buyers besides the Kochs have a half-billion dollars to spend on newspapers in the year 2013.
Written by Leon Lazaroff in New York