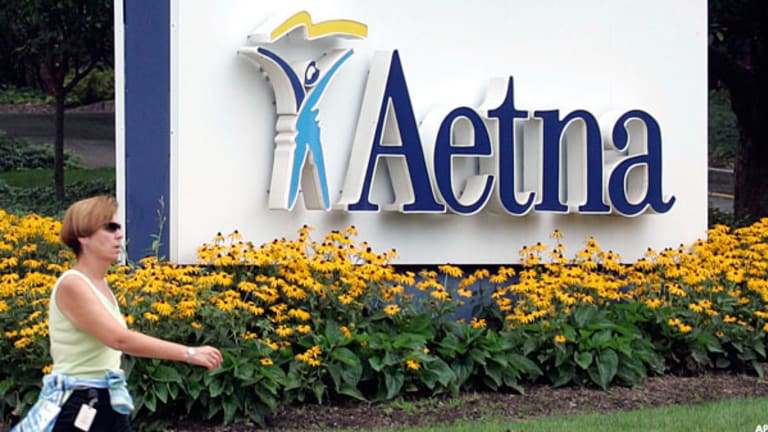 Aetna to Buy Humana for $37 Billion in Cash and Stock
Health insurer Aetna will buy rival Humana for $37 billion in cash and stock, or about $230 per Humana share based on Aetna's Thursday closing price.
NEW YORK (TheStreet) -- Health insurer Aetna (AET)  will buy rival Humana (HUM) - Get Humana Inc. (HUM) Report  for $37 billion in cash and stock, or about $230 for each Humana share based on Aetna's Thursday closing price, including debt, the companies said Friday.
The much-anticipated deal, which has been approved by both companies' boards and must still pass antitrust muster, is expected to close in the second half of 2016, according to the companies' statement. Humana stockholders will receive $125 in cash and 0.8375 Aetna common shares for each Humana share. Aetna's shareholders will have about 74% ownership in the combined company, while Humana's shareholders will own about 26% of the new company.
Aetna chairman and CEO Mark Bertolini will serve as chairman and CEO of the combined company, and the Aetna board will comprise twelve current Aetna directors and four Humana directors, for a total of sixteen directors.
The stock market is closed Friday in observance of the Fourth of July holiday, but Aetna shares have fallen about 6% over the last five days as talk of a deal solidified. The stock gained about 14% between June 11 and June 25, as M&A speculation heated up in the sector. Meanwhile, Humana shares have given back some gains that followed news of Aetna's interest in buying the company. After rising by as much as 7%, shares are up about 2% since Bloomberg reported Aetna's bid for Humana as of Thursday's close.
"The acquisition of Humana aligns two great companies and will significantly advance our strategy of more effectively serving members in a rapidly changing health care industry," said Bertolini. "This combination will allow us to continue to invest in excellent service for our members and strengthen our partnerships with providers to deliver high quality care at an affordable price. We have great respect for Humana, their talented team, their culture and their strong medical management capabilities. We look forward to working with them following the closing, as we enhance our combined portfolio of innovative health care offerings to provide significant benefits to consumers, employers and providers, and to continue delivering value for our shareholders."
The merger combines Humana's growing Medicare Advantage business with Aetna's diversified portfolio and commercial capabilities to create a company serving the most seniors in the Medicare Advantage program and the second-largest managed care company in the United States, according to the companies.
Aetna said it would finance the cash portion of the deal with cash on hand and by issuing about $16 billion of new term loans, debt and commercial paper, which would put its debt-to-capital ratio at about 46% -- a number management said it aims to reduce to under 40% in the 24 months after the deal closes.
The companies said they expect the merger to result in greater value and higher-quality health care by reducing administrative costs and improving business practices. They also see a more competitive company with more cost-effective products.
Aetna and Humana will hold a conference call to discuss the deal at 8:30 a.m. ET on Monday, July 6, 2015.
After closing, Aetna will make Louisville the headquarters for its Medicare, Medicaid and TRICARE businesses, and will maintain a significant corporate presence in Louisville, where Humana was founded more than 50 years ago.
Aetna made an official bid for Humana last week, according to Bloomberg.
Humana had reportedly also received a merger offer from Cigna (CI) - Get Cigna Corporation Report, but preferred Aetna. Meanwhile, fellow health insurers Anthem (ANTM) - Get Anthem, Inc. Report and Cigna ended their merger talks in late June, with Cigna's board saying Anthem's sweetened bid was inadequate and not in the interests of its shareholders.
Analysts have said that the consolidation of the industry is a consequence of the Affordable Care Act, which won an important Supreme Court decision this week.
The Court ruled that the federal government can continue issuing subsidies to Americans through the Affordable Care Act, also known as Obamacare.
Aetna and Humana will hold a conference call to discuss the transaction at 8:30 a.m. ET on Monday, July 6, 2015.
Company officials couldn't immediately be reached for comment.