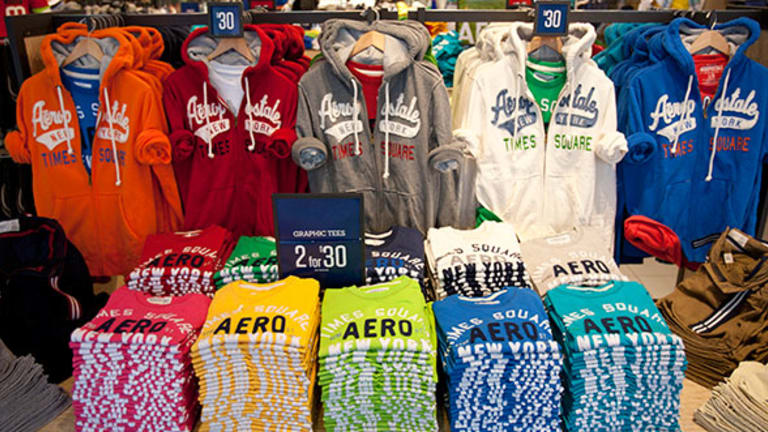 Publish date:
Aéropostale to Aggressively Cut Costs, Headcount
One industry expert believes the mall-based retailer 'is on life support.'
One industry expert believes the mall-based retailer 'is on life support.'
Mall-based retailer Aéropostale (ARO) is looking to cut its costs and its headcount in order to reach its goal to become profitable again.
The New York-based casual teenage apparel retailer announced late on Tuesday it has instituted an aggressive new cost reduction program that is targeting approximately $35 million to $40 million a year in savings, before taxes. The teen retailer also said in the statement that it plans to reduce its corporate headcount by 13%, or 100 positions.
In November, The Deal identified Aéropostale as one of the top 10 troubled retailers heading into the holidays, along with Gymboree, J. Crew Group, Pacific Sunwear of California (PSUN) , Claire's Stores, Toys 'R' Us, J.C. Penney  (JCP) - Get Report , Sears Holdings (SHLD) , Hhgregg (HGG) and Bebe Stores (BEBE) .
Aéropostale CEO Julian R. Geiger said in a statement on Tuesday that the cuts are a result of the company's goal to return to profitability. "We are building upon areas of progress and continue to work to improve our business," he said in the statement.
According to Howard Davidowitz, chairman of national retail consulting and investment banking firm Davidowitz & Associates Inc., Aéropostale "is on life support."
Davidowitz said that the retailer keeps closing stores and cutting costs and putting out an assortment of merchandise in the hopes of bringing in customers, but they need to turn around their sales to get back to profitability.
He said Aéropostale is shrinking the business and noted that management can only cut so much. Eventually, he noted, management will reach a point where there is nothing left to cut. Not helping matters is the fact that Aéropostale is in a "sick segment," as the junior apparel business overall is doing terribly. He said that Aéropostale is one of the weakest players in the segment.
According to Davidowitz, the company is currently restructuring outside of court but if management doesn't fix the sales situation, he sees Aéropostale headed for an in-court proceeding and a "tough road."
The company's stock, which trades on the New York Stock Exchange, closed up more than 2% Wednesday at 24.5 cents. Private equity firm Sycamore Partners LLC holds 7.81% of Aéropostale's common stock, according to data provider Bloomberg News.

Aéropostale has a $215 million asset-based revolver led by administrative agent Bank of America NA due Feb. 21, 2019. The revolver could be extended to Aug. 18, 2020, under certain circumstances.
The revolver is priced at either Libor plus 150 basis points to 175 basis points or prime plus 50 basis points to 75 basis points, depending on the balance, filings with the Securities and Exchange Commission said.
The other lenders on the revolver include Wells Fargo Bank NA and General Electric Capital Corp. Each lender has committed to provide roughly $58.33 million of the loan. The company has nothing outstanding under the revolver and $214.8 million available to borrow on the credit facility as of Oct. 31.
In addition to the revolver, Aéropostale has $150 million in financing from Sycamore. The financing consists of a $100 million five-year term loan and a $50 million 10-year term loan.
The larger term loan is priced at 10%, and up to 50% of the interest can be paid in kind during the first three years. Some 20% of the interest can be paid in kind during the next two years. The loan comes due on May 23, 2019. The $50 million term loan carries no interest.
The Sycamore funding contains a covenant requiring $70 million in minimum liquidity under the revolver and cash on hand, filings with the SEC said.
According to Aéropostale's most recent financial report, dated Dec. 7, the company had $434.49 million in assets and $450.28 million in liabilities as of Oct. 31, when it had $41.83 million in cash on its balance sheet.
The company reported a $115.29 million net loss for the 39 weeks ending Oct. 31.
Aéropostale operates 755 Aéropostale stores in 50 states and Puerto Rico, an additional 41 Aéropostale stores in Canada and 25 P.S. from Aéropostale stores in 12 states. The company's namesake stores target 14- to 17-year-olds, while its P.S. from Aéropostale stores target 4- to 12-year-olds.
Officials at both Aéropostale and Sycamore declined to comment