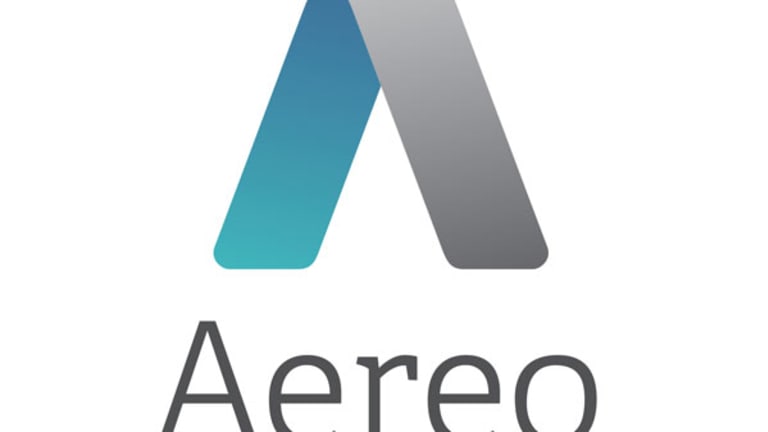 Aereo to Hand Over Less Than $1M to Broadcasters to Settle Dispute
Defunct television-streaming company Aereo has reached a deal with broadcasters to pay out far less than than the $99 million in damages they had sought for alleged copyright infringement.
Defunct television-streaming company Aereo has reached a deal with broadcasters that had initially sought more than $99 million in damages for alleged copyright infringement.
The New York debtor on May 7 is set to ask Judge Sean H. Lane of the U.S. Bankruptcy Court for the Southern District of New York in Manhattan to approve the settlement. A hearing on Aereo's disclosure statement, set for Tuesday, April 21, has been continued to May 7 as well. The company will incorporate the terms of the settlement, if approved, into the outline for its liquidation plan.
In a Monday motion, Aereo said broadcasters including CBS's (CBS) - Get CBS Corporation Class B Report CBS Broadcasting and CBS Studios, 21st Century Fox's (FOXA) - Get Fox Corporation Class A Report Fox Television Stations, Univision Network, Tribune Media's  (TRCO) - Get Tribune Media Co. Class A ReportWPIX, Public Broadcasting Service and Disney's (DIS) - Get Walt Disney Company Report American Broadcasting Cos., among others, had agreed to settle their claims for $950,000. The debtor would have to pay the amount by June 30 to resolve the nearly $100 million in claims.
In its motion, Aereo said, "In the absence of settlement, there is a likelihood of expensive, protracted litigation that will likely consume the debtor's limited remaining funds and prevent confirmation of a plan for the foreseeable future."
Aereo filed for Chapter 11 on Nov. 20 after losing a court battle over whether its television-streaming service violated copyrights held by broadcast TV networks. A day later, it sought approval of bidding procedures for the sale of its assets.
A sale of Aereo's trademarks, domain names and customer lists to Alviso, Calif., digital-video-recorder company TiVo (TIVO) - Get TiVo Corp. Report closed on March 16 following court approval four days earlier. TiVo paid $1 million for the assets.
Lane on March 12 also approved a $225,000 sale of Aereo's patents to San Francisco patent risk-management company RPX Corp. (RPXC) , which closed March 13, and a $320,000 sale of Aereo's equipment to Orion, Mich., information technology company Alliance Technology Solutions.
Aereo gave subscribers the ability to watch live or "time-shifted" broadcast television on personal devices such as computers, tablet devices and smartphones. Its system was designed to replicate the traditional in- or on-home antenna and digital video recorder. Subscribers picked up channels on TVs and mobile devices using tiny antennae provided by Aereo, which also supplied DVR systems to record the content.
The November bankruptcy filing came about a month after a court decision caused the company to essentially shut down. The company had stopped providing its technology to customers. It laid off most of its employees -- 74 people -- on Nov. 12 and closed down its Boston headquarters.
In March 2012, shortly after it began offering its services in New York, major TV broadcast networks including ABC, CBS and NBC sued Aereo in the U.S. District Court for the Southern District of New York to block users from streaming content that was airing on the grounds that such transmissions were public performances under the Copyright Act.
The district court denied a motion for a preliminary injunction, and the U.S. Court of Appeals for the 2nd Circuit affirmed the decision a short time later.
On June 25, however, the U.S. Supreme Court, on a 6-3 vote, reversed the 2nd Circuit decision, ruling that with respect to live or contemporaneous transmissions, Aereo was "essentially performing as a traditional cable system under the Copyright Act.
The high court remanded the case back to the district court, which on Oct. 23 entered an injunction banning Aereo's technology from playing TV programs while they still were airing.
Under its Feb. 27 liquidation plan, Aereo secured, convenience and priority tax creditors would be paid in full.
General unsecured creditors, a class that includes the broadcasters, would receive a pro rata share of available cash. (Broadcasters' claims make up more than 90% of unsecured claims against Aereo.)
Equity interests would be canceled.
The debtor was founded in 2010 as Bamboom-Entertainment and changed its name to Aereo a year later. The company launched in New York in 2012 and expanded into 13 other markets, including Atlanta, Boston, Houston and Miami. Aereo had raised nearly $96 million in venture funding in multiple rounds as it built its business. Investors include Barry Diller, chairman of IAC/InterActiveCorp (IACI)
A basic subscription cost $8 a month, while a plan with more DVR hours was $12 monthly. Aereo was seen as an inexpensive alternative to a basic cable package that provides local channels.
William Baldiga and Benjamin Chapman of Brown Rudnick LLP are debtor counsel.
Lawton Bloom of Argus Management Corp. is chief restructuring officer.
Robert T. Kugler and Edwin H. Caldie of Stinson Leonard Street LLP and Edward E. Neiger and Marianna Udem of ASK LLP represent an ad hoc creditors' committee, which consists of Quality Investment Properties Metro LLC and Level 3 Communications LLC, holders of the two largest unsecured trade claims in the case.