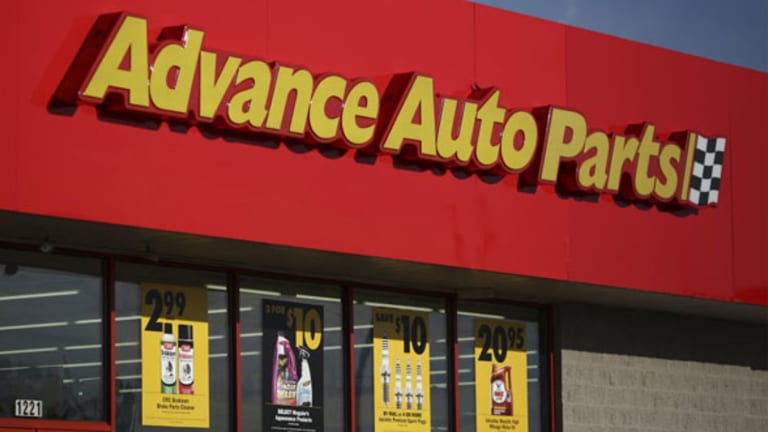 Publish date:
Advance Auto Parts Shakes Things Up Under the Hood to Appease Starboard
The auto parts retail chain is ousting its CEO, replacing four directors, adding a board seat for the dissident fund's CEO, Jeff Smith, and closing 30 stores.
The auto parts retail chain is ousting its CEO, replacing four directors, adding a board seat for the dissident fund's CEO, Jeff Smith, and closing 30 stores.
Advance Auto Parts (AAP) - Get Advance Auto Parts, Inc. Report on Thursday agreed to oust its CEO as part of a deal with activist investment firm Starboard Value that also included a major reshuffling of the car parts retail chain's board and came on the heels of store closings and lower-than-expected third-quarter results.
Starboard, one of the most prolific activist investors in the U.S., launched a campaign at Advance Auto Parts in late September seeking to have the Roanoke, Va.-based company improve operating margins, reshape its distribution chain and consider making small and mid-sized acquisitions.
As part of the agreement, CEO Darren Jackson agreed to retire as of Jan. 2, while the company's president, George Sherman, will take on the role of interim CEO, and John Ferraro, a current board member, will become lead independent director.
In addition, Advance Auto expanded its board from 12 to 13 members to include Starboard Value chief Jeff Smith as a new director and chief of the company's nomination and governance panel. Smith and Starboard also will get to nominate two additional directors at the company's 2016 annual meeting, which is expected in May, in a move that is expected to replace two existing board members. Finally, Advance Auto itself agreed to replace two additional directors at next year's meeting. 
The settlement comes as Advance Auto also on Thursday also reported lower-than-expected third-quarter results, noting that it had earned $121 million, or $1.95 a share, on sales of $2.3 billion. That was below analysts' estimates of $2.09 per share in earnings and $2.33 billion in sales.
The car parts retail chain also lowered its outlook for the fourth quarter and announced it would close 30 stores later this year in addition to the 50 stores it has already said it would close.
Mike Norona, Advance Auto's CFO, said the new outlook "assumes flat to slightly negative fourth quarter comparable store sales."
Advance Auto's stock price dropped in early trading Thursday on the news, falling 11% from its close on Wednesday of $194.67 a share to trade at $172.85 a share early Thursday. Prior to Thursday, the company's share-price had been rising on news of the Starboard campaign, increasing from roughly $171.53 a share on Sept. 29 -- its closing price on the day before the activist launched its public campaign. In a September presentation, Starboard argued that it could be worth $350 a share.
The company became the largest retailer of automotive replacement parts after it acquired General Parts International, which operated and franchised stores under the Carquest brand, in 2013 in a $2 billion cash deal.
Starboard owns roughly 3.7% of Advance Auto Parts, which has a $14.3 billion market capitalization.
The settlement with Starboard came roughly two months before the deadline for shareholders to nominate dissident director candidates to the company's board. Starboard's track record suggests Smith was seriously considering such a nomination -- the activist fund and its predecessor, Ramius LLC, have engaged in 59 proxy contests since 1994, according to FactSet. On Sept. 30, Smith gave a 23-page presentation about his concerns with Advance Auto at a Sohn Canada investment conference in Toronto. In it, he complained that it has significantly underperformed its nearest peer, O'Reilly Automotive (ORLY) - Get O'Reilly Automotive, Inc. Report since 1998. 
In the activist fund's September presentation, Smith suggested that there are substantial small "mom-and-pop" and "mid-sized" acquisition opportunities for Advance Auto in the aftermarket auto parts industry. Some analysts had speculated that Advance might be interested in acquiring Pep Boys - Manny, Moe & Jack (PBY) - Get Prospect Capital Corporation 6.25 % Notes 2018-15.06.28 Report and later divesting its auto servicing unit. However, that auto parts and services retailer agreed to be acquired by a Bridgestone unit last month for $835 million.
Starboard also said it wants Advance Auto Parts to reshape its distribution and supply chain strategy to "accelerate growth." However, Gabelli & Co. analyst Brian Sponheimer said that restructuring the distribution supply chain would require a "tremendous amount of work" and significant capital. "It's easier said than done," he said.