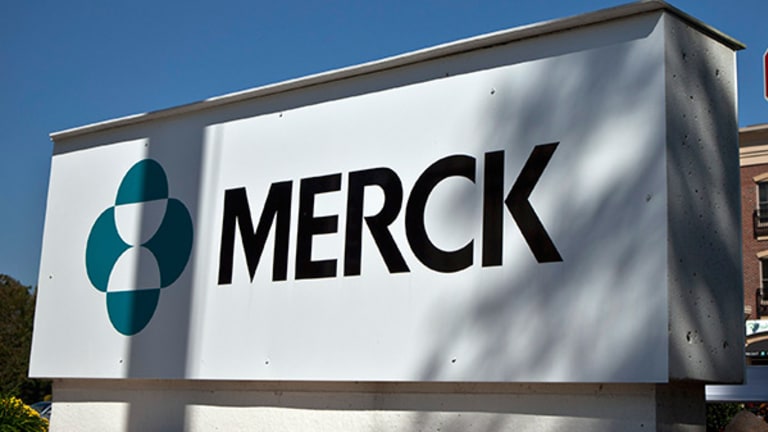 Aduro Biotech, Merck Team on Cancer Drug Trial
Aduro Biotech and Merck will team on two separate trials featuring Aduro's CRS-207 and Merck's Keytruda to explore treatments for mesothelioma and gastric cancer.
Aduro Biotech (ADRO) and Merck (MRK) will collaborate on a Phase 2 trial teaming one of Aduro's immunotherapies with Keytruda.
The clinical trial will be designed to bring together CRS-207, Aduro's LADD, a live attenuated double-deleted immunotherapy with Keytruda, the anti-PD-1 therapy to treat patients with malignant pleural mesothelioma that has not responded to previous treatment.
Aduro, the Berkeley, Calif.-based immunotherapy company is developing therapies to harness the body's immune system to fight cancer as well as autoimmune and infectious diseases.
LADD is Aduro's platform of listeria monocytogenes engineered to bring an innate immune response and express tumor-related antigens and induce tumor specific T-cell immunity.
Keytruda, approved by the Food and Drug Administration in October, can treat certain cases of advanced non-small cell lung cancer, advanced melanoma, head and neck squamous cell cancer and classical Hodgkin lymphoma.
Mesothelioma affects the smooth layer of mesothelial cells of the lungs, heart, chest and abdomen. Malignant pleural mesothelioma is the most common form of the disease, with about 13,000 cases in the U.S., Europe and Japan a year. The disease does not lend itself to surgical intervention and there currently is no FDA approved therapy for patients who have failed prior treatments.
After closing at $10 on May 16, shares of Aduro slid to an open $9.65 May 17 after the announcement. Shares began to trade back up at $9.78 in early afternoon trading.
The planned trial will take place in multiple locations and will be an open-label study to evaluate safety and efficacy of CRS-207 with Ketruda in adults. Enrollment in the trial is expected to be as high as 35 patients and the patients must have failed one or two prior treatments.
This is the second time that Aduro and Merck have teamed up on a cancer trial. In January, the companies announced that they would collaborate on a Phase 1 study to explore how CRS-207 with Ketruda may be used to treat gastric cancer. That trial is planned to take place in several locations and will enroll patients with metastatic gastric cancer which has not responded to at least two prior treatments.
The concept behind the trial is that the CRS-207 will produce an immune response while also suppressing the cancer's ability to evade the immune system with Keytruda's PD-1 checkpoint inhibitor based on pre-clinical studies. Enrollment should be completed by the end of this quarter.
The 17-year-old company already has several partnerships underway with other companies.
It is working with Janssen Biotech Inc. to develop treatments for prostate and lung cancers using Aduro's LADD platform. Novartis (NVS) and Aduro are working with Aduro's ADU-S100 on cutaneously-accessible tumors associated with breast, renal cell, head and neck cancers as well as melanoma and lymphoma.
Aduro and Incyte (INCY) are working on a clinical trial for treatment of ovarian cancer. And Johns Hopkins has teamed with Aduro to investigate therapeutics combining LADD, GVAX and cyclic dinucleotides for multiple types of cancer.
This article was originally published by The Deal, a sister publication of TheStreet that offers sophisticated insight and analysis on all types of deals, from inception to integration. Click here for a free trial.