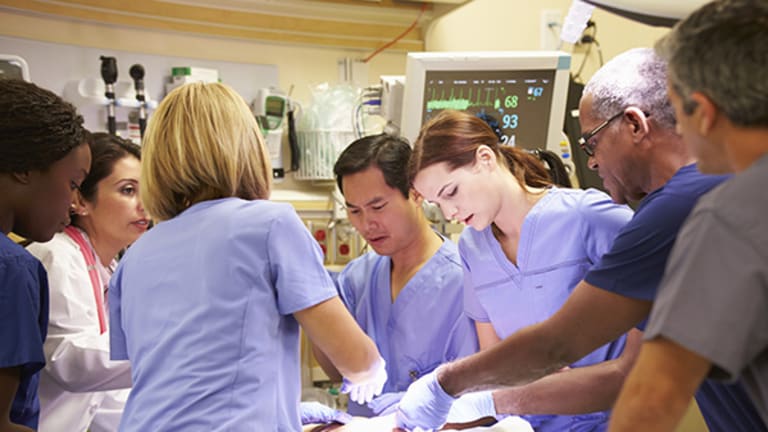 Adeptus Health IPO Powered by Revenue Growth, Obamacare Reforms
Adeptus Health, a fast-growing operator of free standing emergency rooms, believes it can profit from the changing landscape for healthcare.
NEW YORK (TheStreet) -- Adeptus Health (ADPT) a fast-growing operator of free standing emergency rooms, believes it can profit from the changing landscape for health care. So do investors, after shares of the private equity-backed company surged in their first day of trading on the New York Stock Exchange.
Walgreen's U.S. Fate Could Be Sealed by Labor Day
Adeptus Health sold 4.9 million shares at $22 a share apiece in its initial public offering on the NYSE, raising $93 million in IPO proceeds, after deducting underwriting fees, be used to repay debt and for general corporate purposes.
Shares in Adeptus Health surged over 21% in early Wednesday trading at $26.65, indicating strong investor interest in the 12-year old company.
The Lewisville, Texas-based emergency room operator may benefit from an ambitious plan to grow its facilities in coming years. Freestanding emergency room facilities, the niche where Adeptus Health operates in and is a market leader, has also gained prominence amid a nationwide policy focus on health care. Meanwhile, an apparent overburdening of hospital emergency rooms has created an opportunity for niche players like Adeptus Health.
Thomas S. Hall, CEO of Adeptus Health, said in an interview with TheStreet he believes there could be 5,000-to-10,000 free standing emergency rooms across the U.S. in coming years, as emergency room demand continues to grow while the total number of hospitals remains stagnant. Adeptus Health operates First Choice Emergency Rooms, the largest network of independent freestanding emergency rooms in the United States.
Perhaps, Adeptus Health can also improve the performance of emergency rooms. Emergency rooms in states where the company operates were given grades of either D- or F by the American College of Emergency Care in its 2014 Report Card.
In 2014, Adeptus health is on track to more than double overall number of facilities. The company entered 2014 with 26 facilities and said in its IPO prospectus it expects to operate 53 facilities by the end of the year.
Hall, the Adeptus Health CEO, said in a phone interview the company has an about 50 facility backlog and expects to open about 24 new facilities a year. Hall also said that new Adeptus Health emergency rooms reach breakeven quickly after being opened, indicating that the company, which operated at a small loss in 2013 and the first quarter, could soon turn to profitability.
Adeptus Health earned $102.8 million in in net patient service revenue in 2013 and reported a full-year loss of nearly $3 million. On a basis of adjusted earnings before interest, taxes, depreciation and amortization, the company earned $16 million in 2013 and just over $5 million in the first quarter of 2014.
The Affordable Care Act, otherwise known as "Obamacare," could provide a tailwind for Adeptus Health, CEO Hall said on Wednesday. With more ordinary Americans insured by way of health care reform, Adeptus Health facilities could become accessible to a broader market of clients. Currently, nearly 99% of Adeptus Health's revenue comes from third-party payers such as insurance companies, indicating most of the company's clients have health insurance.
According to Adeptus' S-1 filing, 28% of the company's payments came from Blue Cross Blue Shield, 26.5% from United HealthCare, 21% from Aetna (AET) and 11.2% from Cigna (CIG) - Get Free Report . The company has also entered into alliances with Hospital Corporation of America (HCA) - Get Free Report in parts of Texas, providing seamless transfers between both companies facilities. Adeptus also said in its S-1, it expects to open its first full-service hospital in Arizona in early 2015.
"More and more everyday people understand that freestanding emergency rooms are going to be a bigger part of American health care going forward," Hall said of Adeptus Health's business model.
Sterling Partners, the majority owner of Adeptus Health prior to its IPO, could see its stake fall below a 50% interest if the company's underwriters exercise their option to purchase an additional 735,000 share s in the offering.
Deutsche Bank, Goldman Sachs, Evercore Partners and Morgan Stanley were joint book-running managers in Adeptus Health's IPO. Piper Jaffray, RBC capital Markets and Dougherty & Co. were also co-managers in the share offering.
Hedge Funder Sees KKR's Next Deal In Washington Mutual's Shell
Pfizer Can Stay in Dow After British Move
-- Written by Antoine Gara in New York