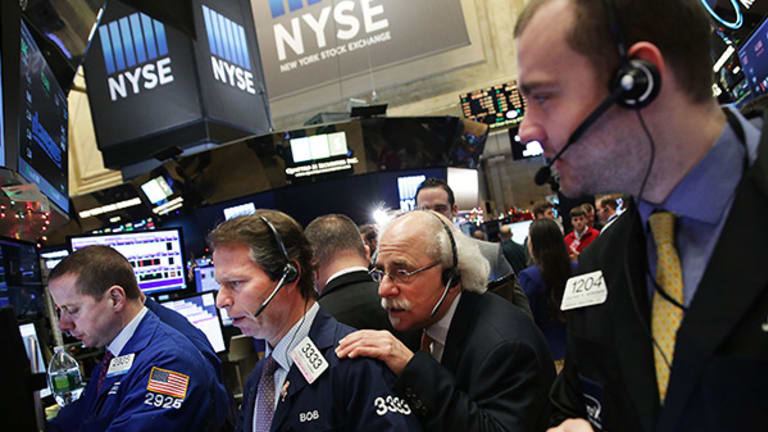 Activitists Add to Shopping Lists Thanks to Market's Selloff
Hedge funds are eyeing targets as a decline in valuations has made some targets relative bargains.
A number of hedge funds may have seen their fortunes decline with the selloff in the stock market over the past couple of months, but the drop in valuations also provides an abundance of investment opportunities, said several industry sources.
Even as a correction eliminates some of the weaker, newer arrivals to the world of activism, veteran hedge funds that survived the financial crisis of 2008 may not only have staying power but the ability to invest in companies that are now a relative bargain.
"A shakeup was bound to come," said Olshan Frome Wolosky partner Andrew Freedman, co-head at the law firm's activist and equity investment group.
Such fallout is evident due to the shuttering of activist Orange Capital, for example, Freedman noted. The "tried and true activist investors, who have been around since before 2008, they've seen this happen before," he said, experiencing the wide-scale redemptions as a result of the fear factor.
But "the newcomers are more vulnerable," he said, adding that "on the hedge fund side, it's going to be more difficult on the new entrants still looking to prove themselves. What you have is a bit of an overcrowded activist market."
While the "newcomers are more vulnerable, the ones that weathered the storm will weather the storm again," Freedman said.
Freedman said survivors include Starboard Value, Elliott Management, Third Point, Jana Partners, ValueAct Capital Partners, Greenlight Capital, Corvex Management and even Pershing Square Capital Management, which has taken one of the biggest hits.
Those firms, he said, were restructured after the 2008 financial crisis to have more staying power by implementing longer lockup periods. Some of these firms also can raise capital to take advantage of value opportunities during the sell-off via special purpose funds and co-investments, he said.
"There is opportunity for hedge funds that have the cash and the analytical capability," said Eleazer Klein, a partner at Schulte Roth & Zabel, who serves as co-chair of his law firm's shareholder activism group.
He said the activists will remain busy and, to date, there hasn't been a pullback. Plenty of companies are ripe for activist campaigns.
"There are funds that have the reputation for raising capital and taking advantage of selloffs. There are also funds that can sell their underperforming positions to take advantage of discounted stocks," Klein explained.
But downturns don't always accelerate activist moves because potential targets are often measured against their peers, he said. What downturns often do, however, is expose bad managers, or companies not nimble enough to navigate difficult times. "There are firms that are even eyeing the energy sector with its historic lows, though there is no consensus on a bottom," he added.

Activists are particularly interested in situations where assets trade at a discount to market cap, or where there is a disconnect between the trading price and value of net assets, such as real estate investment trusts and closed-end funds, Klein pointed out.
Klein and Freedman will not get much argument from James Mitarotonda, a veteran activist and CEO of hedge fund Barington Capital Group. "I think, given the market selloff, valuations are a lot more attractive. I do think there are a lot more opportunities. Companies that we were looking at a few months ago are now trading at lower multiples," Mitarotonda said.
While consumer staples tend to trade well during such declines, other areas like consumer discretionary, retail and chemicals also offer opportunities, he said.
Mitarotonda is not looking for a bottom to put his money to work. "If there is a company you love at an attractive valuation, you should begin to build a position, (because) it's hard to pick a bottom," he said. He added that it's important for a hedge fund to always have cash to take advantage of such sell-offs.
While he believes the economy is relatively healthy, if slow growing, Mitarotonda also believes that the low price of oil will continue "to benefit the consumer. Though the consumer is not spending as much as expected, the consumer is saving more. While things will be pretty volatile, attractive targets will be companies that can generate lots of free cash flow, while being well-capitalized, with considerable downside protection." 
Companies that have assets like cash or real estate, value separate from where their stocks are trading at, are particularly attractive, Freedman also pointed out.
In that vein, there are a number of companies hedge funds might find worth eyeing. One such target could be Ingles Markets (IMKTA) - Get Ingles Markets, Incorporated Class A Report , the Black Mountain, S.C.-based supermarket operator largely confined to the Southeast.
The company has steady cash flow and valuable real estate. According to regulatory filings with the Securities and Exchange Commission, the company cites property and equipment as being worth nearly $1.23 billion. Ingles has seen its stock price deteriorate in recent months, falling from more than $56 in late November to its close Friday at $34.
The grocer's enterprise value stands at about $1.65 billion after the shakeout, close to 6.88 times its projected adjusted Ebitda of $240 million for the fiscal year ending on Sept. 30, according to Bloomberg data. The enterprise value includes both a market cap of about $730 million and debt of approximately $920 million as of Dec. 26.
An activist could push for Ingles to sell to either a strategic or a private equity firm. A hedge fund could even call on the company, failing a sale, to monetize its real estate through a sale leaseback and then using those proceeds to buy back stock. In addition, industry sources have named Ingles as a consolidation candidate in the past.
In 2013, Kroger (KR) - Get Kroger Co. Report bought Southeastern supermarket chain Harris Teeter Supermarkets for nearly $2.5 billion, which works out to be about 6.94 times the target's adjusted Ebitda at the time of around $360 million for the fiscal year ended Oct. 1, 2013.

At an attractive valuation and asset-rich, Ingles may find itself attracting its share of attention.
Meanwhile, Racine, Wisc.-based Johnson Outdoors (JOUT) - Get Johnson Outdoors Inc. Class A Report could also find itself on hedge funds' watch lists. The company makes everything from Eureka! branded tents, which consumers are likely most familiar with, to Silva compasses, Humminbird-branded fish-finding sonar and Ocean Kayaks, among other products.
Now, Johnson Outdoors could be a likely target for strategics and private equity firms, and therefore activists. The outdoor sporting goods segment is not only consolidating, large players in the space, such as Springfield, Mass.-based gun maker Smith & Wesson (SWHC) , are looking to diversify.
Smith & Wesson said in late January it is looking to make acquisitions of makers of outdoor sporting goods, following in the steps of Clearfield, Utah-based ammunition maker Vista Outdoors (VSTO) - Get Vista Outdoor Inc Report , another potential buyer of the likes of Johnson Outdoors.
Johnson Outdoors shares look discounted. Outdoor gear firms generally trade at double-digit multiples, but Johnson Outdoors sports a mid-single-digit multiple. According to Bloomberg data, Johnson Outdoors had adjusted Ebitda during the 12 month period ended Jan. 1 of about $40 million, and it is projected to achieve the same level of Ebitda for its fiscal year ending Sept. 30.
The potential target's current market capitalization is about $220 million, as the company's stock trades close to its $18.33 per share 52-week-low, closing at $22.89 Friday. Johnson Outdoor's market cap minus cash and cash equivalents of nearly $50 million, plus its $30 million in debt, gives the company an enterprise value of $200 million, or a roughly 5 times adjusted Ebitda multiple, ideal for a private equity buyer.  
PE firms are generally willing to consider targets trading below seven times Ebitda because they are easier for arranging debt financing, even after figuring in a premium to the company's current market cap. Strategics, which can realize cost savings via sales, distribution, raw materials and manufacturing, are usually willing to pay a higher premium. Given industry consolidation and a low valuation, Johnson Outdoors amounts to desirable prey.
Nordstrom (JWN) - Get Nordstrom, Inc. Report , which in recent retail history has been considered the gold standard among department store operators, may also emerge as an enticing activist target. The Seattle-based department store's shares swooned in the past six months to $49 as of the Friday close from $76 a share on Aug. 3.
The broad market selloff has hurt Nordstrom, which is also a victim of declining traffic at malls and individual department stores-both problems affecting key competitors. The retailer's share price drop has cut its market capitalization to about $9 billion, and when subtracting cash of about $800 million and adding in debt of $2.8 billion as of Oct. 31,it has an enterprise value of $11 billion.
That's close to a 6.5 times multiple of Nordstrom's projected adjusted Ebitda of about $1.7 billion, according to Bloomberg data, for the fiscal year ending Jan. 31, already a fairly low valuation.

That is before accounting for the value of its property and equipment, which the company estimates to be roughly $3.7 billion, according to a filing with the Securities and Exchange Commission.
A relatively unlevered balance sheet, added to real estate assets that could be monetized, makes the retailer could become vulnerable to activists.
The chemicals space is also proving to be attractive to activists.
Chemicals firms have tantalized activists dating back to 1980s, with investors like Harold Simmons and Sam Heyman drawn to the sector's strong cash flows and cyclical downswings. 
In recent years, activists have been particularly busy, capitalizing on industry tensions over whether companies should focus on raw materials or get into the more expensive, but potentially higher-margin specialty products business.
For example, Trian Fund Management targeted DuPont (DD) - Get DuPont de Nemours, Inc. Report , and Third Point went after Dow Chemical (DOW) - Get Dow, Inc. Report , setting off a chain of events that culminated with the companies' December announcement that they intend to merge and then split into three more-focused entities. 
Other names that have come under pressure from activists in recent years include Ashland (ASH) - Get Ashland Global Holdings, Inc. Report (Jana Partners), Ferro (FOE) - Get Ferro Corporation Report (FrontFour Capital Group and Quinpario Partners), Air Products and Chemicals (APD) - Get Air Products and Chemicals, Inc. Report (Pershing Square) and Agrium AGU (Jana Partners), not to mention Barington Capital's agitation at Omnova Solutions (OMN) - Get OMNOVA Solutions Inc. Report .
Most of the sector trades near 52-week-if not multiyear-lows, and there are plenty more potential targets available, including Huntsman (HUN) - Get Huntsman Corporation Report , Praxair (PX) and Celanese (CE) - Get Celanese Corporation Report . 
Platinum Specialty Products is also floundering, but has both a "who's who" stable of shareholders and a massive debt load that might combine to make investors think twice.
Regardless, according to Freedman, companies that have been eyed by hedge funds going back many months, that are a good value, may very well see activists building up positions, leading to a wave of 13-D filings in coming months.
"This is when the value is found. There is an abundance of opportunities for the tried-and-true, top-tier, well-funded activists," Freedman said. 
-- Lou Whiteman contributed to this report.