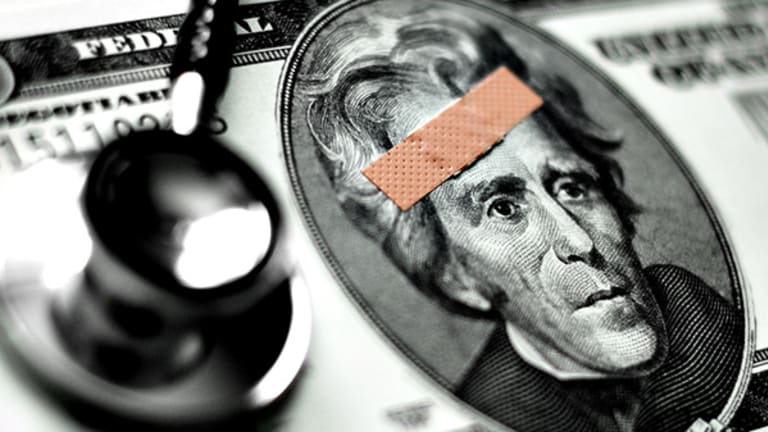 Struggling Hospital Cos. Quorum, LifePoint Next Up in Consolidation Push
Activists could take interest in the challenged group of non-urban hospital operators as they continue to disappoint investors.
Activists could take interest in the challenged group of non-urban hospital operators as they continue to disappoint investors.
Rural hospital companies Community Health Systems Inc. (CYH) - Get Report , Quorum Health Corp. (QHC) - Get Report and LifePoint Health Inc. (LPNT) have all gotten hammered in the equity markets over the past several months as they struggle to overcome challenging market conditions fueled by reimbursement risks amid the shift toward value-based care and lower-cost settings. 
With one of these companies—Community Health—already working with bankers to weigh possible transactions, all three may find themselves at a crossroads that could draw the attention of an activist investor.
Debt-ridden rural hospital operator Community Health on Sept. 19 confirmed that it is exploring a possible sale to financial sponsors among other alternatives, noting that discussions are at a very preliminary stage and that no timeline has been set for the review. 
While traditional private equity firms have by and large opted to put their capital towards more promising areas of growth in the healthcare sector as of late, such as healthcare information technology and physician services that include anesthesia and urgent care, the large contrarian sponsor Apollo Global Management LLC (APO) - Get Report have already begun to exhibit their belief that the challenges faced by the industry's operators present an opportunity. 
It was Apollo portfolio company RegionalCare Hospital Partners Inc. in March that combined with Medical Properties Trust Inc.'s (MPW) Capella Healthcare Inc. to create a $1.7 billion-in-revenue hospital system giant, only months after the REIT bought the healthcare services company from Chicago financial sponsor GTCR LLC. The combined entity now goes by RegionalCare Capella Healthcare (RCCH)  .
While an official with Apollo declined to comment, the sponsor is one of the firms reportedly in talks with Community Health as it weighs its options. 
While talk of a possible transaction at Community Health is already a matter of public record, that doesn't mean an activist won't look to get involved. 
Besides trying to facilitate a transaction of some sort, Sheryl Skolnick of Mizuho Securities USA Inc. wrote in a report earlier this week that an activist investor might also be inclined to enforce a change in leadership. 
While Community Health earlier in the year promoted company insider Tim Hingtgen to replace David Miller as president and COO following the latter's retirement, there's an argument for further changes in the C-suite.
"The calendar is moving forward and at some point CYH's board will likely have to consider succession plans for both the CEO and the CFO," Skolnick wrote. 
Community Health CEO Wayne Smith is 71 years old, while CFO W. Larry Cash is 68, according to data from relationship mapping service and an affiliate of The Deal, BoardEx. The company's seven-person board of non-executive directors ranges in ages from 56  to 79, BoardEx shows. 
That said, finding CEO and CFO replacements would probably prove challenging, according to Skolnick: "It won't be easy as most of the deeply experienced senior leadership either has a job, is in the non-profit sector and/or knows better than to get back into the hospital system to do a turnaround that needs volume growth when all forces are pushing to strictly compress hospital volumes." 
Besides Community Health, its much smaller, even more rural-focused spinoff company, Quorum Health, could also be encouraged by an investor or activist to put itself in play. Quorum encompasses a group of 38 hospitals and related outpatient services in 16 states, plus Community Health's management and consulting services unit.
Shares of Brentwood, Tenn.-based Quorum have lost more than 50% of their value since breaking off from Community Health in May, tumbling 7.1% to finish Wednesday's trading session at $6.35 a share.  
In many ways Quorum would actually be a lot easier to take private than Community Health, an industry banker said, speaking on the condition of anonymity. 
Quorum would not only be a much more bite size deal for financial sponsors, thus increasing the potential buyer pool, but it also has a more simplified structure and lacks a natural shareholder base like that of Community. 
On the other hand, Frank Morgan of RBC Capital Markets noted that because Quorum is already in a restructuring mode as it works to realign its portfolio since the spinoff, a sale scenario may be a bit premature. 
The third operator of hospitals in non-urban communities that has also had hard time in the public markets is Brentwood, Tenn.'s LifePoint—a company that is the equivalent of the Quorum Health of hospital giant HCA Holdings Inc. (HCA) - Get Report .
HCA in 1999 spun off both Lifepoint and Triad Hospitals Inc., a deal that Community Health's Smith has publicly stated helped to inspire its own break-up.  
Shares of LifePoint have fallen some 25% year-to-date.
While LifePoint is viewed as being a little more stable than Community, the company has been criticized for making not-for-profit hospital acquisitions, noted the banker. At the same time, LifePoint is going through a bit of a transition period, having seen its own changes in leadership just recently. 
Earlier this month LifePoint revealed plans to promote the company's chief accounting officer Michael Coggin to the become its new CFO. Coggin on Sept. 30 will effectively assume this role, as Leif Murphy departs to take the helm as CEO of TeamHealth Holdings Inc. (TMH). 
The activist investor community isn't new to the hospital sector. 
Health Management Associates Inc. began evaluating its options in late 2012 following pressure from Larry Robbins' Glenview Capital Management LLC. Community Health ultimately bought its smaller rival in July 2013 in a deal valued at $7.6 billion, a transaction which has arguably been the biggest reason for the buyer's current debt problems today.   
A couple hedge funds have already taken notice of Community Health and its spinoff company. David Tepper's Appaloosa Management LP holds 5.5% and 2.6% stakes in Community Health and Quorum, respectively, while David Einhorn's Greenlight Capital Inc. owns 2.1% of 9.8% of the two companies, respectively.