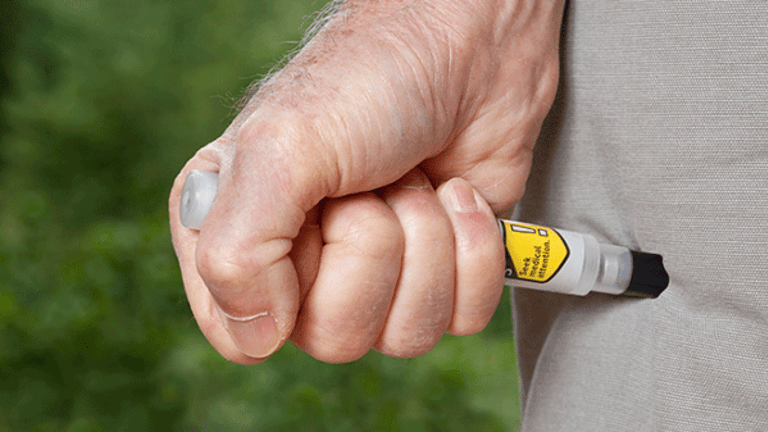 EpiPen Maker Mylan Urged by Activist Funds to Remove Directors After Shareholder No Vote Is Revealed
The result was due largely to a 'just vote no' campaign against the directors.
It was too good to be true.
Mylan NV (MYL) - Get Report revealed last week at its annual meeting that all of its directors were re-elected to the board. However, the embattled EpiPen maker didn't reveal the votes.
Late Wednesday, June 28, Mylan finally produced the total tally, as it is required to do, which showed that a majority of shareholders opposed at least one director, while two others came close to receiving a majority of the no vote. In all, the results represent a major blow to Mylan.
Specifically, 56% of shares voting opposed director Wendy Cameron, while 50% came out against director Neil Dimick. Mark Parrish, another director, received the no vote of 48% of shares. Meanwhile, the company's chairman, Robert Coury, faced a 34% no vote.
The result was due largely to a "just vote no" campaign against the directors launched by an activist shareholder group including New York City's Comptroller's Office and the California State Teachers Retirement System and Dutch pension manager PGGM
The activist funds had taken issue with Mylan's share price drop in recent months. They also raised concerns about revelations that many uninsured patients had to pay about $600 for two EpiPens, which is used to treat severe allergies and anaphylaxis. Also, last year, it came to light that EpiPen had been misclassified for years by the Centers for Medicare and Medicaid Services as a generic, which allowed Mylan to receive bigger rebates from the government.
"Let's be clear about what happened here. From the EpiPen price-hiking debacle, to allegedly overcharging the government for life-saving drugs... this board's oversight failures have hurt investors, consumers, and American taxpayers. We need to see change," said New York City Comptroller Scott Stringer in a statement.
Also, Mylan revealed Wednesday that about 84% of votes came out against the company's executive compensation package in a non-binding vote, a major blow to the company's C-Suite. The company had disclosed on June 22 that a majority of shares opposed the company's pay plan. However, the overwhelming negative vote suggests that Mylan will need to make some executive pay changes in the coming months. 
In a letter obtained by The Deal, New York City Comptroller Stringer urged Mylan to request and accept the resignation of Cameron, who chairs the company's compensation committee. Also, the funds said they wanted to see the company bring in an independent chairperson to replace Coury. They also said they wanted the board to be reconstituted with a substantial majority of "new, diverse and genuinely independent" directors.
"We believe Mylan's independent directors must act swiftly -- or risk further erosion in shareowner confidence and value," Stringer said in the letter.
In response, Mylan said it would engage in an "extensive program" of shareholder outreach over the coming months to "understand" the perspectives of shareholders. It added that the outreach would be the first stage of a "careful review" going-forward. For now, Cameron's position on the board appears safe.
There were several governance red flags on Mylan's board in advance of the activist fund campaign. For example, some Mylan directors appear over-tenured. Governance experts contend that directors who have sat on a corporate board for more than ten years may be regarded as over-tenured because they could be too close to top executives and no longer can provide independent oversight of C-suite decisions. According to relationship mapping service BoardEx, a service of The Street, at least four Mylan directors are overboarded, including Cameron, who has served for over 15 years. Coury has served for over 15 years while Dimick has been on the board for almost 12 years. Randall Vanderveen, who received a 37% no vote, has served for 15 years as well.
Earlier this month, investor advisory firm Institutional Shareholder Services Inc.recommended that Mylan shareholders vote against ten directors, including chairman Robert Coury. Another shareholder advisory firm, Glass, Lewis & Co. LLC recommended that shareholders vote against three directors, including Cameron that served as members of Mylan's compensation committee during the past year.
- Armie Margaret Lee contributed to this report
Visit here for the latest business headlines.