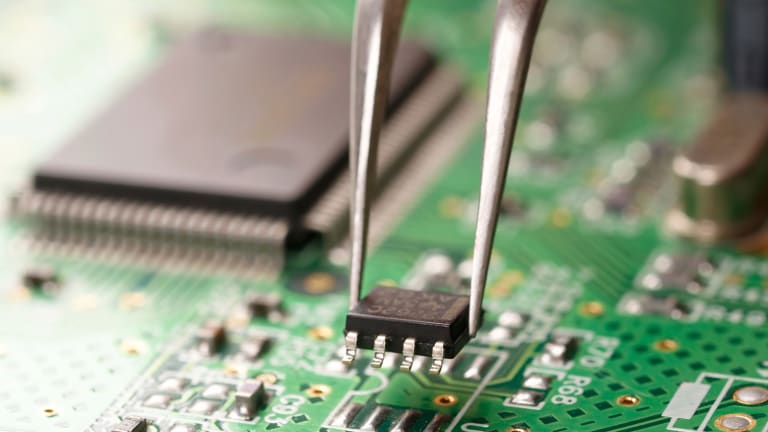 Activist Ups Pressure on EZchip Semiconductor to Scuttle Mellanox Deal
Raging Capital has called for fellow shareholders to vote against a proposed $811 million acquisition of the chipmaker by Mellanox Technologies.
EZchip Semiconductor (EZCH) is getting more pressure from an activist not to go through with a proposed $811 million sale to Mellanox Technologies (MLNX) - Get Mellanox Technologies, Ltd. Report . Industry watchers suggest the investor has a favorable card up its sleeve.
Activist Raging Capital Management issued a letter to its fellow shareholders Thursday after the markets closed and urged them to vote against the pending $811 million acquisition of EZchip by Mellanox at the Nov. 12 annual shareholder meeting.
The firm's chairman and chief information officer, William Martin, argued in the Thursday letter that the $25.50-per-share price doesn't reflect the value of EZchip's new products that will be introduced later this year, nor does it take into account the target's growth potential in the network processing chip market following Marvell Technologies (MRVL) - Get Marvell Technology, Inc. Report and Broadcom'sundefined exit from the segment.
"Following the merger announcement, we asked EZchip's CEO Eli Fruchter, 'Why sell for $25.50 per share?' and he responded, 'I just pulled a number that I thought was very high [when the stock was trading at $16 per share]," Martin wrote, calling the proposed acquisition "a marriage of convenience" rather than the result of a robust, rigorous sale process.
He argued that EZchip has a strong operating leverage profile, net cash balance and operating cash flow and questioned why the company needs to sell now. Raging Capital further asserted that if a sale of EZchip is not consummated, the company should consider executing a $100 million share repurchase program and add two board directors.
Just a day prior, Raging Capital submitted plans to nominate two directors -- Paul McWilliams and Kenneth Traub -- for election to the board at the annual meeting. The 6.5% shareholder also plans to solicit proxies against the approval of the acquisition announced Sept. 30 and for the election of its nominees at the meeting.
The Rocky Hill, N.J.-based hedge fund first revealed its 6.5% stake in the chipmaker on Oct. 14, asserting that it opposes the tie-up between Israel's EZchip and Mellanox. EZchip currently has seven directors, six of whom are up for election next month.
Earlier on Thursday, EZchip responded by saying in a regulatory filing that it would review the proposed nominations. It also said that it remained committed to doing the deal with Mellanox, saying it believed the "fully financed, all-cash 25.50 per share offer provides shareholders with certain value today that EZchip's Board does not believe could be realized on a future standalone basis."
The activist took its position in EZchip around the middle of the year, said a source close to the matter who asked for anonymity.

"Raging Capital, along with a number of shareholders, feel as though they're leaving a lot of value on the table. It doesn't fully represent the value that they're going to get over the next couple of years," the source added. Because they are both Israeli companies, EZchip and Mellanox have to obtain approval from 75% of the votes that are cast at the annual meeting next month, this person explained.
The source added that EZchip has a large base of retail shareholders that often don't vote shares, which means the number of potential voters the activist needs to win over is likely to be lower and that the 6.5% stake held by Raging Capital would be magnified.
"What they're trying to do is not particularly unusual. What makes it unusual here is having such a high threshold of 75% that is applicable to Israeli companies," said Barry Genkin, a partner at Blank Rome, adding that the wild card of the situation could be EZchip's retail distribution.
Derek Bork, a partner at Thompson Hine who also advises on shareholder activism situations, explained that it is "very doable" to disrupt the transaction. "At the end of the day, it depends on how much further Mellanox is willing to go and how much they are able to go," Bork added, referring to whether the acquirer would raise its price.  
The management of EZchip and Mellanox appear adamant about sealing the tie-up, pointed Srini Sundararajan, an analyst at Summit Research LLC.
EZchip's proxy filing from earlier this month revealed the CEOs of the companies first began talking about a potential tie-up in May and the $25.50 per share price was achieved after EZchip rejected a $21 per share proposal and a sweetened $22 per share offer from Mellanox.
While Raging Capital has various factors working in its favor, particularly the voter threshold, the merger between the two is likely to go through in the end with Mellanox raising the price, Sundararajan explained.
"I think [Mellanox] could easily go 10% to 15% more," Sundararajan said, which would imply a valuation of approximately $28 per share to $29 per share for EZchip. He added the potential price for EZchip could go even higher if another bidder enters the picture, while adding that there is a low probability for such a scenario.
Industry observers have previously pegged Broadcom, Marvell Technology, PMC-Sierra (PMCS) and Cavium (CAVM) as additional potential suitors for EZchip.
Meanwhile, Broadcom may not need EZchip because the two have similar offerings, Sundararajan explained, adding that Cavium and Mellanox may be the two most logical buyers given that Marvell is going through major restructuring efforts and PMC-Sierra itself is a target of a bidding war between Skyworks Solutions (SWKS) - Get Skyworks Solutions, Inc. Report and Microsemi (MSCC) .
Still, having EZchip would bolster the offerings of Mellanox, which could potentially garner attention from larger peers particularly Intel (INTC) - Get Intel Corporation Report in the backdrop of a rapidly consolidating chip market, the analyst added.
Raging Capital also has a history of successfully opposing a merger. In 2013, it urged Taro Pharmaceutical Industries (TARO) - Get Taro Pharmaceutical Industries Ltd. Report to reject Sun Pharmaceutical Industries' bid of $24.50 per share, arguing that Taro was worth $71.60 per share. Sun Pharma later sweetened its offer to $39.50 per share, but Taro called off the deal after Raging Capital continued to voice its opposition. Shares of Taro finished at $140.40 a piece Thursday.
Officials with Raging Capital, EZchip and Mellanox could not be immediately reached for comment Thursday.