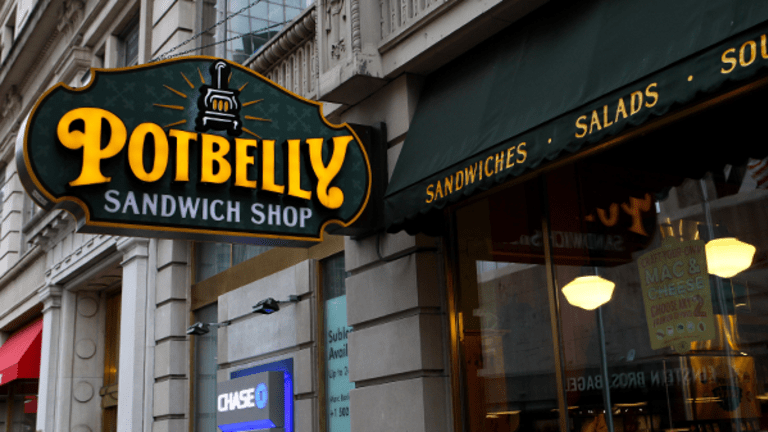 Activist Spotlight: Franchising, Sale or Boardroom Battle Is Next At Potbelly
The sandwich chain set up shareholder-unfriendly bonus payments for its C-Suite, a move that suggests M&A could be next
Potbelly Corp. (PBPB) - Get Potbelly Corp. Report will need to franchise lots of stores or put itself on the auction block. Otherwise, expect a change-of-control director contest to emerge in the months to come.
That's because the restaurant chain's shares have struggled of late, leading Cleveland-based activist fund Ancora Advisors LLC  to launch a campaign last month demanding that the Chicago-based sandwich maker immediately change its strategy or explore a sale of the business.
As an alternative to a sale, Ancora would like to see Potbelly franchise a significant chunk of its 413 company-owned stores. (It currently franchises out 51). The activists also want to see Potbelly franchise new stores as they open up. 
Activist funds often push restaurant chains to franchise more stores and use the proceeds for stock buybacks or dividends as a mechanism to boost total shareholder returns. That's part of what Ancora, which owns a 4% Potbelly stake, is after at the sandwich chain. Marcato Capital employed the strategy at Buffalo Wild Wings and it's also possible that activist Glenn Welling could soon push Ruby Tuesday's (RT) to franchise some of the hundreds of stores it currently operates. And activists could push for further franchising and M&A at Jack in the Box Inc. (JACK) - Get Jack in the Box Inc. Report . 
Without a sale or major franchising move at Potbelly it is a serious possibility that Ancora Advisors will seek to take over a majority of the board at the company's next annual meeting expected in May. The chain has six or seven months to take action before its Feb. 10 deadline for shareholders to submit director nominations. The company is in the process of de-staggering its board and in 2018 all directors will be up for election, making a change-of-control contest possible.
And Ancora Advisors is not afraid to push for significant boardroom and C-Suite shuffles. The fund succeeded in February in installing four dissidents on Edgewater Technology's  (EDGW) - Get Edgewater Technology, Inc. Report eight-person board, a move that led to the ouster of the consulting company's CEO. The company's interim CEO, Jeffrey Rutherford, was one of the fund's nominees.
In addition, Potbelly took steps recently suggesting that it may both be looking at potential bidders at the same time that it seeks to find a full time CEO. On Tuesday the restaurant chain said it had installed Michael Coyne, the company's CFO as its interim CEO after the company said in May that its chief executive, Aylwin Lewis will be leaving later this year.
In addition, it gave huge retention bonuses ranging from $444,375 to $382,500 to Coyne, Mathew Revord, a senior vice president and Julie Younglove-Webb, senior vice president of operations.
The bonuses are payable if all three continue to be employed by Potbelly through Dec. 31 2018 and they aren't based on any performance metrics. This is likely to outrage shareholders and the two main proxy advisory firms, Institutional Shareholder Services and Glass Lewis, all of which could boost Ancora's campaign. The bonuses aren't tied to any specific performance metric and would pay out, for example, even if Potbelly's share price tanks.
More interestingly, the three executives would get paid the huge bonuses if the company is sold in the interim or if a new Potbelly chief executive decides to bring in his or her own upper management team. They would also get paid the bonuses even if a private equity company, for example, acquires the business and continues to employ the executives.
The payments may act as a form of incentive to keep Coyne, Revord and Webb at Potbelly as the company seeks to bring in a new CEO at the same time that the activists continue to press for franchising and a potential sale. It is possible that Potbelly wants to consider a sale of the business at the same time that it seeks out a CEO and the bonuses act as a stabilizing mechanism for the top executives in the interim. A Potbelly spokesman did not return calls. 
In addition, Ancora Advisors would like to play a role in picking the company's new CEO to ensure he's focused on franchising and that his or her pay is aligned with shareholders' interests, people familiar with the situation said.
As part as potential buyers, the most likely acquirer would likely come from private equity. The bonuses might cause some heartburn for a buyout shop, but not enough to dissuade them.
A few private equity firms are invested in the space and could be interested. One might be JAB BV, which acquired Panera Bread Co. earlier this year. L Catterton has a presence in restaurants and could be interested. Checkers Drive-In Restaurants Inc. was acquired from Sentinel Capital Partners by Oak Hill Capital Partners in a $525 million transaction. Roark Capital Group, which has a sizable portfolio of restaurant chains including Corner Bakery Cafe and Arby's, could also be interested.
More of What's Trending on TheStreet:
Game of Thrones Has Become Huge -- Here's How You Can Quickly Tell