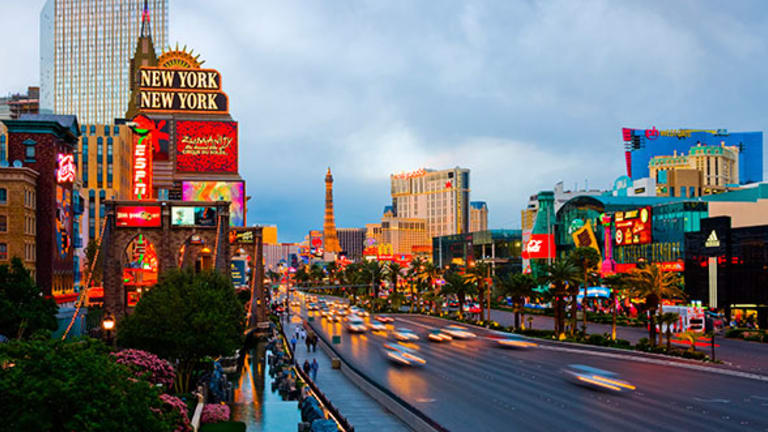 Activist Pressure Leads Pinnacle Entertainment to Sell Real Estate
Pinnacle has agreed to sell its real-estate assets to Gaming and Leisure Properties for about $4.75 billion.
NEW YORK (The Deal) -- Gaming and Leisure Properties (GLPI) - Get Gaming and Leisure Properties, Inc. Report on Tuesday reached a deal to acquire the real-estate assets of casino operator Pinnacle Entertainment (PNK) - Get Pinnacle Entertainment Inc Report for about $4.75 billion, in an all-stock transaction that comes after an activist investor urged Pinnacle to separate real-estate assets and take other shareholder-friendly steps.
The deal comes after Gaming and Leisure Properties in March made a hostile $4.1 billion bid for the Pinnacle real-estate assets. After being rebuffed, Gaming and Leisure increased its offer earlier this month.
Pinnacle has also been under public pressure since April 2014 from activist investor Orange Capital's Daniel Lewis, who then urged the company to consider separating its real-estate assets from its operating business by creating a free-standing real estate investment trust. In November, Pinnacle announced that it was going to do just that, and the plan was to have the REIT shares distributed to the company's shareholders in a tax-free spinoff with a 2016 completion date.
Instead, Pinnacle's board unanimously approved a combination that proponents are saying will create the third-largest publicly traded REIT in the U.S. As part of the deal, Pinnacle shareholders will receive 0.85 Gaming and Leisure Properties common shares for each Pinnacle share for the property company. In addition, Pinnacle shareholders will receive one share of the remaining Pinnacle Entertainment casino operating business, which is not being acquired by Gaming and Leisure.
Gaming and Leisure Properties CEO Peter Carlino said on a conference call that the REIT's shareholders will benefit from increased "revenue stability and stable cash flow" and a higher dividend. "They (Pinnacle) have built a terrific company, and we look forward to being their long-term partner," he said.
Bill Clifford, Gaming and Leisure's chief financial officer, said that the transaction will make it easier for the REIT to acquire additional properties. As part of the deal, Pinnacle will initially pay Gaming and Leisure $377 million in rent in the first year after the deal closes.
For his part, Lewis said he commends Pinnacle's board for "engaging" with Gaming and Leisure Properties to "unlock and realize" the value of the company's real-estate assets "for the benefit of all shareholders."
Lewis, who is based in New York, holds a large Pinnacle stake. According to a May 6 securities filing, Lewis owns a 3.2% common share equity stake after selling 1 million shares on May 4 for $37.47 a share. He also owns a substantial additional stake though cash-settled total return swaps. Lewis initially accumulated an initial 4.5% equity stake between March and April at prices ranging from roughly $21.77 a share to $24.02 a share, according to an April 21 securities filing.
It is unclear whether Lewis would have considered a proxy fight to drive Pinnacle to spin off its real estate if the company had rejected his idea. Lewis has threatened or launched proxy contests at a few other companies, including at InnVest REIT (IVRVF) and Strategic Hotles & Resortsundefined.
In March, Lewis argued that Gaming and Leisure Properties' initial offer that amounted to 11.3 times Pinnacle's property company, or PropCo, Ebitda (earnings before interest, taxes, depreciation and amortization) "dramatically" undervalued the company. The final approved transaction amounted to 12.6 times Pinnacle's PropCo Ebitda, not taking into account transaction-related fees and expenses.
The transaction is set to close in the first quarter of 2016.
The addition of Pinnacle's 14 properties in seven states will add to GLPI's existing portfolio of 21 properties in 12 states.
Lewis' effort at Pinnacle and the resulting REIT spinoff comes as there have been increasing calls from activist investors for companies to consider this structure mostly at restaurant and casino operators.
Critics have raised questions about whether stripping operating companies of their real estate may make it hard for them to adapt to recessions. Rent payments are much more difficult to make during hard times when revenue is down significantly, and some observers suggest that real estate can act as a buffer during stalled economic cycles.
Read more from: