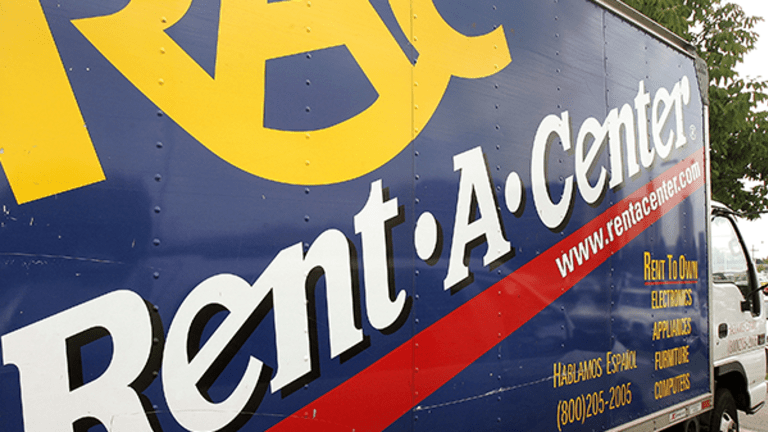 Activist Is'Outraged' that Rent-A-Center Rejected Multiple Bids
The insurgent investor's comments come after a report that the rent-to-own retailer has rejected expressions of interest from potential two more buyers in recent months.
Activist investor Glenn Welling on Tuesday said he was "outraged" to learn that Rent-A-Center Inc. (RCII) - Get Rent-A-Center Inc Report had rejected takeover interest in recent months from two buyout shops, in addition to a $15 a share offer that it had snubbed from private equity firm Vintage Capital Management LLC.
"Neither of these prior approaches was disclosed to shareholders, even in the context of rejecting the offer from Vintage Capital," said Engaged Capital LLC's Welling in a statement.
Welling's comments come after Reuters reported Monday that Rent-A-Center had received acquisition interest from buyout shops HIG Capital and Lone Star Funds before it had rejected an $800 million bid from Vintage Capital. Rent-A-Center disclosed in a filing on July 11 that it had rejected a Vintage bid earlier this month but did not reveal any other expressions of interest. Officials from both HIG and Lone Star Funds did not return calls for comment. 
The report comes after shareholders last month, on June 8, voted to elect a three-person dissident director slate nominated by Engaged Capital onto Rent-a-Center's seven-person board. Welling's fund, which has a 17% stake, had been pushing to have the rent-to-own company conduct a review and potentially sell the business.
The Deal had reported in April, citing people familiar with the situation, that Vintage Capital, which is the majority owner of a smaller rent-to-own competitor, Buddy's Home Furnishings, had been interested in buying Rent-a-Center. Also, The Deal reported that another rent-to-own operator, Aarons Inc. (AAN) was also interested.
Shortly after the election on June 19, Welling noted in a letter that Rent-a-Center's board chairman Steven Pepper said that he would take a two-month vacation and would be unavailable until August. Nevertheless, it is likely The Rent-A-Center board probably held a meeting of some sort on July 5, according to a July 11 securities filing, to decide to reject the Vintage offer. The filing said that Rent-A-Center on July 5 formally rejected Vintage's proposal with the assistance of its financial and legal advisers.
Welling said he was concerned that the other expressions of interest were not disclosed and he took issue with the company's directors, arguing that some of them are over-tenured and may have a personal loyalty to Rent-a-Center CEO Mark Speese, who was booted off the board in the election. 
Some directors have been on the board for a long time, including Michael Gade, who has had a seat for 12 years, and J. V. Lentell, who has been an independent director for 22 years, according to relationship mapping service BoardEx, a service of The Street. Governance experts argue that directors who serve for a long time, over ten years, can often be considered too cozy with management and unlikely to make significant changes when necessary.
It's unlikely that all the directors on Rent-A-Center's board rejected the offer and expressions of interest. Welling was able to install Christopher Hetrick, director of research at the activist fund. Also, Engaged Capital-backed Jeffrey Brown and Mitchell Fadel, a former Rent-a-Center president, both were elected.
One shareholder advisory firm suggested that Brown has "finance and transnational experience that could likely be of value to the board as it considers opportunities to maximize shareholder value." It is likely that Brown and Hetrick would have supported at least pursuing in further detail the offer or expressions of interest.
Also, Welling was he was puzzled why director Rishi Garg, a professional investor and a partner at the Mayfield Fund, if true, "would support the value destructive path" chosen by the incumbent directors. According to BoardEx, Garg has been on the board for only 1.3 years.
A Rent-a-Center spokesman declined to comment on the Reuters story. 
A Rent-a-Center spokesman said that its board "is committed to acting in the best interests of the company and all of its stockholders," adding that it remains "open-minded and regularly reviews" strategic priorities and opportunities.