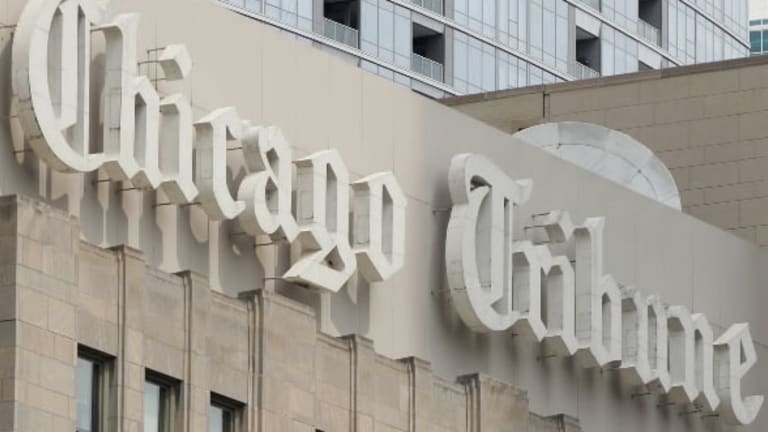 HG Vora Urges Tronc to Consider Sale After Dismissing Gannett Bid
The activist investor has accumulated a 14.9% stake, which comes after the company formerly known as Tribune Publishing rejected a hostile bid made by USA Today publisher Gannett
Activist investor HG Vora Capital late Friday launched an activist campaign pushing for Troncundefined to consider "strategic alternatives" such as a sale, in a move that comes after the company formerly known as Tribune Publishing rejected a hostile bid made by USA Today publisher Gannett (GCI) .
The purchase comes after Tronc, the parent company of the L.A. Times and Chicago Tribune, reportedly is considering a new higher offer by Gannett. Politico reported, citing sources, that Gannett has hiked its bid to $18 a share, significantly higher than its $15 a share bid made public in May and one that reportedly has Tronc moving forward with a counteroffer. 
In June, Tribune renamed itself Tronc, short for Tribune online content, as part of a rebranding effort.
HG Vora reported accumulating a 14.9% stake made up of a 9.9% equity position and a 5% derivatives interest. In a securities filing, HG Vora said it has engaged and may continue to engage in communications with Tronc's management about "strategic alternatives" such as a potential sale of the company.
According to FactSet, HG Vora Capital has launched five campaigns including three proxy contests since 2010. The fund's most prominent campaign to date took place in 2015 when it partnered with some funds including Appaloosa Management and Harry Wilson, a former U.S. Treasury official who served on President Barack Obama's auto industry task force, to launch a proxy fight seeking to install one dissident director to the board of General Motors (GM) . The contest was withdrawn after GM launched a $5 billion share repurchase program.
In addition, at least one other large disgruntled investor that has held large blocks of shares is urging the media company to engage in negotiations with Gannett. Asset manager Oaktree Capital, according to a June securities filing, reported owning a 13% stake. In a letter in May, it urged the media company to "pursue discussions" with Gannett. It also urged Tribune to set up an independent committee of directors, assisted by independent advisers, to evaluate Gannett's proposal.
Another disgruntled fund, Towle & Co., liquidated its 4% stake in the media company in June. Towle's director of research, Peter Lewis, told The Deal that he sold his stake in the open market because he had "lost confidence in the current management team." Towle has previously said that Tribune Publishing has "abandoned its fiduciary responsibility."
Larry Kramer, Chairman and interim CEO of The Deal's parent, TheStreet, sits on the boards of both Gannett and TheStreet (TST) .
The new activist investor could put additional pressure on Tronc and Gannett to reach a deal.
However, there a number of reasons it may be difficult for any activist fund to pressure Tronc into a deal if one isn't reached amicably. On the other side of the battle is Tribune Publishing's non-executive chairman Michael Ferro. His investment vehicle accumulated a 16.5% stake in the media company in February, a move some shareholders interpret as an effort to thwart Gannett's hostile bid. In addition, Nant Capital's Patrick Soon-Shiong, a surgeon and scientist, in May made a $70.5 million investment in Tribune Publishing in exchange for a 12.9% stake and a board seat, a move also considered by some to be a blocking stake that could limit any future activist effort to replace directors on the company's board.
In an effort to bolster its unsolicited offer, Gannett launched a "just vote no" campaign earlier this year, encouraging shareholders to vote against the publishing company's directors in a non-contested election. The vote had no binding impact but Gannett was hoping it would put public and shareholder pressure on Tronc to consider a deal. In June, after the vote was completed, Gannett issued a statement noting that about 49% of shares not affiliated with Tribune Publishing or its non-executive chairman, Ferro, voted against the media company's slate of director nominees. However, all Tribune directors were elected by a majority of votes cast.