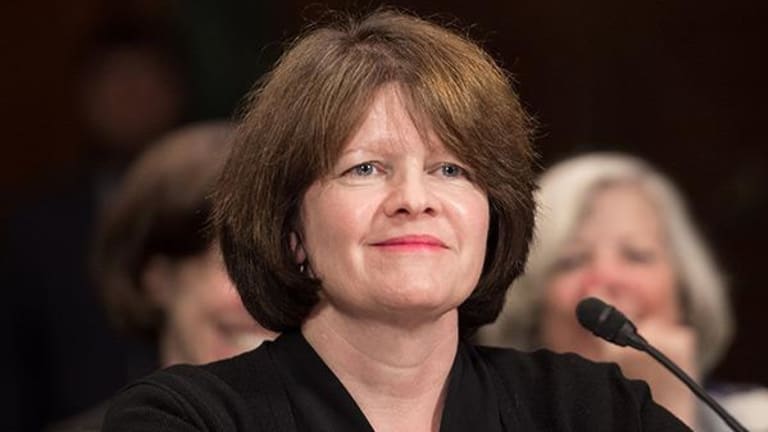 Publish date:
Acting FTC Chairman Says Deal with China with Carrots and Sticks
Acting FTC Chair Maureen Ohlhausen says the U.S. has to point out the bad and recognize the good in antitrust issues with China.
Acting FTC Chair Maureen Ohlhausen says the U.S. has to point out the bad and recognize the good in antitrust issues with China.
 Acting FTC Chair Maureen Ohlhausen prefers a "carrot-and-stick" approach to China.
Since being sworn in as a commissioner of the Federal Trade Commission in 2012, Maureen Ohlhausen has traveled to China eight times. She will make her ninth trip in April. She was designated by President Donald Trump to serve as acting FTC chair in January.
"Certainly we want to have constructive engagement [with China] as much as possible," she said in an interview. "We need to be willing to point out the bad and recognize the good."
Ohlhausen took part in a panel on China at the Conservative Political Action Conference last week. There, she discussed antitrust, emphasizing the importance of engagement with the country on matters like due process and intellectual property rights as well as the importance of vigilance on China using antitrust policy to advance industrial policy.
"One of the things I've tried to do is be very engaged with the Chinese and point out where I think that improvements are necessary but also be willing to say where improvements have occurred and to say, 'You've improved your reporting, your decisions are becoming much clearer,'" she said in an interview after the panel.
Trump has employed tough rhetoric on China, which has spurred concerns about retaliation. A Chinese state-run newspaper in December reported the government planned to penalize an unidentified U.S. automaker for alleged anti-competitive behavior. The target was widely seen as General Motors Co. (GM) and GMshares downward.
Ohlhausen said she hasn't heard concerns from corporate America about China striking back.
"Not so far on the antitrust front, maybe on trade," she said.
Ohlhausen is reportedly one of the leading candidates to be selected by Trump to head the FTC permanently, alongside Utah Attorney General Sean Reyes.
She outlined what she sees as the FTC's priorities in abroad and at home for the year ahead.
Internationally, Ohlhausen said the FTC will continue to engage with international organizations on good practices around the world, circling back to China. "[We want to] encourage them towards having better due process, better economics, clear explanation of what they're doing, but also be willing, again, to say, where improvements need to be made," she said.
In the United States, the focus is on keeping the economy competitive and scrutinizing deals.
Ohlhausen pinpointed the healthcare and pharmaceutical space as a specific area of interest, namely on competition and abuses of government processes. The first antitrust case under her leadership was challengingShire ViroPharmaInc. (VPHM) for trying to use the FDA petitioning process as a weapon to keep a generic competitor out of the market.
"We're going to keep fighting in that area," she said.
The FTC's consideration of how to approach deals is "always a mix" she said, and any company hoping to get something through needs to show there's no competitive problem or offer a way to fix it. "Structural remedies of divestiture are preferred, because we don't really want ongoing entanglements for behavioral remedies, but sometimes there's just no solution," she said.
Ohlhausen pointed to a recent decision by the U.S. Court of Appeals for the Third Circuit to halt the proposed merger of the Penn State Hersey Medical Center and Pinnacle Health System, which the FTC opposed. "If you're the two hospitals in town merging, there's no divestiture that's going to fix that. Stopping the deal is the best that we can do," she said.
The always-outspoken Trump has a proven willingness to weigh in on mergers and acquisitions. He has criticized the AT&T Inc.  (T) - Get Report -Time Warner Inc.  (TWX) deal publicly and privately, raising concerns that his displeasure with CNN's coverage of his campaign and the beginning of his administration could prompt his to try intervening in the deal's antitrust review.
The merger does not fall into the FTC's purview, but Ohlhausen is optimistic about the Department of Justice's independence. "When Senator Sessions went through his confirmation hearing, when asked about what factors he would have in an antitrust analysis, he confirmed that those would be antitrust factors," she said. "But that doesn't mean that a lot of the issues, the concerns that the president has raised about jobs and competition and drug prices are something that we can just ignore. What we should be doing is using all of our tools, whether it's stopping bad mergers or bad conduct."
Ohlhausen on Thursday announced the Economic Liberty Task Force, an initiative that encourages states to look at excessive occupational licensing. In the 1950s, about 5% of jobs required a license. Today, 25%-to-30% do.
"We're trying to work with the states with other stakeholders to reduce those kinds of barriers to people who are usually on the middle rungs of the economic ladder," she said.