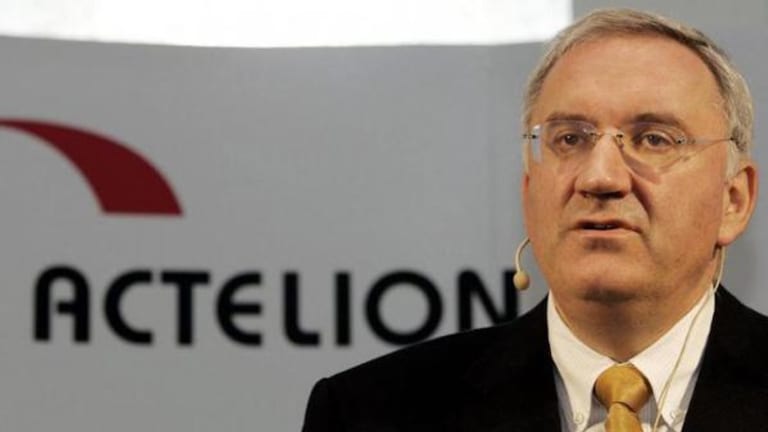 Actelion's Fate May Rest on Structure, Not Price, as Clozel Holds Firm
Actelion's CEO has held control at the company he founded, but its largest shareholder has ties with Johnson & Johnson.
Actelion's (ALIOY) rekindled merger talks with Johnson & Johnson (JNJ) - Get Johnson & Johnson Report  may ultimately be decided by the Swiss biotech's two biggest shareholders, but the structure of any tie-up, not the final price, is likely what will seal the deal.
Less than a week after walking away from discussions that could have led to a $27 billion takeover of the Allschwil, Switzerland-based firm founded by CEO Jean-Paul Clozel, Johnson & Johnson is back at the table in what Actelion describes as an "exclusive" seat. The revelation bumps France's Sanofi (SNY) - Get Sanofi Report out of the frame, for the time being at least, and puts the two firms on course for one of the sector's biggest deals.
The announcement raised eyebrows, however, given that Sanofi was reported ready to offer a higher price for Actelion and sweeten its bid with incentives tied to the future performance of as-yet-unproven drugs in Actelion's pipeline.
A closer look the Swiss biotech's ownership structure - and a review of its board composition through TheStreet's BoardEx business unit - paints a slightly clearer picture.
With a 5.05% stake, according to FactSet data, Clozel is Actelion's second-largest shareholder. He's also been notoriously reluctant to cede control of the company he founded and keep the lung disease treatment expert out of the hands of rivals and fiercely proud of the company's pipeline -- which includes medications for multiple sclerosis, insomnia and various cardiovascular-related issues.
His holding is trumped, however, by Swiss billionaire Rudolf Maag, who owns 5.07% of the company and has past business ties with Johnson & Johnson, having sold a stake in his former company - medical device firm Synthes - to J&J in 2012.
Collectively, the two men own more than the next fifteen biggest investors and while's there's no indication of a rift -- both stand to make billions from this or any other sale -- it's telling that J&J is back in the mix despite a reportedly superior offer from Sanofi that would keep the company wholly European.
But maybe the answer lies in the people advising them, whom BoardEx shows have deep roots in the pharmaceutical industry, including a former CEO of GlaxoSmithKline.
Independent director Robert Bertolini has been on the Actelion board since September 2011. He has also been on the Charles River Laboratories board since January 2011, spent six years at Merck and had a brief stint as CFO at Bausch & Lomb.
Chairman Jean-Pierre Garnier also joined the board in 2011 following his role as CEO of GSK from 2000 to 2008. He started his career with the company in 1990 when it was known at Smithkline Beecham and also worked at Merck, starting in 1975 and rising to the position of division president in 1989.
Independent director David Stout, who joined the Actelion board in May 2015, is also a fellow GSK alum. He started in 1996, leaving in 2008 when he was the president of pharmaceutical operations. Stout has also served on the board of Shire.
John Jay Greisch, joined the Actelion board in 2013 as independent board member. He has long career at Baxter International, joining the company in 2002, and leaving in 2009 when he was a division president. Greisch is the CEO of Hill-Rom Holdings, which makes hospital beds, furniture, other medical equipment and medical technology systems.
The composition of the board suggests J&J might not only have the inside track in securing a tie-up, it might also save a bit of money along the way if it can argue a business case and arrange a structure that keeps Clozel as close to the action as possible.
Shares in the biotech were changing hands at Sfr222.6 each late Thursday in Zurich, after having touched a record value of $25 billion earlier in the session, and have risen around 45% since it first confirmed talks with J&J in late November.
Even if Clozel wins the day and the talks come to nought, however, it won't end speculation that other bidders are circling. Actelion has been under pressure to find new drugs to replace revenue from its blockbuster Tracleer treatment for pulmonary hypertension, which lost patent protection a year ago.
And Sanofi is waiting in the wings.