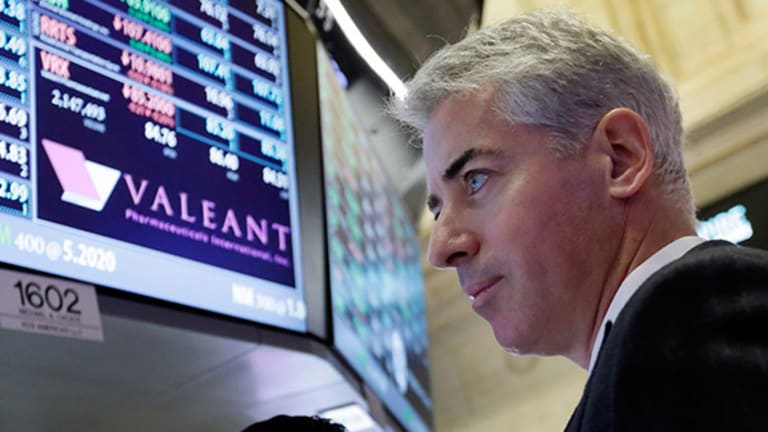 Ackman Said to Liquidate Valeant Shares
The move was a bit of a surprise since Ackman had supported Valeant, arguing late last year that the company could find its way out of a multi-billion-dollar debt swamp
Shares of Valeant Pharmaceutical International (VRX) dropped by about 9% Monday afternoon on a report that embattled activist investor Bill Ackman has liquidated his position in the drug company and plans to eventually step down from the board.
The liquidation, reported by CNBC TV according to sources, is the latest blow for the troubled pharmaceutical company, whose stock has dropped from a high of about $262 a share in August 2015 to trade recently at $11 a share, down in after-hours trading.
The company has been struggling in the aftermath of a report issued by short-seller activist Andrew Left of Citron Research in October 2015 alleging a secret relationship between Valeant, a mail-order pharmacy and one of its customers. Citron alleged that Valeant used the relationship to improperly hike revenues.
Valeant on March 6 announced that it had paid down $1.1 billion in senior secured term loans after closing the sale of its skincare assets to L'Oreal. However, the Lava, Quebec-based biotech still has about $28 billion in debt after paying off the small piece.
Ackman's move is a bit of a surprise because the activist fund manager behind insurgent fund Pershing Square Capital Management has steadfastly supported Valeant, arguing late last year that the company could find its way out of a multi-billion-dollar debt swamp by selling non-core assets.
Ackman and Pershing Square's M&A and governance expert and fund vice chairman, Stephen Fraidin, joined Valeant's board in 2016 as part of an effort to show that the activist fund backed the company's recovery plan even as its share price was in free fall. Bringing Ackman and Fraidin onto the company's board was intended to help drive investor support for Valeant by installing an accomplished M&A attorney and large shareholder onto its board. Ackman's liquidation, if accurate, and his plans not to stand for re-election, suggest that the activist investor may have lost confidence in the company, or at least that he wants to cash out and focus on other investments. 
Nevertheless, the friendly investment was a colossal failure for Ackman. The stake was a big reason why Pershing Square reported an abysmal loss of 20.5% net of fees for 2015 and a loss of 12.1% after fees for 2016, even as the post-Trump stock market rally helped bolster other Pershing Square investments. The fund has had a 0.6% return net of fees so far in 2017 through the end of February.
Throughout 2016, Ackman had been doubling down on his investment in the drug company as its stock dropped in value. For example, in early 2016, Pershing reported hiking its Valeant stake by 5 million shares to 9% from 8.5%, accumulating shares between Feb. 1 and Feb. 5 of that year at prices ranging from $93.25 a share to $97.70 a share.