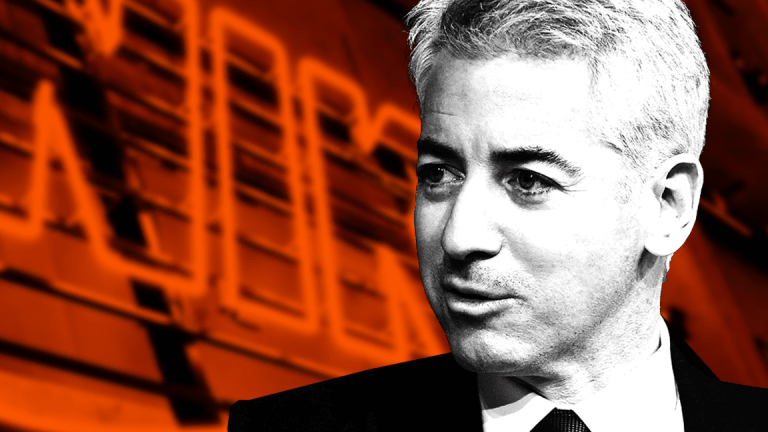 Bill Ackman's Message to Nike Is - Just Do It
Bill Ackman is employing a 'validation capital' thesis to the athletic footwear company but he could challenge two directors if the situation deteriorates.
Beleaguered activist Bill Ackman isn't expected to publicly agitate aggressively and publicly for change at Nike Inc.  (NKE) - Get Report  , where he recently bought a significant minority stake.
There are a variety of reasons why one should believe that's true, at least for now, even though Ackman and his Pershing Square Capital Management have a track record of public campaigns and proxy contests, including, most recently an unsuccessful director-election effort at Automatic Data Processing (ADP) - Get Report .
One big reason not to expect an Ackman-led boardroom battle anytime soon is that there isn't much room for him to launch a director-election contest. Nike co-founder and chairman emeritus Philip Knight controls more than 82% of Class A stock and is entitled to elect 75% of the board through his Swoosh LLC unit. Ackman could seek to install a minority of three directors if he wanted and there are two that could be viewed as possible targets (More on that later).
However, Ackman may be happy enough just to watch things unfold for now -- his presence already has invigorated the market, giving a boost to Nike's share price and providing much-needed profits for Pershing Square as it wrapped up another negative year, down 4% for 2017. According to Ackman's presentation, Nike's share price including dividends has increased 29% from Pershing Square's average share purchase price in the low $50s a share to trade recently at $67.47 a share.
So far, it appears that Ackman is engaging in a so-called validation capital approach to activism, which is a strategy that involves publicly disclosed letters praising or presentations praising their targeted company for a job well done. Ackman issued a presentation to his investors Monday suggesting that Nike is one of the world's most iconic brands and the market leader in athletic footwear and apparel industry. He suggested that its dominant market position "creates formidable barriers to entry."
But there could be some room for agitation. Analysts following the footwear designer acknowledge that Nike has faced challenges in the U.S. marketplace, with its earnings under pressure at times following over distribution and stale products. If the situation deteriorates, it is a serious possibility that Ackman could switch his validation capital campaign to one that is more aggressive.
It is unclear whether Ackman could push for more stock buybacks and dividends, a common tactic among activist investors. As of the second quarter, Nike has cash and short-term investments of $6.4 billion-- so a significant amount that an activist could push to distribute to shareholders. According to Wedbush analysts, Nike held $5.7 billion in cash overseas, which could be another target point. 
The historic passage of a $1.5 trillion tax overhaul last month, which imposes a low 15.5% repatriation tax for money held offshore is likely to drive activist funds to put new pressure on companies, like Nike, to repatriate cash. Ackman could privately push for such repatriation, especially if he also urges Nike to hike its debt levels.
However, there is reason to believe that Ackman won't push for this kind of change. Lately, Nike has done a lot in the share buyback sphere, with expectations for more in the coming months. During the second quarter of 2018, Nike repurchased $902 million in shares, as part of a four-year $12 billion capital distribution program set up in 2015. So far, about $6.2 billion shares have been repurchased as part of the program.
Activists often push for sales or spinoffs to drive share-price improvement. There is at least one unit Ackman could push to have Nike divest - its sneaker division, Converse, which was purchased in 2003 out of bankruptcy for $305 million. However, an analyst following Nike suggested that the footwear maker has already made divestitures in recent years, shedding Cole-Haan and Umbro in 2012. Also, he noted that Nike had quadrupled Converse's revenues since its acquisition and it has become a key part of the overall business "aligning with the Nike brand really nicely." Another unit, Hurley, is too small to spin off, he added.
If Ackman wants to target a minority slate of directors his potential targets would be the three current Class B directors - Knight controls the election of the other eight board members. The most likely targets would be class B directors Alan Graf and John Lechleiter, who have both been on the board for a long time and could be targeted as over-tenured.
According to relationship mapping service BoardEx, a unit of The Deal's parent, The Street, Graf, 64, has been a director for 15 years while Lechleiter, 65, has served for about nine years. Lechleiter recently retired from Eli Lilly, where he had been the chairman and CEO.
But for the foreseeable future, expect Ackman to watch from the sidelines. 
More of What's Trending on TheStreet: