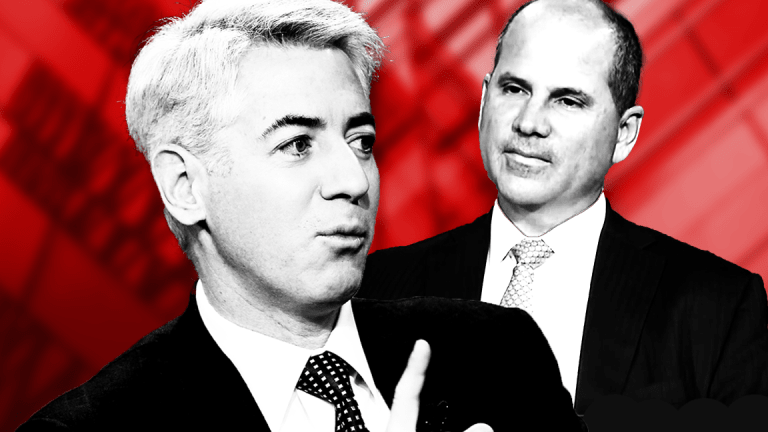 Bill Ackman Needs a Big Win at ADP or Another Target to Stop the Bleeding
The embattled activist is reportedly experiencing significant redemptions as investors seek to flee his fund. A campaign at the payroll processor in 2018 is a real possibility as Ackman has $500 million committed to a co-investment targeting the company
Embattled activist Bill Ackman needs a big win at Automatic Data Processing (ADP) - Get Automatic Data Processing Inc. Report  or another target this year or he will continue to face significant redemptions as investors continue to try and flee his fund. 
That's after the Wall Street Journal reported Thursday, citing sources, that many investors in his Pershing Square Capital Management LP have asked for their investments back and that about two-thirds of the cash that could be withdrawn in the fourth quarter of 2017 is being pulled.
The withdrawals come following three years of losses, continued negative performance in 2018, a high-profile unsuccessful campaign at Herbalife (HLF) - Get Herbalife Nutrition Ltd. Report  and a losing $4 billion bet on Valeant Pharmaceuticals Inc. (VRX)
That said, investor redemptions can't all take place overnight, and Pershing Square has a form of perpetual capital with its publicly-traded Pershing Square Holdings Ltd., which has about a $3.9 billion in assets under management. Between the publicly-traded entity and Ackman and other partners' wealth, the fund would still have $5 billion to manage even if all its outside limited partners liquidated their investments.
Currently Pershing Square has about $8.2 billion in assets, according to an April 2 Pershing Square statement, well below a $20 billion assets under management peak in 2015.
The need for a win of some sort - and perhaps to stop the bleeding -- may explain Ackman's otherwise surprising decision to liquidate his short-held "validation capital" position in Nike Inc. (NKE) - Get Nike Inc. Report  netting a $100 million in profits on the investment.
TheStreet sat down with Ackman last November to talk shop.
It also is likely why he cut his stake in ADP to 7.2% from 8.3% for "portfolio management purposes." Ackman lost a high-profile proxy fight at the payroll processor in 2017 but said he would be back this year with another campaign if the situation doesn't improve dramatically. He had sought three seats on the company's 10-person board but failed to get any elected. ADP's shares are up only marginally from their $112 a share price at the time of the contest and up a fair bid from Ackman's $105 cost basis at the date of its announcement of his campaign, according to a January presentation.
According to a person familiar with the situation, many investors can only pull an eighth of their assets out each quarter, which suggests Ackman still has time to improve the situation before outside limited partner invested capital leaves. In addition, Ackman has set up a special co-investment fund with $500 million in investor capital committed for "a number of years" to the ADP investment. 
As a result, it is a real possibility that Ackman comes back in 2018 with a contest at ADP as he seeks to prove himself to his fleeing investors. Ackman may be incentivized to return, in part, because ADP's chief executive, Carlos Rodriguez, in November taunted him after the battle was over by suggesting that the company's victory was an "ass whopping."
Many of the things Ackman wanted to see happen at ADP appear not to have taken place yet. During the campaign, he focused on ADP's real estate footprint, with 130 offices around the U.S., arguing that many of these offices were a "vestige" of a previous era when payroll services needed costly physical offices in a variety of locations. The insurgent has pushed for closing some offices and selling of certain real estate. Also, he wants to see ADP's corporate headquarters - set up in different buildings -- consolidated.
Join conference host Jim Cramer and a stellar lineup of speakers at the Corporate Governance conference on June 7, 2018, in NYC. DOJ Antitrust Asst. Attorney General Makan Delrahim, Paul Singer, Nelson Peltz and Chairman and CEO of Macy's, Jeff Gennette will be on hand to discuss methods for managing companies to maximize shareholder value. Register today.Deal clients have special pricing; for more details contact your account manager.