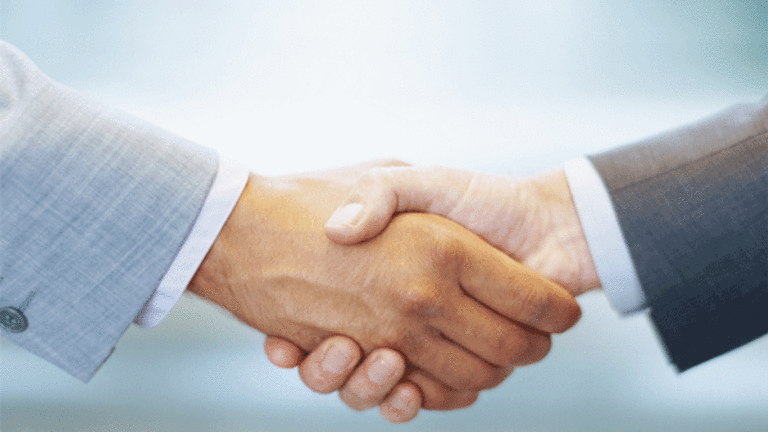 Ackman Constructs $26 Billion Real Estate Duel for General Growth
Bill Ackman of hedge fund Pershing Square argues that Simon Property can buy General Growth for $26 billion, setting up a battle with Brookfield Asset Management.
NEW YORK (
) -- After taking on consumer goods giant
Procter & Gamble
(PG)
and taking
Burger King
(BK)
public earlier in the year, Bill Ackman, the head of activist hedge fund
Pershing Square Capital Management
, has unveiled his most ambitious deal of 2012: a proposed takeover of mall operator
General Growth Properties
(GGP)
.
On Thursday, Ackman said in a letter to General Growth's board that the company should cement its impressive emergence from bankruptcy by selling itself to
Simon Property Group
(SPG)
in a deal that could be worth in excess of $26 billion. Ackman owns more than 10% of General Growth's shares, making his fund the real estate company's second-largest shareholder.
Ackman's move caused General Growth shares to surge nearly 10% in afternoon trading to a new post-bankruptcy high above $20. Still, General Growth shares are far below the $28 share price that Ackman calculates might be reached in a merger, signaling that significant doubts remain about a Simon Property takeover.
A potential deal comes amid a real estate sector M&A drama that's been thickening since General Growth's 2009 bankruptcy and its 2010 re-emergence.
A prospective Simon Property acquisition of General Growth would thwart a takeover by real estate giant
Brookfield Asset Management
(BAM)
-- General Growth's top shareholder -- which Ackman argues would come without a control premium, in the letter filed with the
Securities and Exchange Commission
.
The drama marks what could be a turning point in General Growth's emergence from bankruptcy and an impressive 50% stock surge in the past year, on optimism about a widespread real estate recovery.
In the
letter, Pershing is asking that General Growth hire financial advisors to cement a previously discussed merger with Simon Property, as Brookfield tries to take control of the company through ordinary stock purchases and warrant contracts.
Pershing and Brookfield were instrumental in pulling General Growth out of bankruptcy -- recapitalizing the company, raising $2.6 billion from the Fairholme Funds and $500 million from private equity giant
Blackstone Group
(BX)
-- a turnaround that's netted impressive profits for investors.
For Pershing, the deal has been a huge windfall as other investments like
J.C. Penney
(JCP)
flounder. In the Thursday letter, Pershing said that it's made a near 80-fold return on its investment since the fall of 2008 when it bought into General Growth at an average price of $0.35 per share. Some moves like the 2010 spinoff of
Howard Hughes Corp
(HHC)
and a general recovery have bolstered the investment.
During General Growth's bankruptcy process, efforts by Simon Property Group to buy the company set in motion Ackman and Pershing's insistence that a deal can now be reached, this time at a premium.
After fending off what were considered opportunistic takeover bids, General Growth had a 2010 initial public offering and sold off assets. Now as shares hover near $20, Ackman's ready to cut a deal.
In fact, on October 13, 2011, he structured a takeover deal for General Growth with David Simon of Simon Property, worth nearly $20 billion. In the deal, General Growth shareholders would receive 0.1765 of a share of Simon stock -- at the time trading at $115 and valuing the company at $21, a 65% premium. Were that exchange offer to remain in a Simon Property merger at present share prices, Ackman calculates that General Growth could be valued at $26.3 billion.
But there's a hitch, according to Ackman's letter. Brookfield, which is adding to its General Growth stake, isn't supportive of a sale to Simon Property and instead would rather acquire the company itself. In November, Brookfield proposed it take General Growth over and sell off assets to Simon Property, in a deal that could fetch shareholders a big premium.
"Brookfield explained that it believed it could propose a transaction that would offer the same or superior terms as the Simon Transaction by acquiring 100% of
General Growth and selling certain assets to
Simon Property for stock and/or cash to give shareholders the same choice of SPG stock or cash consideration as in the Simon Transaction," wrote Pershing Square in its Thursday letter.
Brookfield would finance the deal with proceeds from the sale of 68 General Growth's malls to Simon. However, in April of this year, Pershing notes Simon Property rejected the deal on pricing concerns. Subsequently, Brookfield began buying up General Growth shares.
Brookfield has gone from owning 29% of the company at emergence from bankruptcy to 42.2% today, notes Pershing in its letter, citing 113.3 million in share purchases from Fairholme, and millions more in share repurchases and warrant contracts.
"It is only a matter of time before Brookfield de facto controls the company," warns Pershing in the letter. "
If control of the company is ceded to Brookfield, shareholders will suffer enormous and irreparable harm for they will lose the ability to capture an appropriate control premium for their shares."
See
5 deal ready stocks loved by hedge funds
for more on deal trends and five stocks that could be
, for more on private equity backed IPOs.
-- Written by Antoine Gara in New York