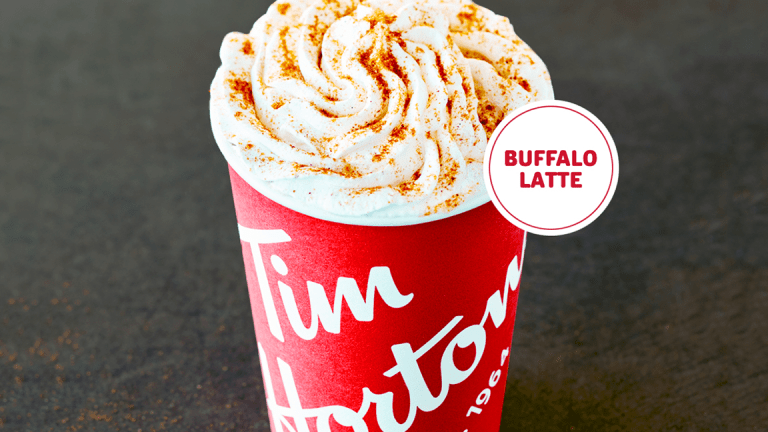 Burger King Has a Coffee Problem Thinks Activist Bill Ackman
Ackman is the second-largest shareholder of Burger King, Tim Hortons and Popeyes parent Restaurant Brands, controlled by famed cost-cutter 3G Capital.
Ackman is the second-largest shareholder of Burger King, Tim Hortons and Popeyes parent Restaurant Brands, controlled by famed cost-cutter 3G Capital.
Restaurant Brands International Inc. (QSR) - Get Report shareholder Bill Ackman trimmed his stake in the Burger King and Tom Hortons parent, according to a 13F filing, and the activist is keeping an eye on sales declines due to a spat with Tim Hortons franchisees.
Ackman's Pershing Square Capital Management LP is RBI's second-largest shareholder, with an 11.2% stake as of Sept. 30. Private equity firm 3G Capital Partners Ltd., which formed RBI by merging Burger King Holdings Inc. and Tim Hortons Inc., holds 42.6% of RBI's voting power.
While in a letter to investors Ackman praised RBI's "high-quality, capital-light, growing annuity" business model," "extremely capable management team...[and] owner-oriented sponsor," "large unit growth opportunity that requires virtually no incremental capital" and "highly scalable and replicable" operating strategy, he highlighted disappointing performance at the Tim Hortons franchise during the company's most recent quarter.
Despite its "espresso-based drinks and new offerings on the lunch menu," Tim Hortons sales flat, while Burger King same-store sales were up 3.6%. Ackman attributed this underperformance to "the recent public dispute with a group of franchisees."
Franchisees have formed the Great White North Franchisee Association of Tim Hortons franchisees to address RBI's "mismanagement of franchise operations." Their objections include the company's "transfer [of] wealth from franchisees to the franchisor," poorer quality due to cost cuts and untenable performance standards.
3G is famous for its cost-cutting and dedication to zero-based budgeting. Its alleged ruthlessness on cutting costs, at the expense of investments, scuttled 3G-backed Kraft Heinz Co.'s (KHC) - Get Report $143 billion bid for Unilever NV (UL) - Get Report .
There's only so much fat to be trimmed, however.
"Most of the cost opportunities are sort of behind us at this point," CFO Josh Kobza said on an analyst call last year. "And what we are really focused on at this point is growing the business, growing our sales and growing our restaurant footprint around the world as we think that's going to be really what drives our growth, the growth in our profitability and the growth in our franchisees profitability for the future."
RBI responded to its franchisees' complaints by reducing the price on supplies sold to franchisees and increasing costs. "While these items depressed earnings in the current quarter, they represent an investment in improving relationships with Tim Hortons' franchisees," Ackman wrote.
3G acquired Burger King for $4 billion in 2010 from TPG Capital LP, Bain Capital LLC and Goldman Sachs Capital Partners. Burger King in 2014 paid $11 billion for Tim Hortons, forming RBI. Berkshire Hathaway Inc. (BRK.B) - Get Report provided $3 billion of Burger King's $12.5 billion financing commitment and currently holds a 3.6% stake. Berkshire and 3G would later team up to merge H.J. Heinz Co. and Kraft Foods Group Inc., forming Kraft Heinz.
RBI added its third restaurant earlier this year, paying $1.8 billion for Popeyes Louisiana Kitchen Inc. Shares are up 30% this year.
More of What's Trending on TheStreet:
Editors' pick: Originally published Nov. 17.