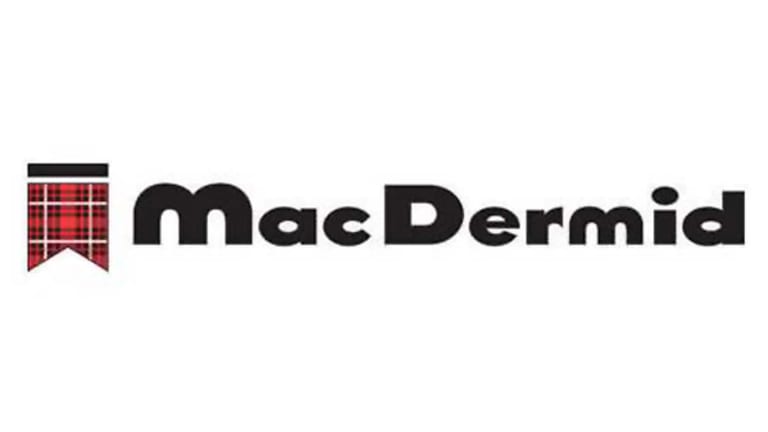 Platform Lists on NYSE After MacDermid Deal, Pershing Stake
Platform Specialty Products brings together old friends in Ackman, Franklin and Berggreun in chemicals venture.
Updated to describe shares outstanding, instead of beneficial ownership.
NEW YORK (TheStreet) -- Martin E. Franklin, chairman of Jarden (JAH) , and a team of investors including Nicolas Berggruen of Berggruen Holdings and Bill Ackman's Pershing Square Capital Management are going from cheeseburgers to specialty chemicals.
On Thursday, Franklin brought the new deal, Platform Specialty Products, to the New York Stock Exchange after acquiring specialty chemical manufacturer MacDermid for $1.8 billion in October of 2013. The structure of Platform Specialty Products' listing on the NYSE is similar to a deal that three struck in April 2012, which returned Burger King Worldwide (BKW) to public stock markets.
In Burger King's listing, Justice Holdings, a London-listed Ackman and Berggruen-backed acquisition vehicle bought a large stake in the hamburger chain from private equity fund 3G Capital for $1.4 billion and used the deal return it to the NYSE. Justice Holdings was dissolved and Ackman's Pershing Square and Berggruen became large minority investors in Burger King, to go with 3G Capital's majority stake.
While 3G Capital moved onto an even larger burger-related acquisition, a $28 billion takeover of ketchup-maker Heinz with financing from Warren Buffett's Berkshire Hathaway (BRK.A) - Get Berkshire Hathaway Inc. Class A Report, Franklin began scouring for a next deal with backing from Pershing Square and Berggruen. 
Platform was incorporated in April of 2013 and listed on the London Stock Exchange with the intent to buy companies with an enterprise value of between $750 million and $2.5 billion. The acquisition vehicle found its first deal in a $1.8 billion acquisition of MacDermid, a specialty chemicals manufacturer that had been considering an initial public offering, but instead saw an opportunity to take Franklin & Platform on as a partner. 
On Thursday, Platform Specialty Products pulled their shares from the London Stock Exchange and listed them on the NYSE under ticker "PAH." The cast of characters in Platform and their strategy is slightly different to Justice Holdings' whopper Burger King deal.
MacDermid's CEO Daniel H. Leever will run Platform Specialty Products and the company's strategy will hinge on both making acquisitions in the specialty chemicals space and re-investing in MacDermid's core business. Martin E. Franklin of Jarden Corp. is chairman of the company and expects to help Leever, a longtime executive at MacDermid whose family ties to the company stretch back to the 1930s, on strategy and future acquisitions.
Leever said in an interview with TheStreet on Thursday that he chose to sell MacDermid to Platform over an initial public offering because he believed Franklin would be a strong partner in identifying growth opportunities and brokering acquisitions.
In contrast to the Burger King deal, Franklin said he will have a "hands on" role with Platform, especially in making acquisitions, a skill he's demonstrated at Jarden.
Ackman, who was a board member of Justice Holdings and pitched his Burger King deal at investor conferences, won't have any direct ties to Platform. Pershing Square, however, will hold roughly 28% of Platform's outstanding shares, an over $400 million investment, according to Bloomberg data.
Franklin said in an interview with TheStreet he offered Ackman a director role on Platform's board. Ackman declined, however, he recommended Ryan Israel a young partner at Pershing Square as a candidate.
Before joining Pershing, Ryan Israel, 28, was an investment banking analyst in the technology, media and telecom group at Goldman Sachs (GS) - Get Goldman Sachs Group, Inc. Report between 2007 and 2009. Franklin was impressed with Israel's smarts and accepted Ackman's recommendation. "I tend to gravitate towards bright people no matter their age... It is going to be a great experience for him," said Franklin. Israel is also a board member of Root Capital, a nonprofit social investment fund that targets agriculture.
Other Platform board members have longer histories on Wall Street.
E. Stanley O'Neal, the oft-criticized former chief executive of Merrill Lynch, will be a Platform board director and will chair the firm's compensation committee. For O'Neal, it will be one of his biggest roles since being unceremoniously fired from Merrill and accused by heirs of the firm's founders of setting the investment bank on a path toward ruin.
O'Neal, however, has built strong ties to the industrials sector since leaving Wall Street. He's been a board member of Alcoa (AA) - Get Alcoa Corporation Report since 2008. Franklin, Platform's chairman, said on Thursday that the company weighed O'Neal's experience in banking when nominating him to its board. Franklin characterized O'Neal as someone with "great life experiences" and who still has many friends in the business community.
"He will be a great director," Franklin said.
In November, O'Neal and another board member, Michael Goss, each purchased over 190,000 shares in Platform at $10.50 a share. Platform's founders Franklin and Berggreun also acquired shares in November.
According to filings with the Securities and Exchange Commission, Berggreun will own 4.5% of Platform's outstanding shares, while a vehicle controlled by Franklin will own about 5% of the company's outstanding stock. Pershing Square will own about 28% of Platform's outstanding shares.

The Leever Family and MacDermid
Platform's CEO Dan Leever began working at MacDermid in 1982. His family's roots with the company, however, trace back to the late 1930s.
Dan's father Harold Leever joined MacDermid in 1938 as its first research and development chemist and quickly rose through the ranks of the company, becoming CEO in the early 1940s. In 1959, Harold led an employee buyout of the company from its founder Archie J. MacDermid.
Dan Leever took over reins of MacDermid in 1990 as the company listed its shares on the New York Stock Exchange. In 2006, Leever, Joseph M. Silvestri of Court Square Capital Partners and private equity firm Weston Presidio bought MacDermid in a $1.3 billion leveraged buyout.
In 2011, Leever and MacDermid's private equity owners began exploring an initial public offering. In the end, Leever, a controlling shareholder in MacDermid, opted to join ranks with the likes of Martin Franklin, Nicolas Bergrruen and Pershing Square.
Platform estimates it paid approximately $925 million in cash for MacDermid owners and issued approximately $100 million of new equity to the sellers. The company also assumed over $750 million in MacDermid debt.
Leever expects to be among Platform's biggest shareholder after rolling 100% of his MacDermid equity into the company. "With Martin Franklin, my family and I have signed on with a new partner," Leever said.
MacDermid as a Platform for Acquisitions
Franklin said in an interview that shortly after creating Platform, the company and its bankers Barclays and Lazard initially looked into buying assets owned by French oil giant Total (TOT) - Get Total SA Report. The deal, however, wasn't actionable so Franklin instructed its bankers to look into acquisitions within the specialty chemicals space.
MacDermid quickly came to the top of their list of prospective acquisitions, given its profile of about $180 million in earnings before interest, taxes, depreciation and amortization (EBITDA) and low-capex. Franklin characterizes MacDermid an "asset light" high cash flow business that can help Platform with future acquisitions.

MacDermid's businesses span specialty areas such as adhesives, water treatment operations, crop protection and coatings.
The company splits its performance materials segments into industrial, electronics, offshore and graphic solutions segments. It's customer base ranges from electronics firms such as LG and Samsung, to automakers General Motors (GM) - Get General Motors Company Report, Ford (F) - Get Ford Motor Company Report and Fiat and offshore oil and gas drillers.
Of the firm's 2,000 employees worldwide, approximately 1,000 are R&D chemists, underscoring that MacDermid isn't the traditional plant and equipment heavy industrial firm.
Through the first nine months of 2013, Macdermid's operations generated net revenue of $560 million and $24 million in net income. MacDermid's performance materials division generated $429 million in net revenue and its graphic solutions division generated $131 million in net revenue through the first three quarters of 2013.
Franklin said there are plenty of companies for Platform to target and he expects that after its NYSE listing, the firm will be able to use MacDermid to tap capital markets for future acquisitions.
"Our strategy is to provide a good home for solid management teams where we respect their business DNA...This is going to be an acquisition story as well as an organic growth story," Franklin said of Platform.
Shares in Platform Specialty Products were falling more than 1% to $14.70 in early Friday trading. The company currently carries a market capitalization of about $1.5 billion.
-- Written by Antoine Gara in New York