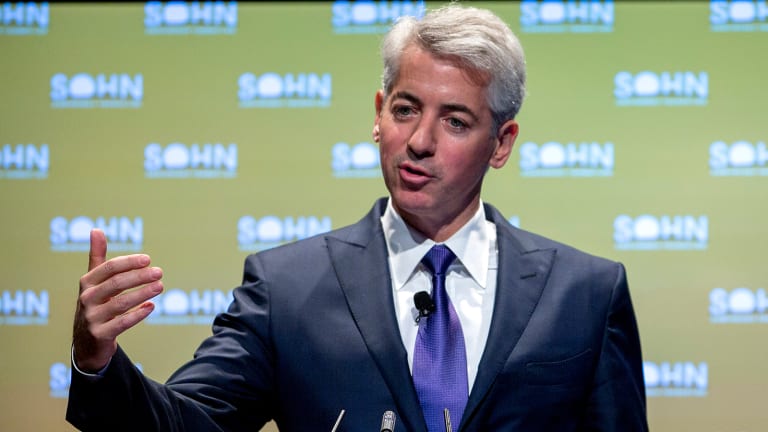 Publish date:
Ackman: ADP Could Win Accounts By Buying Ceridian
The insurgent investor pushed ahead with his proxy war set for Nov. 7, suggesting that Thomas H. Lee is ready to sell the business for up to $4 billion.
The insurgent investor pushed ahead with his proxy war set for Nov. 7, suggesting that Thomas H. Lee is ready to sell the business for up to $4 billion.
Embattled billionaire activist Bill Ackman escalated a blockbuster campaign he has underway at Automatic Data Processing Inc. (ADP) - Get Report on Thursday by suggesting that the payroll processor could win back a lot of accounts by acquiring private equity-backed human resources provider Ceridian for about $4 billion.
"They have to think a little outside the box," Ackman said in a video Q&A with Sanford Bernstein & Co. analyst Lisa Ellis. "I think they could win back a lot of customers immediately by acquiring a company like Ceridian."
Ackman, who is seeking to install a minority-slate of thee dissident candidates onto ADP's board, suggested that Ceridian is "available for sale effectively because it is owned by private equity at the end of its life in the fund." Buyout shop Thomas H. Lee Partners, which owns Ceridian, declined to comment.
In addition to acquiring Ceridian, Ackman offered up a number of changes he would like to see at ADP, as both sides zero in on Ackman's board room battle set for Nov. 7. Together with his two candidates, Ackman also reiterated his concerns about two major ADP divestitures, arguing that both companies that were sold, Solera, formerly ADP Claims Services Group, in 2006 and CDK, in 2014, have done significantly better after they left ADP. He noted that CDK's profits of the business are up more than 60%.
"ADP has never done a meaningful acquisition," Ackman said. "In fact the way they approach an acquisition is to buy features of products and then assemble them into a product; not a good way to do so. So this [Ceridian acquisition] is something directors should look at."
The insurgent investor noted that based on conversations with shareholders that BlackRock, a large ADP shareholder, switched its payroll processor to Dayforce, which is a Ceridian company. He also noted that Vanguard, a large ADP shareholder, switched to Workday, another rival. "When you have the largest shareholders switching away there is something at the company that needs to be addressed," he said.  
The comments come as investors, including Omega Advisors' Leon Cooperman, who once held a board seat at ADP, point to ADP's overall record of share-price improvement and don't believe that the company is struggling or needs a significant refocus.
Also, Ackman's recent troubles with investments in Valeant Pharmaceuticals International Inc. (VRX) and Chipotle Mexican Grill Inc. (CMG) - Get Report suggest that investors may be wary of supporting the investor. Ackman may also have difficulty convincing shareholders to back his campaign because the company isn't currently struggling. Ackman's argument, which is unusual in activist insurgencies, is that ADP's serious problems are in the future if changes aren't made immediately. ADP has fought back, pointing out that its total shareholder returns have significantly outperformed the S&P 500 in recent years.
More of What's Trending on TheStreet: