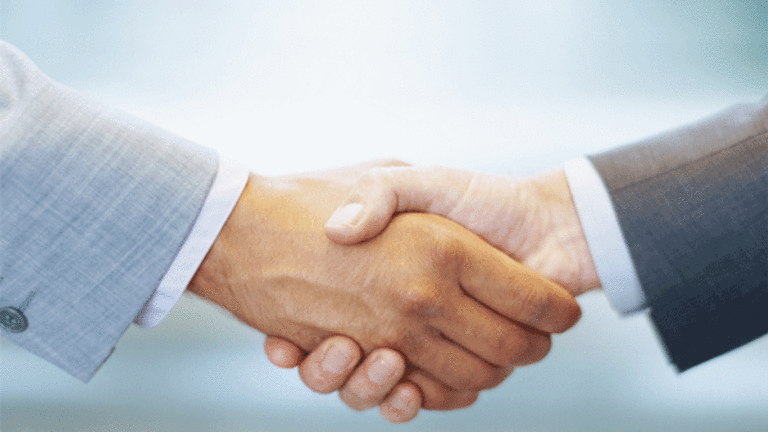 Abercrombie Revamps its Corporate Structure
Abercrombie & Fitch, the teen apparel retailer, said on Tuesday that it would split the offices of chairman and chief executive, as well as eliminate its poison pill.
NEW YORK (The Deal) -- Abercrombie & Fitch,  (ANF) - Get Abercrombie & Fitch Co. Class A Report the teen apparel retailer, said on Tuesday, Jan. 28, that it would split the offices of chairman and chief executive, as well as eliminate its poison pill.
Despite an executive management team that historically has been entrenched, the retailer is now bowing to activist pressure, say industry bankers. "The activists are winning," a banker said.
The company has also added three new members to its board of directors, including Arthur Martinez, Terry Burman, and Charles Perrin. Martinez will serve as the new chairman.
The moves institute oversight of management by the board and could even set the stage for a search for a new CEO, one banker said. It is also part of a broader corporate trend, in which the CEO and chairman positions are being separated at a number of companies to improve governance ratings.
But at Abercrombie, the personnel changes could also diminish CEO Michael Jeffries role, who has been opposed to a sale of the company.
Still, one industry banker cautioned that getting rid of a poison pill is sometimes only a symbolic gesture, as a shareholder rights plan can be re-instituted in seconds.
That was the tack that activist investor Engaged Capital LLC took when it responded to the company's latest actions.
"We are pleased to see the Board respond to our stated concerns at Abercrombie by enacting the earlier announced governance changes," Engaged chief investment officer and founder Glenn Welling said in a statement. "While a good first step, we believe these reactive changes alone will not be sufficient to put the company back on a course towards creating shareholder value.
"It is imperative that the board, independent of management, objectively evaluate value-maximizing strategic and organizational changes at all times, and not just when convenient to placate shareholders," Welling added.
Last year, Engaged urged the the board not to renew Jeffries contract when it came up for renewal next month. But the board responded by extending Jeffries' contract for two years.
With teens no longer willing to pony up for expensive logo laden T-shirts, the company has seen its fortunes decline in recent months.
In previous quarters, Abercrombie was clocking double-digit comparable store sales declines. In the fiscal third quarter alone that ended Nov. 2, comparables were down 14%, for example. Its stock price as well has gone into decline; it is currently trading at a 60-day moving average of $34.38 per share, as opposed to last summer when it was trading in the high $40s.
Yet, despite improving numbers, the board appears to be warming up to the prospect of a sale.
For the nine weeks ended Jan. 4 -- that make or break holiday season -- the company said store sales declined by only 6%, beating expectations. It also raised its guidance for earnings per share for full year from between $1.40 and $1.55, to between $1.55 and $1.65.
That gave Abercrombie's shares a much-needed boost from their close at $32.92 per share the day before the company announced earnings on Jan. 9 up $1.69 or 5.13% to the close on Monday. The company currently has a market cap of nearly $2.8 billion.
The retailer has nearly $124 million in long-term borrowings and nearly $258 million in cash as of Nov. 2, according to a regulatory filing. That would give the company an enterprise value of just over $2.6 billion, or about 6.2 times its nearly $422 million in estimated Ebitda for its current fiscal year, and about 5.2 times the nearly $508 million in Ebitda estimated for fiscal 2015.
That would put the retailer within range of what private equity firms have been willing to pay for retailers.
Activists and private equity firms alike are looking for value, and the potential for return, during a period in which well-run companies are achieving outsized valuations. Teen apparel retail, and retail in general, is a good sector for leveraged buyout firms, a banker said, and firms are picking over a number of possible targets.
That means seeking out the troubled retail players, whose stock has been marked down along with their inventory, but could be ripe for a turnaround.
A sale, however, would hinge in part upon finding a CEO with turnaround experience and laying down a new strategy that takes into account teens' love affair with technology and cheap fast fashion.
Bankers say when PE firms target a retailer, they usually already have a CEO in mind.
In the case of Abercrombie any turnaround plan would have to spell out how it can compete against the likes of Zara, H&M, Uniqlo and Forever 21, before bidders would even be willing to sit down at the bargaining table.
Abercrombie, in its recent history, has relied on selling basic goods to teens such as sweatshirts, T-shirts and sweaters emblazoned with its logos and marketed with a heavy dose of sex.
The company's logo was so ubiquitous at one point that some fashion quarters derisively referred to the retailer's customers as "Aberzombies."