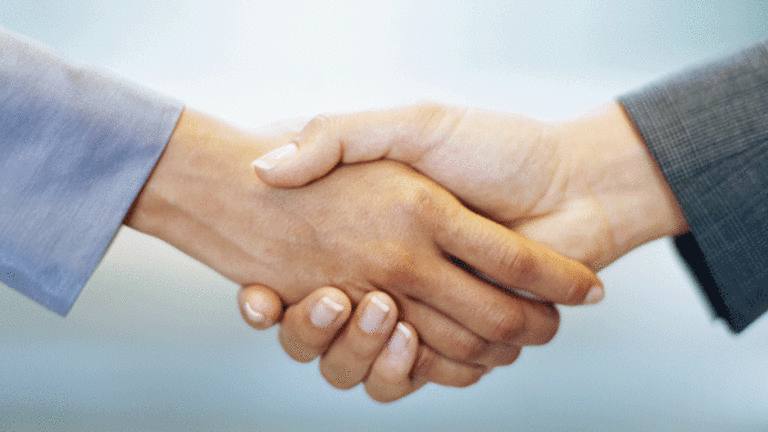 Abbott, Veropharm Deal Breaks Russian M&A Drought
Abbott Laboratories on Tuesday agreed to buy Russia's Veropharm for as much as $640 million.
NEW YORK (The Deal) -- Abbott Laboratories (ABT) - Get Abbott Laboratories Report on Tuesday agreed to buy Russia's Veropharm for as much as 21.7 billion rubles ($640 million) in what appears to be the first significant inbound M&A transaction in Russia since the country's tussle with Ukraine began in March.
Abbott, of Abbott Park, Ill., said it would pay as much as R17 billion in cash and absorb R4.7 billion in debt to buy Veropharm, the first publicly listed Russian drugmaker.
The deal is the first major takeover agreement in Russia by a U.S. company since Philip Morris International Inc. in December arranged to pay $750 million, plus a potential $100 million sales-linked bonus, for 20% of its Russian cigarette distributor, Megapolis Distribution BV. Europe and the U.S.
have since placed economic sanctions on Russian business interests to punish the country for its perceived role in fomenting unrest in Ukraine. (Russia, in turn, blames the West for the upheaval, which began with the ouster of the pro-Russia government).
The sanctions were expected to all but halt M&A activity. Washington officials in May advised U.S. bankers against attending an investment forum in St. Petersburg, though the event was well attended by Western business executives.
Russian President Vladimir Putin on Tuesday asked his upper house of parliament to rescind an authorization to use force in Ukraine. Putin is about to embark on a roadtrip in western Europe to plead his case.
And the troubles appear to be retreating in investors' minds too - the Russian Micex Index by Tuesday had recovered losses sustained when it tanked on March 3 because of the Ukraine crisis.
Without mentioning the political climate, Abbott on Tuesday said it would gain Veropharm's three production sites as well as a fourth currently being built. It will buy the company by purchasing holding company Garden Hills LLC.
Garden Hills currently holds about 80% of Veropharm but is expected to hold 95% by the time the deal closes in the fourth quarter. Abbott would pay R17 billion for Garden Hills if the holding company owns all of Veropharm by closing or as little as R13.6 billionif it doesn't increase its stake.
The announcement ignited Veropharm shares, which rocketed 34.8%, or R358.80, higher to R1,389.20, valuing the company at R13.6 billion.
Abbott is seeking growth in developing economies where populations will likely have more cash for healthcare. Earlier this year it agreed to by Santiago, Chile-based CFR Pharmaceuticals SA for an estimated $3.3 billion including debt.
The deal would immediately make Abbott among the top 10 pharmaceutical companies in Latin America and more than doubles its branded generics business in the geographic space.
Abbott has said it wants to make acquisitions to boost its footprint and win new technologies. It's also reportedly weighing the sale of its established pharmaceuticals, or EP, business in developed markets.