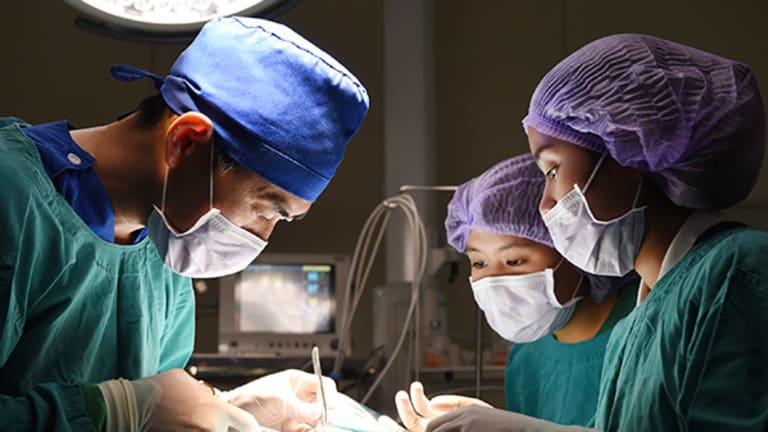 $31 Billion St. Jude Purchase Will Take a While for Abbott to Digest
The takeover deal for the cardiovascular devices specialist come less than three months after Abbott's $8.4 billion agreement to buy Alere.
The takeover deal for the cardiovascular devices specialist come less than three months after Abbott's $8.4 billion agreement to buy Alere.
Medical devices company Abbott (ABT) - Get Report said Thursday it would spend $30.7 billion, including assumed debt to buy St. Jude Medical (STJ) in a deal that looks set to mark a tipping point in its recent M&A strategy.
Less than three months after agreeing to buy Alere (ALR) for an enterprise value of $8.4 billion, Abbott said it agreed to offer $46.75 a share in cash and 0.8708 of an Abbott share to buy the St. Paul, Minn.-based St. Jude.
 Abbott said St. Jude's heart-failure devices, atrial fibrillation products and technology to manage cardiac rhythm, mesh well with its own product lineup, which includes coronary stents. Together, the operations will create a cardiovascular franchise with combined sales of $8.7 billion.
"Bringing together these two great companies will create a premier medical device business and immediately advance Abbott's strategic and competitive position," said Abbot chairman Miles D. White in a statement. "The combined business will have a powerful pipeline ready to deliver next-generation medical technologies and offer improved efficiencies for health care systems around the world."
It said the transaction includes $5.7 billion of net debt at St. Jude, while it pegged the equity value of the deal at $25 billion.
Abbott said it plans to fund the cash portion of the transaction with medium to long-term debt. But after the deal closes, the company said it will "moderate the pace of growth of its dividend, and M&A activity will be minimal until it achieves its leverage targets."
It wants to get its net debt-to-EBITDA ratio down to 3.5 in 2018 from 4.5, following the closing of the transaction. Other measures it plans to take to maintain an investment-grade credit rating include a reduction in its share buyback program.
Abbott, of Abbott Park, Ill., also said it will issue $3 billion of shares to "rebalance its capital structure," with the timing to be determined.
The cash-and-stock mix under offer equates to a price about $85 per St. Jude share, based on Abbott's $43.93 closing price on Wednesday. That's a 37% premium to the closing share price on Wednesday of $61.95 for St. Jude.
In a statement St. Jude president and CEO Michael T. Rousseau said the transaction "provides our shareholders with immediate value and the opportunity to participate in the significant upside potential of the combined organization."
Abbott said the addition of St. Jude's will boost earnings per share in the first full year and lift them by 21 cents in 2017 and 29 cents in 2018. (Abbott's basic earnings per share were $1.74 in 2015).
It also sees $500 million pretax synergies from the union by 2020 and said it would spell out the one-off integration costs at a later date.
 Abbott expects the transaction to close in the fourth quarter.