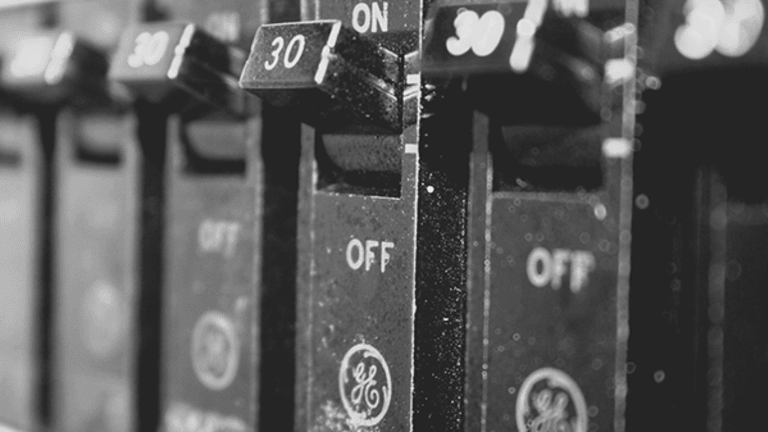 ABB Acquires Underperforming GE Industrial Solutions
The Swiss automation and power grid conglomerate will pay $2.6 billion for GE's low-margin operation and has promised cost savings.
Swiss robotics and energy grid conglomerate ABB Ltd. (ABB) - Get Free Report will pay $2.6 billion for the industrial solutions unit of General Electric Co. (GE) - Get Free Report , expanding its reach in North America with a deal whose success hinges on cutting costs and improving margins at the underperforming unit.
ABB will pay just under one times GE Industrial Solutions sales of $2.7 billion and about 12 times the unit's earnings before interest, taxes, depreciation and amortization (Ebitda) of $208 million.
ABB shares traded on the Swiss exchange at Sfr24.05, around 0.5% higher than their Friday close. GE shares closed Friday at $24.87 and are indicated 0.1% higher in premarket trading.
"We will...bring this business, as part of the global ABB family, back to peer performance," said ABB CEO Ulrich Spiesshofer. "We we continue to shift ABB's center of gravity...by strengthening competitiveness, mainly in the North American market, and lowering risk with an early-cycle business."
Atlanta, Georgia-based GE Industrial Solutions makes circuit breaks, switchboard panels and other electrical grid hardware used by industry and residential clients. The operation employs about 13,500 people and makes almost 60% of its sales in North America.
Zurich-based ABB said it expects the deal to deliver $200 million of annual cost synergies within five years. Those gains would help raise the GE unit's Ebitda margin from its current level of 8% toward the 15% to 19% target that ABB has set for its equivalent Electrification Products operations. The deal and integration will cost about $400 million, according to the buyer.
ABB has targeted North America as a key growth market and said its acquisition of the GE unit will take capital spending in the region to over $14 billion since 2010. The Swiss company is betting that the return on that investment will help drive revenue growth and improve margins, justifying its recent decision to reject calls to break itself up from activist investor Cevian Capital AB.
For GE, the sale is a first big disposal by new CEO John Flannery, who has promised to cut costs and sell operations in a bid to reverse lackluster performance that has dragged GE's share price down almost 17% over the past year.
GE put its industrial solutions operation up for sale in December, prior to Flannery's arrival in August, as part of a reorganization of its low margin GE Energy Connections & Lighting operations.
ABB and GE's combined electrical automation operations would have made about $12.3 billion of sales over the past year, second only to France's Schneider SA and well ahead of other rivals including Eaton and Siemens.
The deal includes a "strategic supply relationship," that will secure GE as a client of ABB's industrial solutions products. ABB expects to close the acquisition in the first half of next year.
More of What's Trending on TheStreet: